Lightweight Construction
Laser-cut, lightweight balsa and plywood construction is utilized to bring the P-51D Mustang 20cc to life as a durable scale model that's expertly built to exacting standards.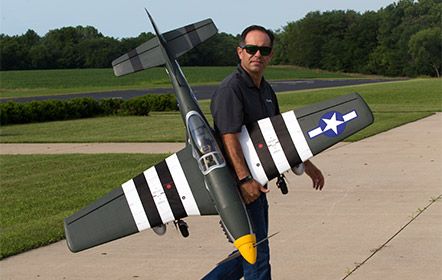 Scale Detail
Beyond the factory applied satin-finish printed covering, other iconic details include airfoil-shaped tail surfaces, realistic engine exhaust, wing guns, gear doors, optional-use drop tanks, radio antenna, a 3D instrument panel and a painted pilot figure—just to name a few.
Functional Flaps
Light wing-load and a semi-symmetrical airfoil offer flight performance that's comfortable at a wide range of speeds. Operational flaps allow its versatile flight envelope to open even wider so you can increase flight realism that includes shorter takeoffs and slower landings.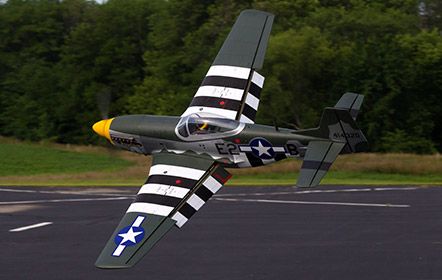 Convenience Features
The wing panels feature a strong aluminum tube joiner for ease of transport and storage. When the model is upright, full access inside the model is through a large top-hatch that makes any maintenance and battery changes simple.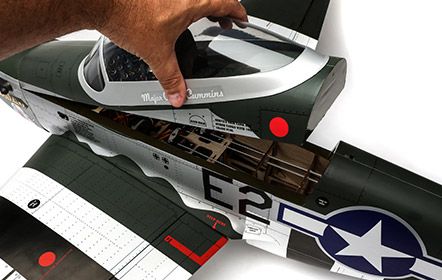 Custom Decals
Choose from one of the two nose-art decals included to finish your model off. "Sky Bouncer" was flown by Captain Bruce ("Red") Rowlett, and "Geraldine" was flown by Captain Charles Roscoe ("Chuck") Cummins, both with the 361st Fighter Group, 375th Fighter Squadron stationed in England during WWII.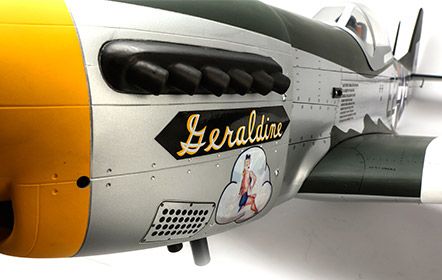 Optional Retracts
Rugged fixed landing gear with functional shock-absorbing struts are included so that you can keep the project simple and still enjoy the benefit of smooth ground handling. The optional E-flite® electric retract system recommended accepts the struts, feature all-metal durability and are an easy installation that lets you take in-flight scale realism to a higher level.
Power It the Way You Want It
The P-51D Mustang 20cc is designed to accept the Evolution® 20GX, 20cc gas engine, a Saito FG-21, 21cc four-stroke or E-flite Power 60 brushless electric outrunner motor system with a 6S LiPo battery. All hardware needed to install any of the recommended power system is included along with an electric motor mount so you can get to assembly right away and in the air faster. This 20cc ARF is also the perfect replacement airframe for the stock motor, ESC, and recommended flight battery used in the giant E-flite® Carbon-Z® T-28.