OFFICIALLY LICENSED REPLICA
Traxxas has great partnerships in the full-scale world and that's the foundation for their M41 Widebody Catamaran.  So let's set the stage by taking a quick look at the inspiration behind this Traxxas boat.

FROM DCB: Designed by DCB founder Dave Hemmingson, the 2nd largest model in DCB's celebrated MSeries offers Class A Surfacing, a first in the performance boat industry. Parametrically math sculpted in Unigraphics NX CAD software with the help of leading automotive-based designer Rod Trenne, the M41 Widebody blends precision engineering and phenomenal styling to create a seamless piece of art.
With the 41-foot catamaran's deck and hull finished in the virtual world, the data was transferred to a 100-foot 5-axis numerically controlled machine and milled out full size. The result was beyond impressive. Combining the stunning Class A Surfacing—an automotive term for achieving optically and mathematically distortion-free highlights and reflections over a given surface or shape—with exceptional performance at any speed, the M41 is like nothing else on the water.

M41 HULL
Traxxas reproduced the full-size catamaran hull so the r/c version has similar styling and characteristics, delivering the driver speed and stability.  Taking a look at the details, it seems Traxxas may have done a pretty good job, but you won't find any carbon fiber as it's an ABS hull, which is somewhat expected at this price point.  It's clear the speed should be there, so the question may be how well it handles different water conditions.
The M41 comes in just over 40 inches long, which tends to attract quite a bit of attention.  This is especially true because of the loud Hawaiian, 1980's flashback, graphics wrap Traxxas decided to use.  It kinda stands out and you the customer will decide if you like it with your wallet; I happen to dig it. As for the rest of the boat, it's a little more than 8″ from the bottom of the rudder to the top of the windshield and measures 10.5″ wide.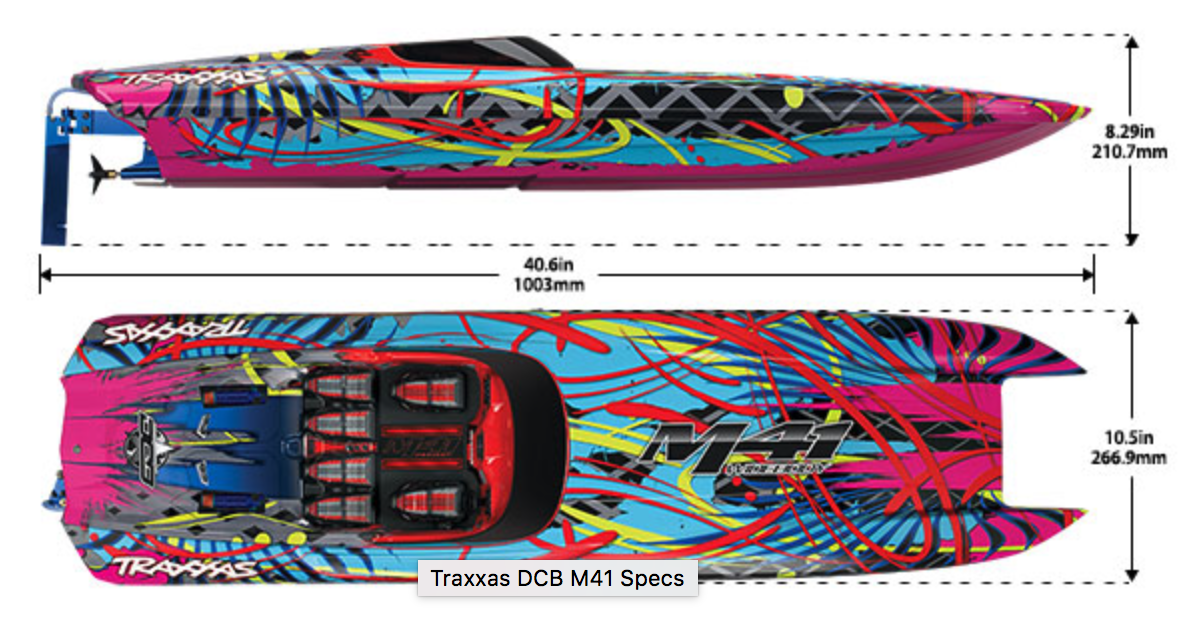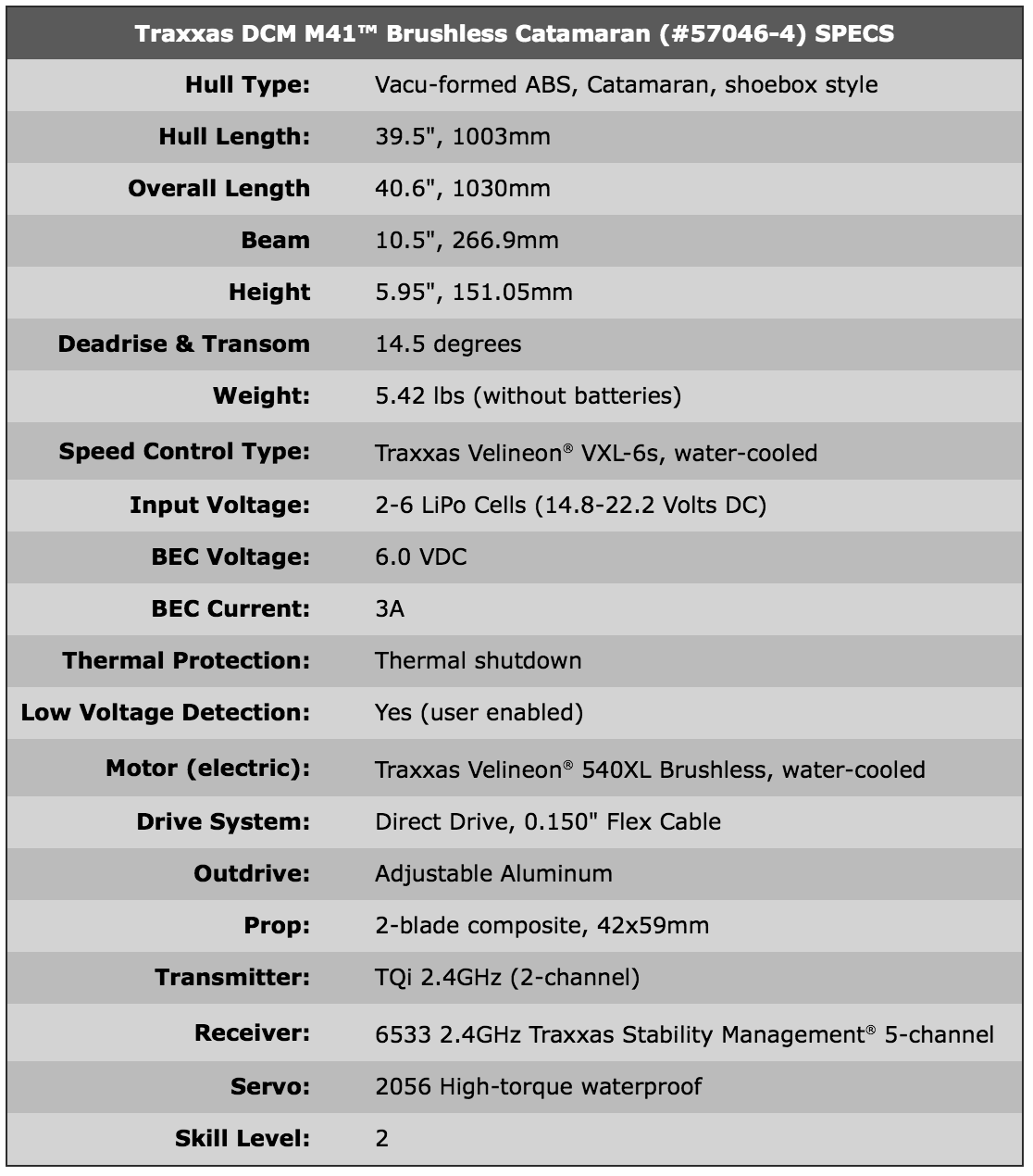 INTERIOR
Exploring the M41, Traxxas includes everything you need except batteries and charger.  There are suggestions on Traxxas' website which explain what speeds to expect with what batteries (2 packs are required), budget being the deciding factor.  For this review, I opted for two 5000mAh 11.1v 3-Cell 25C LiPo Battery which puts this in the 50+ mph range.  The batteries can be positioned aft or forward depending on water chop– forward for rough water, aft for smooth water.
The cockpit hatch is nicely detailed with graphics for the gauges and speakers and secures easily with a lanyard attached body-clip.  The seats and steering wheel add some flair and are in line with the scale appearance.
With maintenance in mind, the M41 was designed with a thoughtful electronics tray and motor mount which are easily removed.  Rather than removing each individual component, you can first remove the tray so everything is much easier to access.  The tray also serves to improve hull rigidity.The VXL-6s electronic speed control, waterproof receiver box, and 2056 high-torque steering servo are all bolted securely to the tray.
The VXL-6s electronic speed control, waterproof receiver box, and 2056 high-torque steering servo are all bolted securely to the tray.   The motor mount, like the electronics tray, is independently attached and also helps with hull rigidity.  Removing it requires loosening only a couple bolts. Waterproof being the key word, rather than water resistant.
The VXL-6s Marine electronic speed control is built for 6S LiPo power. The rebuildable, sensorless Velineon 540XL motor is designed for high-rpm performance with Neodymium magnets, a precision-balanced rotor, and efficient, high-speed ball bearings. Cooling water is routed through the speed control case and then into a sealed motor jacket that allows cooling water to flow directly against the motor for maximum possible heat transfer.
Velineon® VXL-6s Marine ESC
Innovative waterproof design
Integrated water cooling
Three programmable drive profiles:

Sport Mode – 100% FWD / 15% REV
Race Mode – 100% FWD / No REV
Training Mode – 50% FWD / 15% REV (patented)

High-efficiency MOSFET transistors
Built-in two-stage low-voltage detection for LiPo batteries
Thermal overload protection
Voltage overload protection
Locked rotor protection
Throttle Neutral Setting protection
LiPo battery packs: 2-6 cells (14.8 to 22.2 volts)
Traxxas High-Current Connectors (patented)
Velineon® 540XL Brushless Motor
Ultra high-temperature sintered Neodymium magnets
Optimized for power and efficiency in marine applications
Consistent, high-power output, run after run
Low-maintenance design
Efficient, high-speed ball bearings
Precision-balanced rotor
High-efficiency bullet connectors
1600kV
5mm output shaft
Brilliant blue-anodized finish
Silicon steel laminations
Unique high-flow silicone water cooling jacket

DRIVE SYSTEM
The M41 features a flex cable drive system that is securely mounted to the internal structure. Rather than using the more common set screw, Traxxas uses a collet that keeps the flex cable secure and centered to the motor output shaft.  I'm not sure how it will stand the test of time, but it strikes me as a nice solution to a set screw, which I've never liked.  Traxxas also includes the wrench needed to loosen and tighten the collet.
In keeping with full-scale racing, Traxxas is using a surface-piercing prop.  Simply put, a surface-piercing prop is one where any part of the prop is out of the water.  The design is such that in racing applications it helps reduce cavitation at higher speeds and reduces drag.  It's a molded composite propeller and doesn't require balancing.
Now we can look at the shiny bits on the transom, the rudder, drive struts and trim tabs.  Matching the blue anodized motor color, the rudder, rudder support and drive strut look great and are made of beefy 6000-series aluminum alloy.  Incorporated into the rudder is also the water pickup to cool the motor.
The stainless steel trim tabs are tuned to keep the M41 stable at high speeds.

RADIO SYSTEM
Traxxas includes their  TQi™ radio system and all its features: long-range, high-output, 2.4GHz signal, with no external antenna.  It can also be fitted with the TQi Traxxas Link Wireless Module if you decide.  This will allow you to tune the M41 on your Android or Apple device via bluetooth and the potential to add telemetry using the Traxxas Link™ App.
The receiver uses latest TSM (Traxxas Stability Management) technology.  I've discussed this in other reviews, but this will be the first experience using it in a boat.  The idea in this application is to sense the boat's direction and make steering corrections to provide straight-ahead full throttle acceleration without fishtailing, spinouts, and loss of control.
TSM also works during cornering, first making corrections to maintain the vehicle's line, then by allowing you to punch the throttle earlier in the turn for faster exit speeds.  Traxxas put a lot of work into the TSM, and I liked it on the Stampede, as it didn't feel like it was fighting me but rather working with me.  I'm excited to see how it works with my inputs on the water.  It's adjustable with the multi-function know on the transmitter, or via slider on the app.

DRIVING
Watch the video above or look at the pictures below and you'll see the trial runs of the M41 were done on fairly calm water, but not altogether smooth.  The wind was also gusting a bit making the water change as I drove.  The TSM was dialed into just a couple lines plus zero, and the batteries are positioned forward.  Since the initial video run, I've had it in the water several more times and found the batteries positioned further aft works at keeping the boat stable at higher speeds in similar water conditions.
Until the weather (and water) warms up a bit in my part of the country, and I have a retrieval boat, I won't really try to test the turning capability.  However, during these initial cold weather runs I've found cornering to be very precise.  Because it's a catamaran hull, it corners more level than a v-hull and can skip a bit under power with a slight water chop.
The TSM does a nice job helping you accelerate through and out of a corner without much cavitation.  I'm always a little more careful when I don't have a retrieval method, but the boat feels planted and stable at high speeds, turning included.
I do like this boat better when the water is calmer.  This is especially true in comparison to the Traxxas Spartan, which I've been driving for a few years in all kinds of conditions.  The Spartan takes whatever I put in its path, but that's because I've learned what to expect over dozens of runs.  I suspect the same will be true of the M41, I just need to get used to the catamaran hull and its characteristics.
The 5000mAh batteries are fine and I will send the M41 through radar to see how fast I can make it go with these batteries.  The run time is ok at around 10 minutes driving like you see in the video, so I would also like to try some other packs to see if I can get more time and speed.

FINAL TURN
It's simple really, the M41 large, visually loud, and the unmistakable whir of the electric motor at full speed draws attention.  I live in an area that is no stranger to the boating life, yet r/c boats are not as common as I would expect.  As soon as I take this out, onlookers are immediately drawn out of their cottages and onto their decks to see what's making the noise they don't recognize.  It brings a smile to everyone's face.
I can't say that about gas or nitro powered models I've run.  Having access to an all-sports lake that allows wake from 11am-7:30 pm means the fishing enthusiast's get some lake time to themselves and the recreational r/c boater gets calm water to play.  If you've been on this sort of lake, you know that sound tends to carry very well.  Gas and nitro powered boats quickly get people annoyed on this type of lake.
The electric boat, even a high-speed boat like the M41, tend to get smiles.  The M41 flat out hauls.  Put a couple of these on the water together and I think it would be a recreational blast.  Sure, there are faster boats, but you'd be hard pressed to find them this big, this together, this simple to operate, and at this price point.
It's probably not your small pond boat, but if you're near some water where you can open up the throttle on the M41, give it a look.


JUST ONE MORE THING…
A part of the r/c hobby I appreciate is the incredible skills easily found throughout the community.  Spend enough time in the forums and you'll see ingenuity, imagination and a great deal of problem-solving.  R/C has a wide variety of participants from every demographic.  I found a thread here at R/C Tech a member posted about a year ago about the M41 and a sweet little addition he decided to build. Color me impressed, this thing is sweet.