I'm guessing most rc enthusiast's with more than a few vehicles in the rc garage are interested in specific rc tools to work on their stuff.  Of course you can use regular tools from your tool box, but there's something very nice about having a specific, dedicated set of tools that does what you need on the vehicles you own.
I've gone the route of buying specific sets of hex and nut drivers from the local big box retailer, but generally find the fit doesn't always match up with rc like it does automotive or other applications.  I've found this true especially with hex and nut drivers, and I really dislike being the guy at the track borrowing another driver's tools.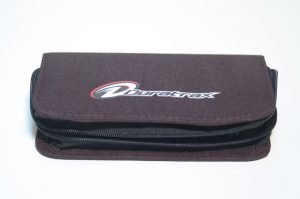 I recently picked up a few kits from Duratrax, including the 19-in-1 kit advertised for Traxxas vehicles.  Since I have a multiple shelves filled with Traxxas products, I really wanted to give this kit a try
The kit comes in a small 7" x 4" zippered tool pouch that fits very nicely in a small tool box.  Open it up and you're presented with a nice selection of bits for most applications.  The pouch also has a plastic insert which provides some rigidity, making it easy to remove and put back the bits.
The included rubberized ratchet handle has an ergonomic shape and is comfortable to use.  It offers forward, reverse and locking positions which has held up to various testing to this point.  A long-term update will be appropriate several months down the road.
The ratchet handle also has a one-way locking mechanism for releasing the bits.  Push it to release and change the bit, or simply adjust the bit from a short length for control or to long for a better reach.
The turnbuckle wrench doesn't actually fit any of the Traxxas vehicles I own, so I've added the included wrench Traxxas gives you to the kit.
It appears the bits are powder coated at the ends and whether on Traxxas or other brands, fit snug to the screws, nuts and bolts I've used them on.  The nut drivers are clearly marked, which makes finding the right size easy.  The hex drivers are a little harder to read as they're etched into the side and not of contrasting color to the bit.  I might figure something out to help with that, maybe spray over it with some black Rustoleum or something?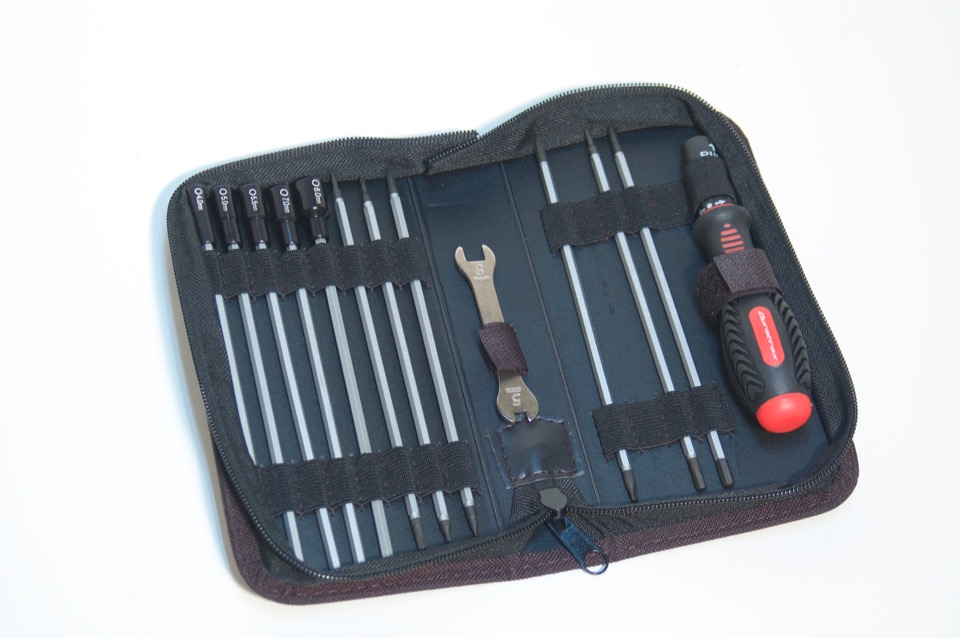 Stock Number: DTXR0410
(5) Nut Drivers: 4, 5, 5.5, 7, & 8mm
(6) Hex Drivers: 1.5, 2, 2.5, 3, 3.5 & 4mm
(3) Phillips Screwdrivers: 0, 00 & 1
(3) Slotted Head Screwdrivers: 2, 3 & 4mm
(2) Turnbuckle Wrench: 5 & 8mm
(1) Ratchet Handle

FINAL THOUGHTS
Given the higher price of most rc tools, I was skeptical of this one for $29.99.  However, I like this kit.  I like having it on the work bench, but I really like having it in my tool box when I travel.  After several weeks of using this kit, I'm cautiously optimistic it will be with me for a while.  At this price, it's a nice addition to my rc garage.  Check out the video to see them in action.