REDCAT RACING 1:6 SHREDDER
It was 2008 when I reviewed the gas-powered Redcat Racing Rampage MT, and I somehow I haven't had another product from Redcat Racing in my r/c garage until now.  Back then, I wrote that Redcat Racing was making a difference in the r/c world with new products that challenge the big companies, and the introduction of the 1:5 scale Rampage MT was going to tap into a market long dominated by one or two other products.
Fast forward nearly 10 years later and Redcat Racing is still going strong with an expanding product line and so is the Rampage MT, which is now on version 3. Redcat Racing has done all this through their network of dealers, service, and word of mouth, choosing to forgo advertising in favor of less expensive vehicles.  It's easy then to forget they have a solid history in r/c and have a growing line of products at affordable prices.
While browsing RCU's forums, I clicked into the Redcat Racing forum again and it didn't take long for me to head over to their website to see what was new.  I was immediately impressed with the selection, given it's been a while since I had last checked.  Of course, the Rampage MT jumped out at me as I remembered reviewing it in the past, which lead me to other vehicles where I eventually landed on the Shredder V2.0.
Here I am today, after having spent several weeks bashing the Shredder, ready to talk about it.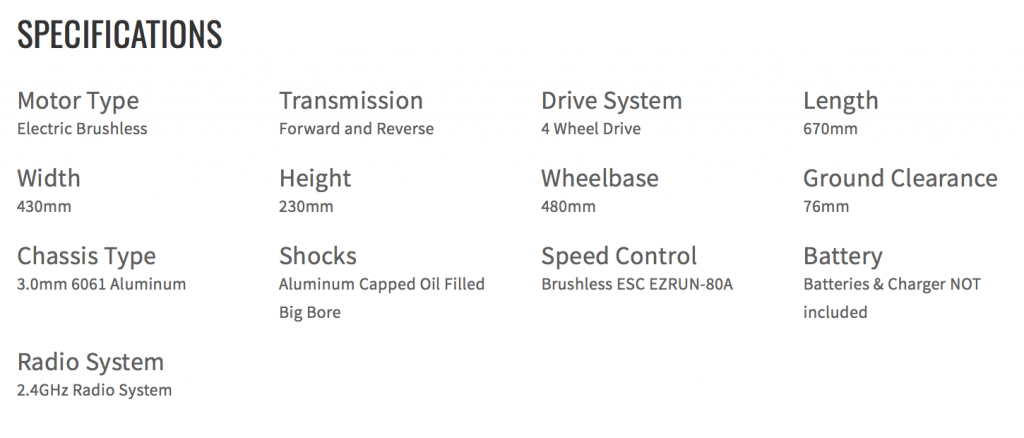 SHREDDER BUILD
Initial inspection of the Shredder reveals a familiar design and layout, with a traditional chassis and suspension setup.  Obviously the size of a 1:6 scale rc has an impact compared to smaller 1:10 or even 1:8 scale r/c, but especially next to 1:18 scale I've been spending most of my time with in recent weeks.  It's difficult to demonstrate in pictures or video just how big 1:6 scale is compared to other r/c vehicles, but I tried.  I set the Shredder wheel next to the very familiar Traxxas Slash and you can see in the picture below how the Slash is dwarfed in comparison to the Shredder's wheel.  Let's take a look at the details.
CHASSIS:  The chassis has a familiar build, but is built from 6061 aluminum and is a stout 3mm thick to handle the weight of this large monster truck.  With this chassis design, the layout could be just about anything because there's so much room.  In this case, Redcat Racing has the electronics in the back, with the differential spur gear housing in the middle, and the large motor and steering servo toward the front.
SUSPENSION: The aluminum capped oil-filled big bore shocks are impressive at first glance.  They look like they can take a beating, and would be more than capable of handling the big jumps.  The suspension is adjustable and can connect to the shock tower in multiple positions.  You'll see the stock setup in the video and turning is when you really notice the suspension at work.
During testing, after a hard crash landing, one of the upper suspension arms broke at the threads.  This was a bit unexpected as it's not normally a place I would think to be a weak point in the suspension components, but it's something to note.
DRIVETRAIN: I would prefer this large 1:6 scale Monster Truck to be 4×4, so of course that's what you get in the Shredder. The center differential unit encompasses a plastic spur gear, which normally wouldn't concern me.  However, I did break a few splines on my spur gear which is $34 to replace.  I believe it was more my fault than the spur gear as I didn't inspect the motor mount after some hard bashing and crashing.  The result was a motor that shifted just enough to roach the spur gear.  Redcat Racing does offer a metal spur gear, but I really don't think it's necessary and reinstalled a plastic gear.  I've continued to run the Shredder hard over the last few weeks with no concern for the plastic spur gear.
STEERING: The steering servo needs to be very strong to turn these massive 6 1/2″ tall wheels.  Taking care of this is the Hexfly HS-15S, which is a full metal gear Servo Weight: 43g / 1.53ozSpeed: .24 @ 4.8v / .21 @ 6.0vTorque: 9kg*cm @ 4.8v / 10kg*cm @ 6.0v.  This servo just exactly what it's supposed to do and holds full left or right steering no matter the speed or traction.  To date, it's been strong and predictable.
WHEELS & TIRES: One of the things impacting the visual appeal of this truck is the size of the wheels and tires.  They are ridiculously large and as such Redcat Racing has chosen to bead-lock the foam-filled tires to the wheels.  Having stretched the tires to their rotational max at full throttle, I'm thankful to have these monster tires bead-locked to the wheels.

SHREDDER ELECTRONICS
This is the area Redcat Racing saves some money by using Hobbywing and Flysky components.  Over the years, Hobbywing and Flysky have been more known in Europe, however, they have made a splash in the USA, so I'm comfortable saving money by having these installed in the truck.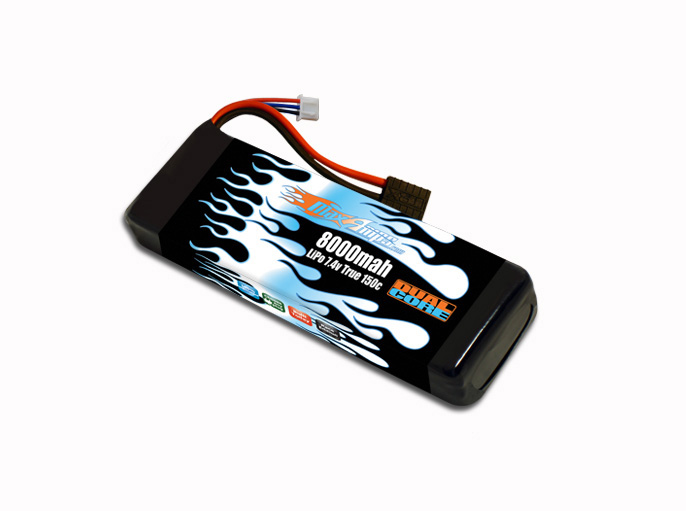 BATTERIES: Redcat Racing is focused on introducing people to large scale rc, and not including batteries opens that door even further to get into 1:6.  There are many choices, but I always go back to MaxAmp batteries.  Because I review r/c, I tend to drive harder than most so I can find the limits of the vehicles.  As a result, I've had more RTR packs fail on me than I can count and prefer to run quality packs with proven performance.  I've crashed more MaxAmps packs, had them fly away from vehicles, had them submerged in water, had them buried in dirt and mud, and have been able to put them right back into action every time.
You can buy cheaper batteries, but that's exactly what you get… a cheaper battery.  I prefer to invest a little more money for a battery that lasts rather than replacing cheap batteries because of the bloat after a little stress.  For the Shredder, I chose two MaxAmps 8000mah LiPo 7.4v packs.  They are 100% waterproof, dual core, race-edition packs, and they are perfect for the Shredder.
RECIEVER: The Shredder uses the Brushless 80A SC8-RTR ESC with fan from Hobbywing, which is labeled waterproof.  Digging a little further, I learned that it's only splashproof and shouldn't be submerged.  Same goes for the receiver.  I believe this is something Redcat Racing can change in the future as fully waterproof r/c is becoming the norm for bashing vehicles like the Shredder.
TRANSMITTER: Included with the Shredder is a Redcat Racing branded transmitter.  It's familiar and comfortable, with a nice control panel for making adjustments.  In this case, the driver can adjust steering and throttle reversing, steering trim and dual rates, throttle trim,  and bind to the receiver.  It appears the receiver has different programming modes, but I was unable to find documentation to support these different modes.
Binding to the receiver requires a bind plug (included) and the receiver didn't bind right away.  The binding instructions are clear, but depending on which version transmitter/receiver you have, the instructions may not work without a little assistance from customer support… who was very helpful in this regard.  It turns out I had a version that required the bind plug to inserted into a different channel rather than the instructed channel 3.  After knowing that, it worked perfectly and hasn't been a problem since.

DRIVING THE SHREDDER
If you've never driven a large scale r/c truck, it's a unique experience.  It doesn't accelerate or stop as quickly as a 1:10 scale, and it certainly doesn't win any awards for cornering abilities.  However, there is something special about driving something this large with the same transmitter that powers the smallest of r/c vehicles.
Given its length, the speed can be deceiving.  A 1:10 scale running 40+ mph can be a bit hairy depending on the vehicle.  With the Shredder, I never felt 40 mph was too much to handle.  In fact, I have no doubt this chassis and setup with handle 6S and I am to test that thought in the near future.  The suspension damping is so good at high speed the Shredder never feels twitchy or nervous.  It feels stable and planted, and it doesn't matter if you're on gravel, grass or the pavement.
You can see in the video how the weight and balance cause the Shredder to push through corners.  It's only when you let off the throttle a bit that the suspension relaxes a little and allows those huge tires grip and turn in.  As such, drifting is not the Shredder's strength, but it definitely wins points in stability.  This is one of those differences you have to adjust your driving style to when taking on this monster truck at high speed.
In the pictures below, the Shredder can easily be managed in the air.  Kicking off the ramp at full throttle will easily send the nose pointing to the sky, but it can easily be brought back to terra firma with a handful of brake.  It's a little more challenging to lift the front with throttle if the nose is down, but it's doable.  Going back to the traditional chassis and layout, having the batteries in the back as it works well to keep the Shredder wheels down when landing.  And that suspension damping is working overtime to avoid rebound from a big jump.  They soak up the jumps very nicely but will let the chassis slap the ground after impact if the jump is high enough.  Having nearly all the screws counter-sunk is the right thing to do and nice to see.
Apart from the upper suspension arm breaking, I've found the Shredder to be very bash worthy.  It has crashed into trees, fences, fence posts and more, yet keeps going strong.  MSRP is $399, but I've seen it as low as $359.99 online with a little searching and find that hard to beat if you want to get into large scale rc.  I do wish it was completely waterproof, but it will handle puddles, rain, and mud without too much trouble, which is where it will spend most of its time.  I might be a little more cautious around snow.
If you're looking to get into large-scale r/c, I think you have to give the Shredder a look before you make a decision.


VISIT REDCAT RACING