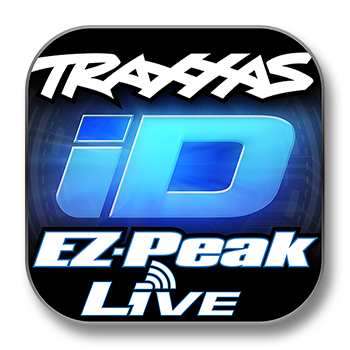 I have a lot of years using Traxxas products and still get excited when they introduce something new.  In this case, I've been using their EZ-Peak chargers for years and when I saw the new LIVE version, I knew it would land on my workbench.
With the same simplicity as the previous chargers you only need to plug in the TRX iD battery and press start.  The iD EZ-Peak Live charger does the rest.  It automatically knows the battery type, how many cells, the capacity and sets the charge rate.  All the user has to do is press the button to start the charge.
The first step is to download the app.  Simply go to the app store for Android or Apple and search for Traxxas.  There are currently two apps, and you want to select iD EZ-Peak Live.
When I first established a link from the charger to the app via bluetooth, I had to update the firmware, which took about 60 seconds.  The next step is to plug in a battery and start the charge.  I noticed balance ports were included for 2S, 3S, and 4S so that's where I started.
Because I started with an older battery (non-iD), the charger ran me through the screens I needed to complete to start charging.  I had to turn off iD detection, but I really didn't have to change anything else as it still automatically detected everything else in the battery.  Push the start button and the app populates with all the necessary information for monitoring the charge.   When using an iD battery, you only have to push the start charge button on the charger.

EZ-Peak Live™
Connecting to an app to deliver charging information didn't stop Traxxas from making this charger better at charging.  It's now a 12amp charger, capable of charging 2-cell LiPos at pretty much the same rate you can run them empty.  NiMH batteries can also now charge with a full 5 amps.
Traxxas iD Battery Type
Capacity
EZ-Peak Live™ Maximum Charge Rate
6-cell NiMH
1200-1800mAh
2A
3000-4200mAh
4A
4300-5000mAh
5A
7-cell NiMH
3000-4200mAh
4A
4300-5000mAh
5A
8-cell NiMH
3000-4200mAh
4A
4300-5000mAh
5A
2-cell LiPo, 7.4v
6000-10000mAh
12A
3-cell LiPo, 11.1v
4500-8400mAph
9A
4-cell LiPo, 14.8v
3400-6700mAh
6.7A
FEATURES
100-Watt 12-amp output
Recognizes Traxxas iD-equipped batteries to automatically program and optimize charger settings
LED charge progress indicator
Optimized for faster LiPo balance charging
One button LiPo storage charge protects your battery investment
Advanced high-resolution peak detection delivers a perfect charge
Easy to use interface
Supports Traxxas EZ-Peak Live Application
Audible alerts
Built-in cooling fan
Advanced Mode for full manual control through EZ-Peak Live App
Legacy support for all Traxxas High-Current Connectors
Built-in balance port for conventional LiPo batteries
Charges 5-8-cell NiMH batteries
Charges 2s, 3s, and 4s LiPo Batteries

USER EXPERIENCE
There really isn't much of a learning curve.  Some other chargers I own often require a manual to get started and sometimes even to use them again if it's been a few weeks.  The EZ-Peak Live™ requires very little from the user.  Traxxas does include an informative owners manual to walk you through any features to ensure you have a full understanding of the charger settings, but you really don't need it.  I just started tapping around the screen and learned everything I needed to know in a matter of seconds.  The way Traxxas designed the app makes adjusting your charge settings very simple.
The app allows you to run multiple chargers at the same time, but I'd like them to have one charger offer dual charging capability.  They already have a dual charger, so I would imagine it's a matter of their tech wizards getting the app to work with 2 batteries on one charger. The bottom line for me is when you start getting a few TRX batteries, this is a pretty cool option for charging them.
Why am I geeking out on this charger?  I really enjoy technology and appreciate the effort Traxxas takes to keep RC technology progressing.  You download the app and all the information that was automatically detected is still automatic, but you can now see all the information! That is a step into modern day technology.
ACTUAL SCREENSHOTS

VIDEO