GST 7.7 shifting (WOULD LIKE RESPONSE FROM CEN)
09-25-2010, 11:30 AM
Member
Join Date: Feb 2010
Location: Round Lake Beach, IL
Posts: 60
Gallery
Models
Ratings
RE: GST 7.7 shifting (WOULD LIKE RESPONSE FROM CEN)
---
You have the GSR 5.0?? Wish i did!!! Wish i atleast had the GSR body!!
Anyways, If i were going to put a different engine in that it definately wouldn't be a picco or ofna. I would go with OS, LRP, RB. From personal experience and seeing others running picco and ofna they are the hardest to tune and never hold a tune period. Powerful motors though. My OS holds an amazing tune and is so powerful its unbelievable. My RB B9 is the best engine i've ever had and LRP are just good motors. I'd definately look into one of these before you invest cash into a picco. RB has an awesome monster truck engine for about the same price as the picco. The os .30 can be gotten for around $200 new. look into one of these first. I think you'll really like the RB MT engine. Heres the RB MT10 link check this out!!!
http://www.rbproducts.com/mainEn.php...t=01910-000108
I don't know if it is possible to put that other body on it but i guess anything is possible in this hobby with afew modifications
Heres2 vids of my truck with the OS .30
http://s942.photobucket.com/albums/ad270/27pos/GST/?action=view¤t=006-1.mp4
http://s942.photobucket.com/albums/ad270/27pos/GST/?action=view¤t=066.mp4
Heres a couple of pics of what it looked like when i first installed it and a pic of it with the truggy tires.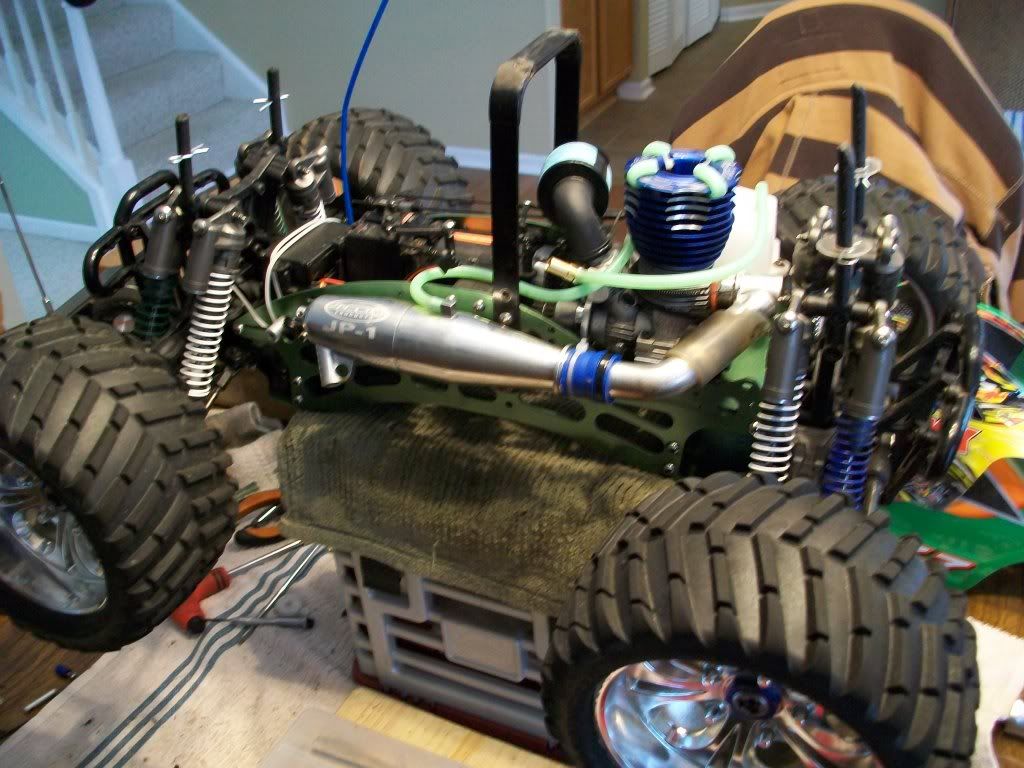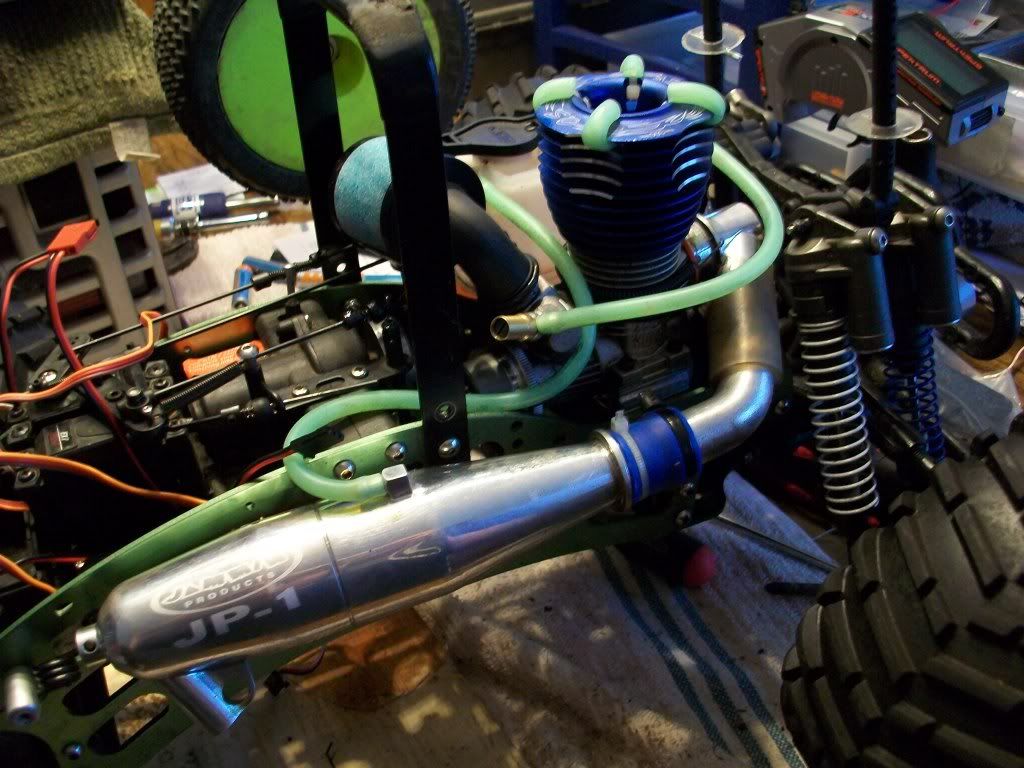 If you look at the 3rd pic you'll notice the top shock set up in the rear. I think you only have 4 shocks so theres no need to do this but for the gst or the old genesis it definately needs it to loosen up the suspension formore of a truggy feel.
05-07-2012, 11:15 PM
Junior Member
Join Date: May 2012
Location: , AUSTRALIA
Posts: 1
Gallery
Models
Ratings
RE: GST 7.7 shifting (WOULD LIKE RESPONSE FROM CEN)
---
hi jamie i know this is a long time ago but i have the same problem with my gst and also 2 motor rebuilds in not even a gallon of juice and not a ounce of help or support or discount from cen , as a matter of fact they were trying to say it was my fault
and whats more the hobby shop broke in and tuned my car on the second time because they believed it was my fault too
the motor never once ran nice or did it have this "amazing" power it was supposed to have ,i have quite a few cars and trucks and broke them all in without a problem but im sure im not telling you anything you dont already know hey!
well after the second rebuild i swore the engine was crap and was going to simply use the parts i could on my savage xl and that by the way IS a awesome truck! i had the tuned pipe , the shocks and the wheels ear marked for spares although the wheels were also very very heavy.
but i did a bit of searching for a motor that was somewhere in the ballpark for the cen so i could just replace it and i came across the mighty "MGT 8.0" and let me tell you it is a great engine !!!
i had to make some mods to it to make it all work but in the end i have a pretty tough and solid truck but mainly the engine has been the game changer, i took the tires off the rimms and made them into foam rubbers and they are great too
the cen still has never hit third gear but im going to do some tuning again on the weekend and see what becomes of it ,like i say i have other cars and trucks so it takes a while to get back to one lol
but anybody reading this and having engine trouble then do some mods and change out the engine and go with the mgt 8.0
basically its only make a big collar for the flywheel , drill some bigger holes in the block to mount the engine to the mounts and cut a mgt 8.0 manifold pipe off and weld the cen pipe to the mgt manifold,after that you simply move the fuel tank to the opposite side and your done!!
the rest of the truck seems to be pretty solid

05-10-2012, 01:34 PM
Junior Member
Join Date: Feb 2009
Location: BRICK, NJ
Posts: 18
Gallery
Models
Ratings
RE: GST 7.7 shifting (WOULD LIKE RESPONSE FROM CEN)
---
I have to agree with most everyone here. Cen support is very poor. I have broken 2 clutch bells. I am currently having a problem with the alignment of the gears on the engine & on the trans. I was told on the cen forum, if it looks wrong then it is. I got soo pissed when I read that response. I asked about the overhead shocks & was told not to even bother with them.
I just tried to upload a pic of my problem on their forum, something about the quota being met & no more pics can be posted. Its been like that for 2 months!!

As far as gear shifting, I have no idea ( don't have much room to run) & when I have the room something breaks
Posting Rules
You may not post new threads
You may not post replies
You may not post attachments
You may not edit your posts
---
HTML code is Off
---