SPAD C/L Trainer
10-02-2010, 06:48 PM
Member
Join Date: Jan 2002
Location: Oklahoma City, OK
Posts: 87
Gallery
Models
Ratings
SPAD C/L Trainer
---
With the political season upon us and the proliferation of coreplast signs has anybody desigend a Spad type trainer for a larger engine like the Fox 35? I have the plans for the Man Win trainer which is geat for the Cox Black Widow but would like to see a trainer with a coreplast built up wing. If no plans what would be a good wingspan for something like this.
10-11-2010, 01:11 AM
Senior Member
Join Date: Apr 2008
Location: Saskatoon, SK, CANADA
Posts: 147
Gallery
Models
Ratings
RE: SPAD C/L Trainer
---
Fargophil,

I designed a SPAD trainer for my Fox .35. It has a built-up wing with a 48" span and 10" chord and a drainpipe fuselage. It is too heavy for a stunt trainer with the .35, which will just get it off the ground. I upgraded to an OS .40 and then to an OS .46LAS.
Its not a bad trainer but not a good stunt trainer as I had hoped. It stops flying real easy if you try to turn too hard.
It might be a better plane with a light weight .60.
10-11-2010, 06:06 AM
Senior Member
Join Date: Jan 2004
Location: Oberlin, OH
Posts: 404
Gallery
Models
Ratings
RE: SPAD C/L Trainer
---
I built a plain a few years ago for a .35 Enya engine. It is all coroplast the fuselage is 10mm, the stab and rudder are 4mm and the wing is 2mm. The plane float very nicely, I am not a good stunt pilot but it will do 8's inside and outside loops and flies just as well inverted as upright.

The plane has a 48" wing span with a 12 cord for 576 sq. in. it weights in at 32 oz when the tank is empty. In my opinion it would be a fantastic trainer or stunt plane. But it would never win anything on appearance
10-11-2010, 08:12 AM
Join Date: Apr 2002
Location: Parkville, MO
Posts: 1,421
Gallery
Models
Ratings
RE: SPAD C/L Trainer
---
I designed my Buster Hell on Rails, BustaHOR a couple years ago and used it for training and balloon bust. It's loosely a Buster shaped wing and tail, I was going to put a 2 mil fuse profile on it, may still do it, but it works as is and uses fp 20 or 25 for a motor.
It's an aluminum fuse like the regular SPAD HOR and a flat bottom RNAF wing. That means it's a 4 mil bottom with 2 mil wrapping on the top. I figured it would be just an upright machine anyways so didn't worry about the flat bottom and the RNAF wing takes hitting the Balloon sticks well. I rubberband the wing on as well for easy transport and shock absorption on hard landings.
Here's a picture of me going after a balloon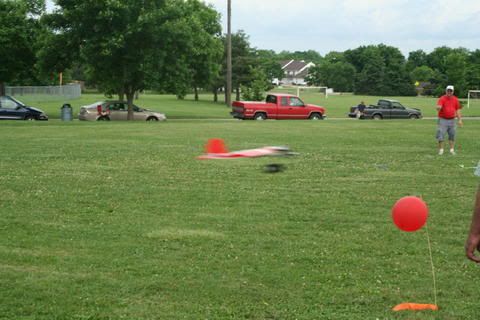 Build thread on Spadworld.net
http://spadworld.net/forum/viewtopic...light=bustahor
10-11-2010, 09:53 AM
Join Date: Oct 2002
Location: Port Ewen, NY
Posts: 3,440
Gallery
Models
Ratings
RE: SPAD C/L Trainer
---
OK...Gotta fess up! When I first opened this thread last week, I expected to see a biplane.
[&o]
George
Posting Rules
You may not post new threads
You may not post replies
You may not post attachments
You may not edit your posts
---
HTML code is Off
---