Mini Ultra Stick Wing Incidence
09-11-2012, 09:03 PM
Junior Member
Join Date: Oct 2003
Location: surprise, AZ
Posts: 3
Gallery
Models
Ratings
Mini Ultra Stick Wing Incidence
---
Hi! I joined this site a long time ago but am just recently getting back into the hobby. Here's the question: I recently purchased an E-Flight Mini Ultra Stick, and me being me, I promptly stripped the stock covering off and re-covered it in Monokote. I thoroughly checked the plane before and after and the covering doesn't appear to have warped anything any different from how it was before I re-covered it. BUT, the wings seem to have a negative angle of incidence to them... meaning the front is lower than the back. I'm no aeronautical engineer, but I am very familiar with aviation in general and the basic principles of flight. With the wings level, this results in the horizontal stab drooping, which I would assume resuld in the same effect as a down elevator.
Are other's MUS's or similar Stik type aircraft layed out in the same way?
Here's a pic of what i'm talkin' bout:
And, just to show off the finished product
I made the sharkmouth from scratch using Monokote trim: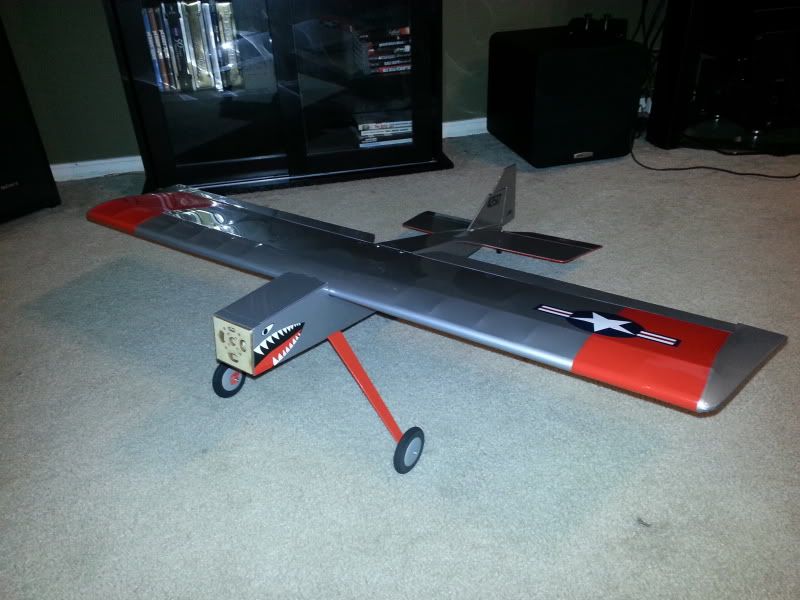 09-20-2012, 08:31 PM
Join Date: Apr 2004
Location: Aurora, CO
Posts: 1,291
Gallery
Models
Ratings
RE: Mini Ultra Stick Wing Incidence
---
Nice!

Kurt
01-21-2015, 11:25 AM
Member
Join Date: Aug 2005
Location: Youngsville, LA
Posts: 32
Gallery
Models
Ratings
---
I have the same issue. I guess most of the folks that are flying this airplane have the elevator trimmed up 1/8" or more to compensate for this.
That said, I am not to happy with the position of the horizontal stab in relation to the wing.
I think the CG is incorrect in the manual, since I have used the recommended E-Flight 450 motor, ESC, and battery and found the airplane to be very nose heavy.
Between these two issues I am forced to land the airplane extremely hot.
I am planning on adding weight to the tail to move the CG back so it will land at a reasonable speed and not like a flying brick.
Posting Rules
You may not post new threads
You may not post replies
You may not post attachments
You may not edit your posts
---
HTML code is Off
---