Cheap speed plane
08-10-2009, 03:05 PM
Join Date: Jul 2002
Location: Fairfield, CA
Posts: 254
Gallery
Models
Ratings
Cheap speed plane
---
Here you go, Pred II wings clipped to 38", Jett 50 & short pipe, apc 9.25 pitch. Havent had a tach or radar yet, appears to be going faster than my high dollar q500 with a Nelson 40.
Lots of questions on this forum about what plane to get to go fast. Highly recommend this type of setup for affordable speed. No major mods to the plane besides table sawing the wing. Glassed the inside of the fire wall and glued the hatch on. Tail incidence was way off, didn't check it before I flew. Had to use a heat gun to remove the tail and reset. Had about 2 degrees neg stock. Had to turn the throws way down from recommended.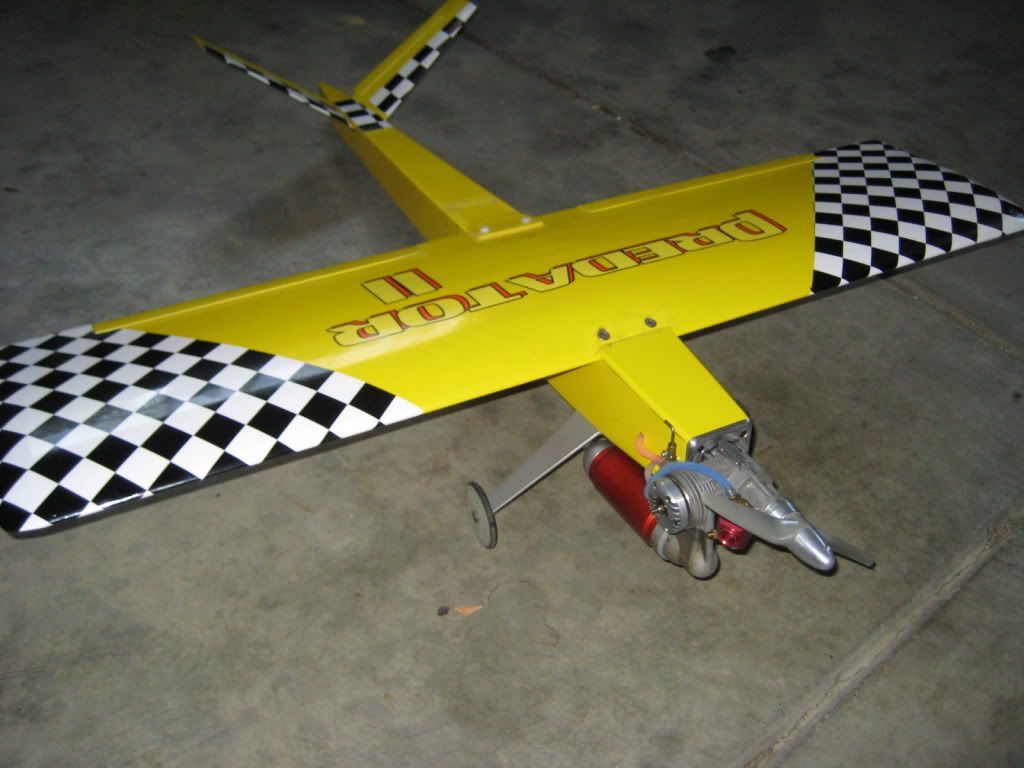 08-10-2009, 03:55 PM
Join Date: Apr 2002
Location: Cleveland, OH
Posts: 5,576
Gallery
Models
Ratings
RE: Cheap speed plane
---
Yep...
Thats the combination !
Clipped Q-500, SJ-50, bunch of prop
(although I usually take the 8.8x9.25 and take the diameter down to 8.25 or so... just to get the ground rpm up a bit)
Same sorta setup with a TT46pro + jettstream + 8.8x8.5 works quite well too.
08-10-2009, 05:55 PM
Senior Member
Join Date: Jan 2002
Location: Tulsa, OK
Posts: 2,025
Gallery
Models
Ratings
RE: Cheap speed plane
---
While it may be a bit faster in the straights, do you notice it bleeding off more speed in the tight turns from a lower aspect ratio? I have been doing some reading about aspect ratios and was just wondering if there is a trade off.
08-10-2009, 06:18 PM
Join Date: Jul 2002
Location: Fairfield, CA
Posts: 254
Gallery
Models
Ratings
RE: Cheap speed plane
---
Not really, hard to tell at this speed though. Doesnt seem to pull as hard in the turns as a regular wing if that makes any sense.
Posting Rules
You may not post new threads
You may not post replies
You may not post attachments
You may not edit your posts
---
HTML code is Off
---