MR Aerodesign 1/4 Scale Mudry CAP 10b Review / Build
01-23-2019, 10:22 AM
Join Date: Feb 2013
Location: , OH
Posts: 32
Gallery
Models
Ratings
---
The landing gear struts will be
installed in wood blocks which were completed this weekend. This is a wonderful example of the modular construction and assembly of a few of the components of this kit. I also completed the beam that will connect the wing halves. It is incredibly stiff due to the 5 ply plywood.
01-27-2019, 08:16 AM
Join Date: Feb 2013
Location: , OH
Posts: 32
Gallery
Models
Ratings
---
The wing center section moved closer to completion this weekend. As with the two previous kits, I decided to make the wing retaining dowels replaceable. I had one break in a crash of a Goldberg Tiger 2 some years back, and replacing a glued-in one and attaining the original alignment took some work. So now I install a brass tube into which the wood dowel friction fits. The back end of the tube is capped, but this time I installed a small #2 brass screw so that the dowel can be screwed in and not friction fit as before. The cap and screw are soldered in place. The brass tubes were then epoxied in place.
02-11-2019, 09:26 AM
Join Date: Feb 2013
Location: , OH
Posts: 32
Gallery
Models
Ratings
---
Made progress on the wing center section and panels. The panels build differently from other kits I've put together in that the spar does not lay flat on the build table. It must curve up to meet the slots in the ribs, and being hard wood, I thought it best to steam and bend the spars to the correct angle before installation. I steam bent the upper and lower on the same jig so they would be symmetrical. This way, they naturally fit into place and minimize the chance of any warping afterwards. Following the sheeting, the panel sat evenly on all all the build tabs - nice and true.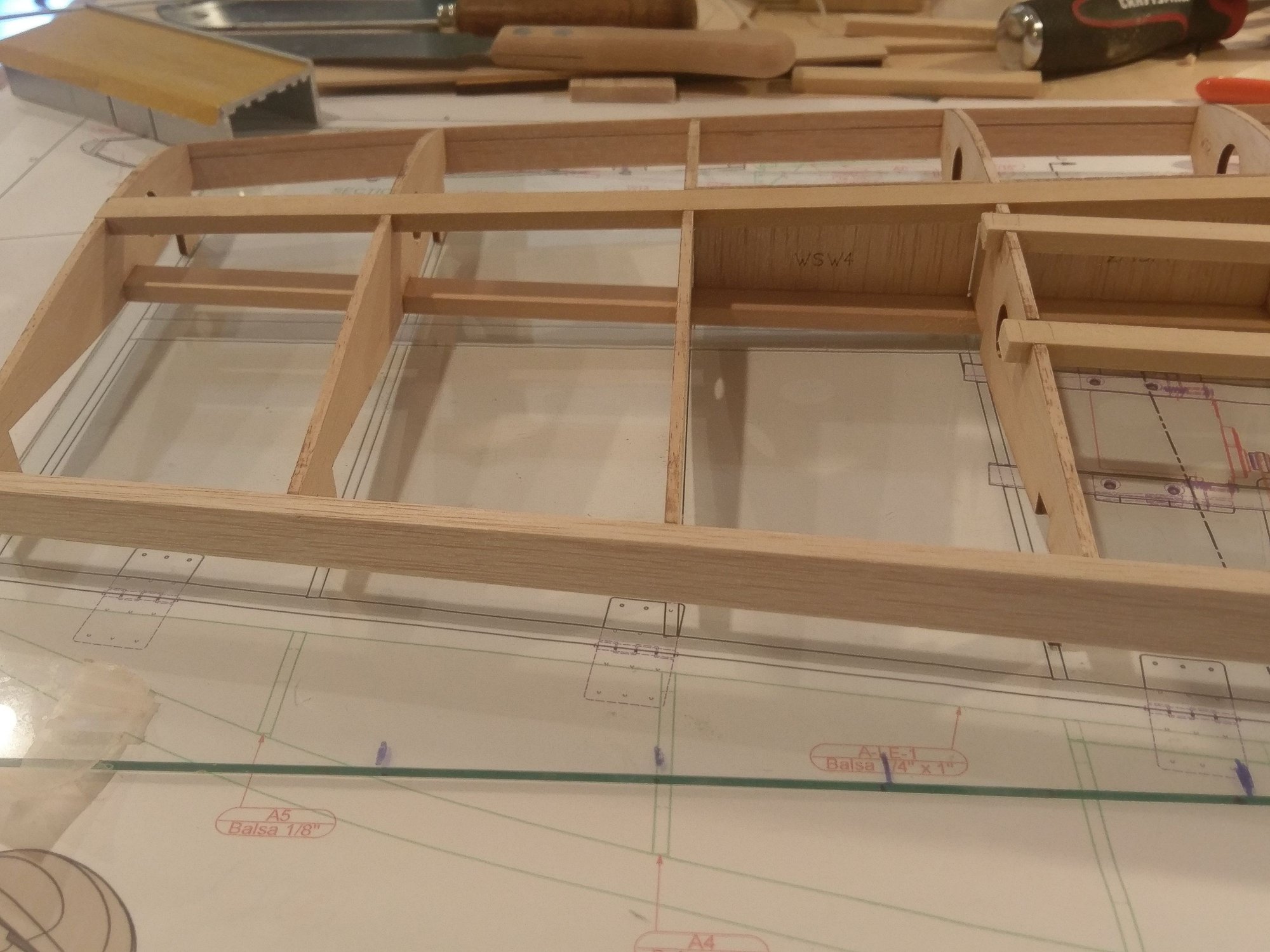 Posting Rules
You may not post new threads
You may not post replies
You may not post attachments
You may not edit your posts
---
HTML code is Off
---