New guy with a new toy !
09-02-2013, 12:37 PM
Junior Member
Join Date: Sep 2013
Posts: 5
Gallery
Models
Ratings
New guy with a new toy !
---
What's fellas I'm new to the forum and pretty much new to the nitro rc world...I did have a duratrax maximum about 10 years ago but my old man use to do all the work to it so I didn't learn much. And it started giving problems so I just say it aside... Now that I make my own money I've been wanting back in on the hobby so I began my search I decided I wanted a truck so I did some research and can up with either a hpi savage or the revo. I posted an ad on Craigslist trading an iPhone 4S for an rc truck an 2 das later had a hit a guy with a "1000.00" savage he told me it was ready to use so I went to see it. none the less it ran and he used it for like 2-3 min I saw it running an made the trade !
Now I own a truck I know nothing about so I'm coming to you guys for help. He tells me it has like a 300.00 after market motor and super good radio control ? I'm trying to see if all this is true ?
I know I need to rebuild or do a little maintinace on the "integy" shocks it has I know these are kinda pricey and I've also read they suck ! So my question is can I rebuild/male them work my self ? Are they worth rebuilding ? Or should I just put the stock shocks back on ? They do look pretty bad ass and I already have them so wouldn't mind making them work.
Another thing he told me I should take the truck and control to get checked out cuz it wasnt braking. And he said that's how you shut off the truck ? He said this was an amazing set up that had a safety feature that if the truck loose signal it would shut it off. Can I fix this my self or must someone with experience do it ?
I'm just trying to find out if what this guy says is true and what exactly I have as a truck and in parts ? Would you guys says its worth ?
Any tips on what I should do before I run it to keep it safe and not blowing up on me ? ? Sorry for the boring essay but I'm a newb to this and just looking for some advice thanks in advance for all the tips and advice !!
Here are some pics of what I have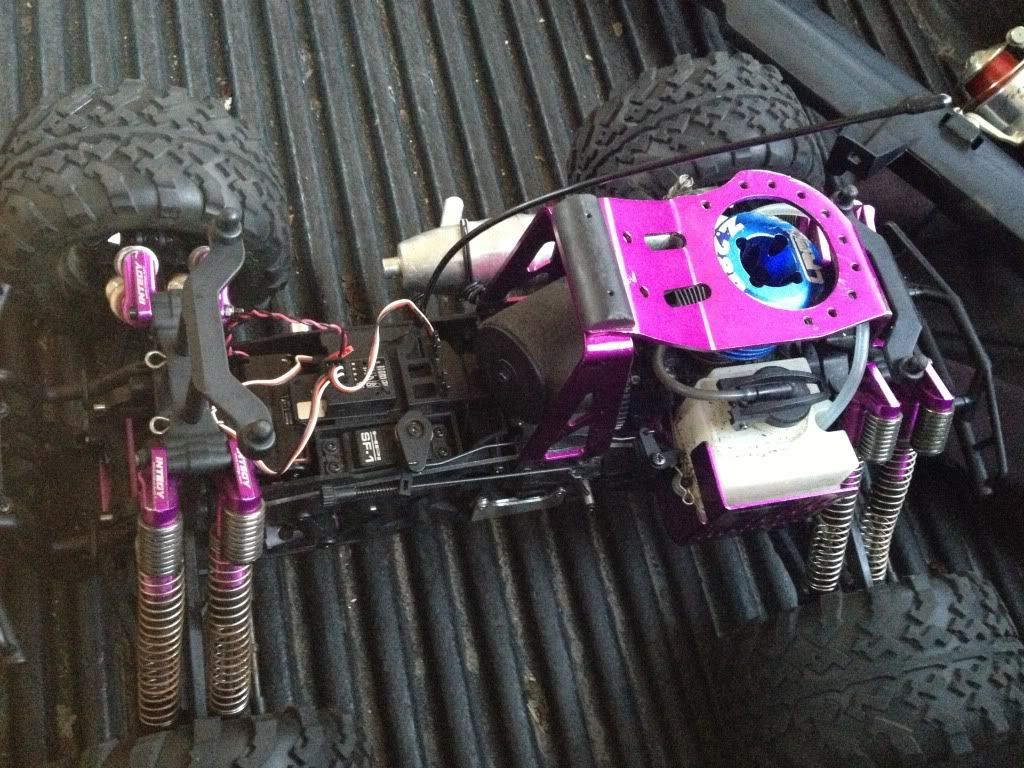 09-07-2013, 05:31 PM
Member
Join Date: Apr 2012
Posts: 39
Gallery
Models
Ratings
---
I'd say altogether worth maybe $150 to $250.
That is a very good engine, but it is not a $300 one. I bought mine (The same one) nib off ebay for $162 including shipping.
Does the receiver say "hpi" on it? If so then the radio probably isn't very expensive.
As for the integy shocks, just run them till they puke. If they are leaking oil, ditch them. If not then run them.
When they do go, just get a set of stockers. They will last you a while.
Posting Rules
You may not post new threads
You may not post replies
You may not post attachments
You may not edit your posts
---
HTML code is Off
---