New HobbyZone Firebird Stratos for AFPD
06-20-2013, 09:07 AM
Senior Member
Join Date: Nov 2004
Location: Chantilly, VA
Posts: 174
Gallery
Models
Ratings
New HobbyZone Firebird Stratos for AFPD
---
Hello sim flyers,
Here's a just completed conversion of an FMS model to AFPD.
[link=http://gunnerson.homestead.com/files/ipacs/hz-firebird-stratos.zip]HobbyZone Firebird Stratos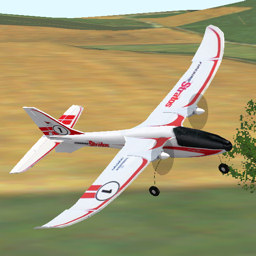 [/link]
Special Note: Put the rudder on the aileron channel as primary
turning control for a three channel airplane. Actual airplane does
not have a steering front wheel, it is on the rudder channel.
This is one awesome RTF airplane, it has terrific looks and comes
with some awesome technology for easing a newbie flyer into a
successful flying hobby. They call it Electronic Virtual
Instructor technology and experienced pilots can think of it
as a roll gyro with a mixing radio that makes it easier
to fly the model and keep it straight and level and well
behaved in the turns.
WebSite:
http://secure.hobbyzone.com/HBZ7700.html
Video FliteTest Review:
http://www.youtube.com/watch?v=fBRShTlFpGA
WingSpan: 42 in. (1.070 m)
Length: 30 in. (0.765 m)
Weight: 17.0oz. (0.482 kg)
Battery: 2-cell 7.4V 1300mAH LiPo
Power System: twin 180 brushed motors
Prop size: 4.75 x 2.5 counter-rotating
Flight Time: 10+ Minutes
Radio System Included: 3-Channel 2.4Ghz Radio
CofG: 0.8in (20mm) in front of landing gear
If anyone is flying this model, please give it a try
and let me know of any changes needed.
ggunners
Posting Rules
You may not post new threads
You may not post replies
You may not post attachments
You may not edit your posts
---
HTML code is Off
---