New ParkZone F-27Q Stryker for AFPD
06-21-2013, 08:32 AM
Senior Member
Join Date: Nov 2004
Location: Chantilly, VA
Posts: 174
Gallery
Models
Ratings
New ParkZone F-27Q Stryker for AFPD
---
Hi AFPD flyers,
Here's the recently converted:
[link=http://gunnerson.homestead.com/files/ipacs/pz-f27q-stryker_afpd.zip]ParkZone F-27Q Stryker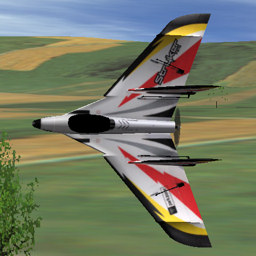 [/link]
Notes: The ParkZone F-27Q Stryker is a new beast of a delta
airplane. Borrowing from the two older generations and breaking
new ground for a delta wing design, ParkZone has shown some
amazing capabilities in this new model. New to this version are
the dual rudders and fiberglass reinforcements. I saw this model
at SEFF 2011 and seeing the blenders, flat spins, elevators,
knife edge, snap rolls and the new dive-n-stop were just awesome.
This model is sure to sell well and looks like a whole bunch of fun.
http://www.parkzone.com/Products/Def...ProdID=PKZ5680
Wing Span: 37.1 in / 943mm
Overall Length: 24.1 in / 612mm
Flying Weight: 30.0 oz / 855g
Motor Size: 480 power (2200Kv) brushless outrunner motor
Prop: 6x6
ESC: 40A brushless
Battery: 3-cell 11.1V 2200mAh 25C LiPoly
Channels: A/R/E/T four DSV130M digital servos
Receiver: AR600 DSM2 6-channel
Requires: full-range DSM2 aircraft transmitter (sold separately)
Please compare this AFPD version to the real rc model and let
me know what changes need to be made.
Good Flying! ggunners
06-24-2013, 06:24 AM
Moderator
Join Date: Jun 2002
Location: Missouri City, TX
Posts: 8,175
Gallery
Models
Ratings
RE: New ParkZone F-27Q Stryker for AFPD
---
Pretty cool and good job!