New ParkZone RAF SE-5a for Aerofly Pro Deluxe
09-04-2013, 09:04 AM
Senior Member
Join Date: Nov 2004
Location: Chantilly, VA
Posts: 174
Gallery
Models
Ratings
New ParkZone RAF SE-5a for Aerofly Pro Deluxe
---
Hello AFPD flyers. Just completed an:
[link=http://gunnerson.homestead.com/files/ipacs/pz-raf-se5a_afpd.zip]RAF SE-5a for AFPD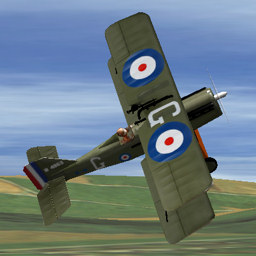 [/link]
Special Note: This AFPD model should be extracted from the .zip
file and the folder copied to the AFPD aircraft directory. Then
the .wav file for the model needs to be copied to the AFPD sound
directory. Please read INSTALL.TXT and EULA.TXT included. Special
thanks to Hans Wonner for fine-tuning this model.
Notes: Nothing is nicer than a World War I biplane to fly around
the paddock. The R.A.F. SE-5a was one of the first combat
airplanes for the more typical flying recruit. It had good
manners and good survivability. The scale realism is very
nice on this model.
website:
http://www.horizonhobby.com/Products...ProdID=PKZ5580
video:
http://www.youtube.com/watch?v=hTodubDfSzE
Wing Span: 37.1 in / 943mm
Overall Length: 30.0 in / 760mm
Flying Weight: 40.6 oz / 1150g
Motor Size: 960Kv 480 size brushless motor
Prop: 10 x 8 in. / 25.4 x 20.3 cm brown scale prop
ESC: 30A brushless with Switch-Mode BEC
Battery: 3-cell 11.1V 1800mAh LiPoly
Channels: A/R/E/T dual aileron servos
Landing Gear: Fixed main LG and steerable tail wheel
Please compare this model to the actual and let me know if the
flight parameters need changing.
-- Gary [link=http://gunnerson.homestead.com/files/ipacs_models.htm](my afpd web site)[/link]
P.S. Some model parts borrowed from: [link=http://gunnerson.homestead.com/files/Shinichiro_Nishiya/fms_models.htm]Shinichiro_Nishiya[/link]
09-09-2013, 08:31 PM
Join Date: Jun 2002
Location: Missouri City, TX
Posts: 8,158
Gallery
Models
Ratings
---
Another nice piece of work! Well done!
Posting Rules
You may not post new threads
You may not post replies
You may not post attachments
You may not edit your posts
---
HTML code is Off
---