Q40 successful first flight
02-11-2008, 09:12 PM
Join Date: Jul 2002
Location: Fairfield, CA
Posts: 254
Gallery
Models
Ratings
Q40 successful first flight
---
Just wanted to thank all the guys that answered my inane questions over the last few months.
Finally got to fly my q40 today, successfully! Actually second time I have flown it but the first time I bounced it on take off and it busted the prop and almost piled it.
Had a guy help me launch it today, everything went great. Man these things are memorizing when they are going that fast. Landing went ok, not perfect but no damage, guess thats what counts. I was surprised at how far it would glide. Also the carb is pretty much useless, I was able to trim it out at full speed anyway. Just kept it real high until I got it trimmed. Hopefully I will get a fair amount of flights before it crashes. The field I fly at has a fence right about where you need to be to make the runway. So you have to clear it by about a foot.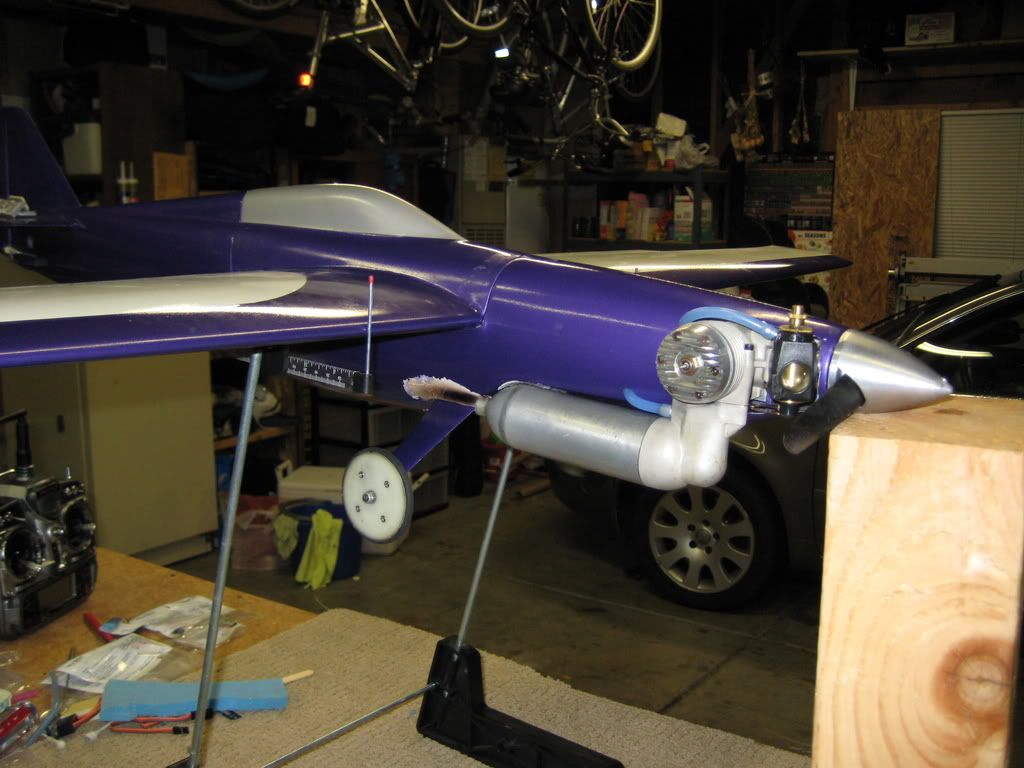 02-11-2008, 10:15 PM
Senior Member
Join Date: Dec 2001
Location: Waseca, MN
Posts: 8,455
Gallery
Models
Ratings
RE: Q40 successful first flight
---
Congrats!

They are fun once you get them dialed in, and learn how to set up the proper glide pattern for landing.
02-12-2008, 03:54 AM
Senior Member
Join Date: Aug 2002
Location: HamiltonQueensland, AUSTRALIA
Posts: 149
Gallery
Models
Ratings
RE: Q40 successful first flight
---
Eco,

Congrats on the successful flight.

Have you had any problems with the Perry carby coming loose?

The aluminum sleeve on mine comes loose allowing the carby to rotate or move.

My Nelson engine idled well while the sleeve was tight, which was not for long unfortunately.


02-12-2008, 10:13 AM
Join Date: Jul 2002
Location: Fairfield, CA
Posts: 254
Gallery
Models
Ratings
RE: Q40 successful first flight
---
Yes I did have problems with it coming loose. First tried hightemp silicone which I have used for all kinds of stuff even full size race cars, didn't hold. Then cleaned up things real well and used JB weld, seems to be holding fine.
02-12-2008, 01:04 PM
Senior Member
Join Date: Jun 2004
Location: Merced, Ca., CA
Posts: 2,118
Gallery
Models
Ratings
RE: Q40 successful first flight
---
eco:

Wonderful!!!. I see you are hot on the learning curve of carbs and paint and exhaust deflectors. Amazing how fast things come up at around 200, huh? If you want to keep going as fast or faster with a *****cat engine, go Jett 60 LX, will idle like your OS only better, about the same weight and size. Would not trade mine for almost anything. Gotta go, computer guy is here. ENJOY
02-13-2008, 08:17 PM
Join Date: Nov 2007
Location: Fritch, TX
Posts: 2,060
Gallery
Models
Ratings
RE: Q40 successful first flight
---
Congratulations on a successful flight. I am also on a learning curve on these QM-40 models.

I am flying a Napier with a Thunder Tiger Pro 40. It goes great but I am sure it is not as fast as your Nelson powered model.

The Thunder Tiger does idle well but I did not try it on landing. Someone else landed in idle but ended up breaking the prop anyways. I just kill the motor and then climb vertical until it slows down. Then I glide in for a dead stick landing.

Good luck with your model.

Scott Hartman
Fritch, Texas
Posting Rules
You may not post new threads
You may not post replies
You may not post attachments
You may not edit your posts
---
HTML code is Off
---