Hillsdale KS Spring Barnstormers Q500 race
05-22-2012, 01:48 PM
Join Date: Aug 2004
Location: Paola, KS
Posts: 2,763
Gallery
Models
Ratings
Hillsdale KS Spring Barnstormers Q500 race
---
We've had to re-schedule our race, originally planned for this weekend (memorial day) because we weren't able to find enough people to work!
the new date for the RC Barnstormers Spring Q500 race is June 9th at the field at Hillsdale Lake, KS.
See the flyer for additional info, we'll be flying 424 and 426 both.
Hope to see you there!
In case you can't make it out, contact carl.melin2 at gmail.com (sub the @ and remove the spaces...) for additional info, or post here and I'll watch for it..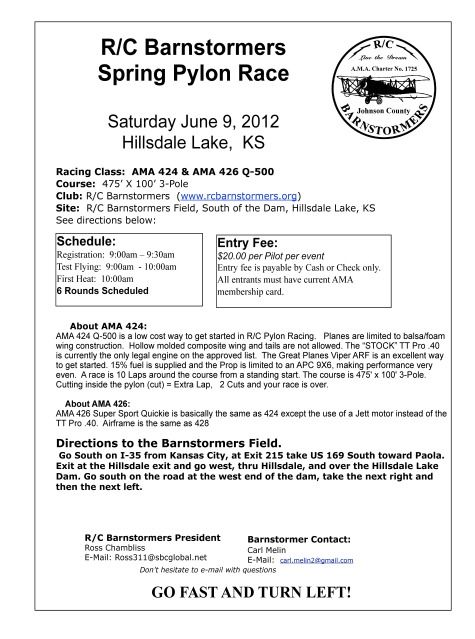 05-28-2012, 07:08 AM
Join Date: Aug 2004
Location: Paola, KS
Posts: 2,763
Gallery
Models
Ratings
RE: Hillsdale KS Spring Barnstormers Q500 race
---
Hope folks are able to make the race, not sure if Carl has heard from anyone yet or not.

You can PM me or post here if you've got any questions, looking forward to seeing everyone at the race!
Posting Rules
You may not post new threads
You may not post replies
You may not post attachments
You may not edit your posts
---
HTML code is Off
---