Midwest RC Barnstormers Fall race
08-02-2012, 05:12 AM
Join Date: Aug 2004
Location: Paola, KS
Posts: 2,763
Gallery
Models
Ratings
Midwest RC Barnstormers Fall race
---
Just heard from the CD of the upcoming fall RC Barnstormers race at Hillsdale, KS that the date will be changing from August 11th to September 8th.
Hope anyone interested will be able to make it! You can post or message me here for more info, or e-mail Carl (the CD) This is the note I just got from him:
In view of the extremely high temperatures we have been having in Kansas for the last 6 weeks with no relief in sight, I have been convinced that we need to change the date of the Fall R/C Barnstormers from Aug 11 to September 8. That is the weekend after Labor day and the weekend before the scheduled Wichita Race!! We hope that all of you are able to make it on the new date, and that the temperatures will have have moderated by then, and that we will have sufficient workers to do it justice!! Attached is a Flyer for the Race to serve as a reminder of the new date!!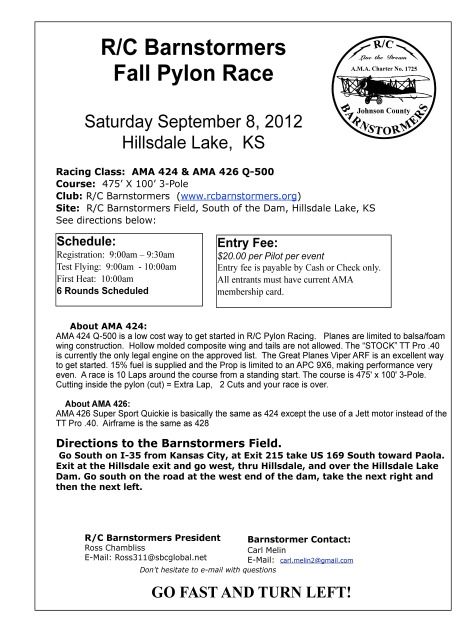 08-28-2012, 11:21 AM
Join Date: Aug 2004
Location: Paola, KS
Posts: 2,763
Gallery
Models
Ratings
RE: Midwest RC Barnstormers Fall race
---
I regret to announce that the Fall Barnstormer Q500 race is cancelled - we just weren't able to get enough club members to commit to working at the event, primarily because of the date change from earlier in the fall, too many people already had other plans.

Don't forget the Wichita KS race on the 15th/16th of September (planned 424/426 on Saturday, 422 on Sunday) and the Kansas City MO race on October 6th & 7th. It will be nice to have a midwest 422 race (Wichita) and the KCRC race is usually well attended, and excellent racing!


Posting Rules
You may not post new threads
You may not post replies
You may not post attachments
You may not edit your posts
---
HTML code is Off
---