What have you done to your RC today?
09-04-2018, 06:30 AM
Join Date: Oct 2012
Location: central PA
Posts: 4,192
Gallery
Models
Ratings
---
Originally Posted by
suburban_hooligan
ok so in the last 2 weeks iv acquired: RC10 (6 gear trans), RC10, RC10T, RC10L, Team Losi XX, Cox Nissan GTP, and some unidentified 1/8 nitro drag cars. as well as all the electronics for everything.
last weekend i organized and made sense of it.
this weekend i got the RC10L to run (still need to mount and paint the body) but iv test driven it and it's ohhh so smooth. then i took apart a bunch of old nicd and nimh packs that were starting to get fuzzy and leak. made up some nimh saddle packs. then i finally tuned the suspension on my clodbuster. iv got 8 AE shocks on it, i changed the shock pistons, went to thinner oil, and took a spring off 1 shock per wheel. it's no longer way over sprung.
"fuzzy"...nice discription
.
Acquired a RC10? Now I am jealous.
What would kill me, in terms of desire, would be if Team Associated decided to re-release the RC10T in the next up and coming months. I got myself focused on purchasing one more RC, and only one (land RC anyways). If Panther Step-Pin tires are still available around December, then I'll be a very happy person. I can't be distracted by Team Associated, or any other company, re-releasing stuff.
Stay focused Rusty.
09-04-2018, 04:10 PM
Join Date: Feb 2010
Location: Long Beach, CA.
Posts: 1,075
Gallery
Models
Ratings
---
the word floating around the interwebs is that the re-release of the RC10 and RC10 worlds car was a logistics nightmare and major headache and after dealing with that they have no desire or plans to re-release any other models.
i was waiting for the RC10T and/or RC10GT myself. but with the way the worlds car was supported and that fact that it wasn't on the market very long i have no faith that a 10T or GT would be any different and that's to damn much money to sink into something that's not going to be around that long so i wouldn't buy one anyway. im tired of sinking crap tones of money into stuff that's gone 2 years (or less) after i buy it
09-06-2018, 12:52 PM
Join Date: Oct 2012
Location: central PA
Posts: 4,192
Gallery
Models
Ratings
---
My B4 is the oldest RC that I currently own. It brings joy most days that I run it, so I don't think I'll part with it any time soon. I change my mind every other month on the subject it seems. Parts support is still great. Once I can't find the CVA bones for the buggy, then I'll know it's time to sell it for next to nothing.

The backyard track is a challenge for both B4 buggy and driver. The buggy didn't see much action this year, because of the rough track. I don't know what got into me, but five packs were put through the buggy in the past two days. That's pretty remarkable seeing as the buggy doesn't get ran more than once every two weeks normally. Once I do get in the mood for buggy bashin', the B4 gets beat up quite a good bit. The buggy's wing really has no effect on aerodynamics for the speeds I run at. As the buggy struggles for traction, and flips from hitting a rock, the wing acts more like a cushion than anything else.

Shock's screw, that connects it to the rear arm, worked it's way loose. LOL. I thought I had caught a rock in the dogbone, which happens from time to time, and locks up the wheel. Not this time. It was the rear shock draggin' on the ground that was causing me to fight the buggy to go straight.
09-08-2018, 07:46 AM
Join Date: Oct 2012
Location: central PA
Posts: 4,192
Gallery
Models
Ratings
When It Rains, It Pours
---
B4 had the screw come loose at the shock mounting on the rear arm.
Stripped spur gear on Evader ST. The cause? Loosening motor mount screws/aluminum pinion gear.
Note to self: Never buy aluminum pinion gears again!
Wasn't surprised by the eBug's double sided tape failure for mounting/securing ESC to chassis (lost of aerobatic maneuvers gone wrong).
Note to self: Go back to E6000 for more porous plastics.
While fixing/securing ESC to chassis, noticed a bearing was blown at inner gearbox/CVA input cup...started to melt gearbox (picture).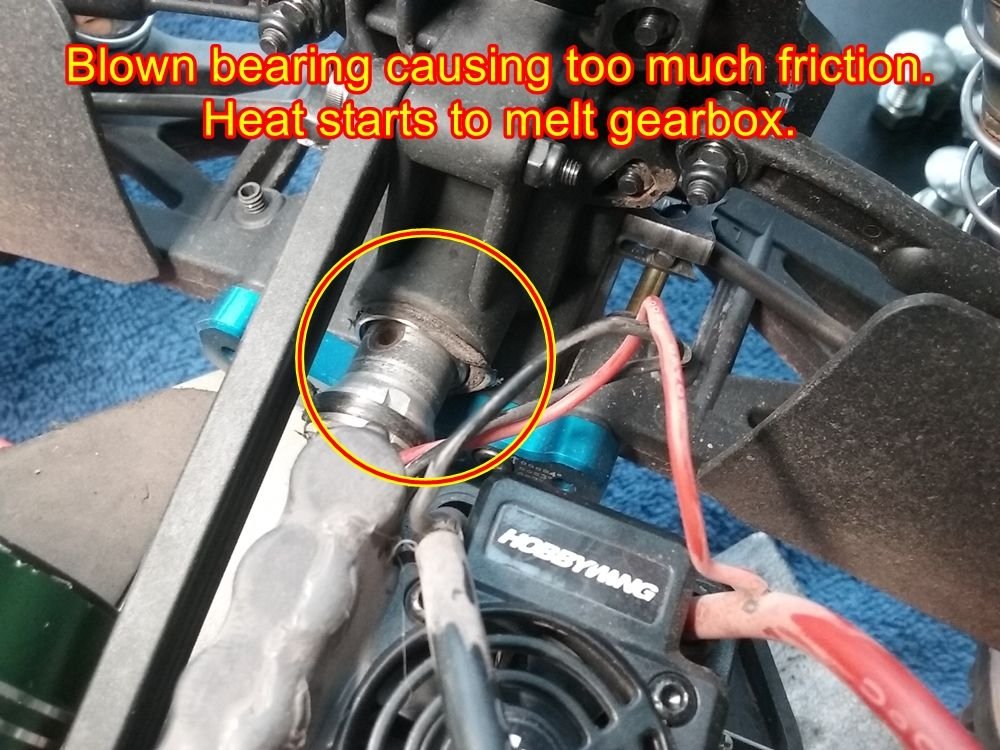 Since eBug will be down for awhile, gone shopping on eBay for gearboxes.
Adding stick-on weights to one SCT to match other SCT setup.
Since the arrival of some soft closed cell AKA inserts
happened yesterday, I'll prepping new sets of Step Pins to be glued up .
09-09-2018, 07:31 PM
Join Date: Dec 2005
Location: overland park, KS
Posts: 2,888
Gallery
Models
Ratings
---
rebuilt a gen 1 rustler today
its for my 3yr old (his first big boy rc)
started out as a parts lot from ebay
3d printed some shock spacers ,tie rods , and a redesigned a trx4 bumper (built it to fit the rustler in tinkercad)
other than new body,and tires/rims
all I had to do was update the front to use the new style hex wheels
09-10-2018, 11:35 PM
Join Date: Jun 2008
Location: Adelaide, AUSTRALIA
Posts: 6,699
Gallery
Models
Ratings
09-11-2018, 06:33 AM
Join Date: Dec 2005
Location: overland park, KS
Posts: 2,888
Gallery
Models
Ratings
---
crap somehow my other rustler duplicated itself lol
got a parts car in meant to fix the one above and it ended up complete enough to just add electronics and go
09-13-2018, 10:34 AM
Join Date: Oct 2012
Location: central PA
Posts: 4,192
Gallery
Models
Ratings
---
Time to hit Yahoo and find out what floating hubs are. That's all new terminology to me. Sacred Riana from AGT? I think she floated once.
09-14-2018, 09:38 AM
Join Date: Jan 2012
Location: Glen Burnie, MD
Posts: 655
Gallery
Models
Ratings
Posting Rules
You may not post new threads
You may not post replies
You may not post attachments
You may not edit your posts
---
HTML code is Off
---