New BVM F-18
10-04-2018, 05:40 PM
Join Date: Dec 2001
Location: FT Worth, TX
Posts: 6,003
Gallery
Models
Ratings
---
Great vid! Trust me fellas you're gonna love it and won't stop smiling for a few days
10-05-2018, 09:50 PM
Join Date: Dec 2001
Location: San Diego, CA
Posts: 3,726
Gallery
Models
Ratings
---
I flew the single engine version today at Best in the West.. It has a K-310 in it I think Rob said.. it doesn't need that much power but it's sure fun to have it!

In short.. it felt like a trainer in fighter's clothing to me.. It's a VERY easy airplane to fly, ESPECIALLY in the landing pattern. Overall it's a wonderful airplane. I took off in about 250', cleaned it up, and started feeling it out.. Its a very 'point and shoot' airplane. It just goes where you point it. Heavy rudder application does show some coupling in point/slow rolls, but it's not terrible and easily managed. Speed feels really good visually, but being so big, it's deceptively fast. The coolest thing about it in flight is when you really grab pitch, it drags its tail around just like watching a full-scale Hornet.. but the part that really blew me away was the landing pattern.. As I approached mid-field at about 50' up, I dropped the gear and started an easy turn into the downwind, dropping takeoff flaps in the turn.. Once it was stable on downwind, I dropped full flaps, and added about 1/2 power to maintain level flight at a reasonably slow speed.. As I started to turn base/final, I pulled power to about 1/4 and let it descend slowly. Rolling out on final, you can make small power adjustments to control the descent rate while holding the same pitch attitude. At no point does it feel mushy, or give any indication that it will do anything dumb. At about 5' I smoothly pulled power to idle, and just pulled a little more pitch to slow the descent until the mains touched. The gear just soaks up the landing.. It lands very slowly for such a big airplane.. Honestly, If I had a way to transport an airplane this big, I'd have one in Blue Angels colors as fast as BVM could get me one.. It's an amazing airplane!
10-07-2018, 07:46 PM
Join Date: Jul 2002
Location: SF Bay Area, CA
Posts: 226
Gallery
Models
Ratings
---
I watched the BVM team put a few flights on this large F-18 at BITW. Stunning aircraft. Slows down to a crawl for landing. Looks easier to fly than the 1/7.75 size. Definitely a must own plane!
10-07-2018, 08:11 PM
Join Date: Aug 2007
Location: Bay Area, CA
Posts: 4,307
Gallery
Models
Ratings
---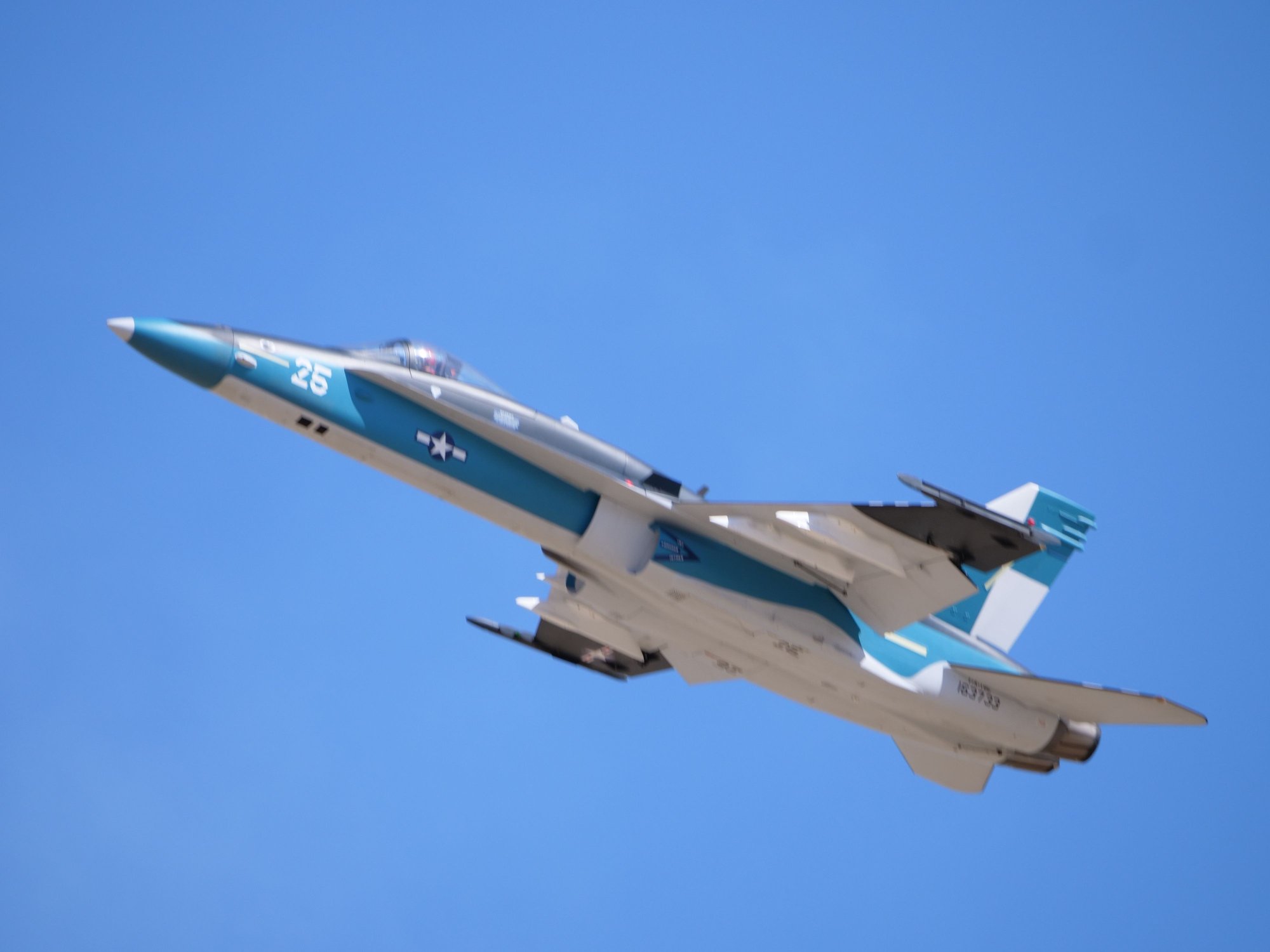 I got to pull the sticks a bit during BITW and the plane survived.
Rob is an artist behind the sticks and seeing him fly the Hornet was a highlight of the event. What a plane and pilot!
---
Last edited by dubd; 10-07-2018 at

08:42 PM

.
10-09-2018, 12:18 AM
Join Date: Jun 2009
Location: San Jose, CA
Posts: 10
Gallery
Models
Ratings
---
Both F-18s looked good at Best in the West. I ordered the Super Hornet from Patty while at the event. Blue Angels #7 paint scheme. My buddy Walter Colby got great video from both and he will be posting shortly.
10-11-2018, 08:02 AM
Join Date: Nov 2003
Location: San Diego, CA,
Posts: 369
Gallery
Models
Ratings
---
Here's Rob Lynch doing his thing out at Top Gun last May. This is probably one of the best flying F-18s I think I've seen!
Posting Rules
You may not post new threads
You may not post replies
You may not post attachments
You may not edit your posts
---
HTML code is Off
---