1/6 Scale F-18 Build
11-07-2018, 07:00 PM
Join Date: Feb 2006
Location: Fort Hood Tx
Posts: 6,175
Gallery
Models
Ratings
11-08-2018, 02:23 AM
Join Date: Jun 2008
Location: Sydney, AUSTRALIA
Posts: 359
Gallery
Models
Ratings
---
Fender have you measured the fuel capacity?
11-08-2018, 04:34 PM
Join Date: Feb 2006
Location: Fort Hood Tx
Posts: 6,175
Gallery
Models
Ratings
11-08-2018, 06:16 PM
Join Date: Oct 2005
Location: Coeur d'Alene, ID
Posts: 2,561
Gallery
Models
Ratings
---
Originally Posted by
IFLYBVM2
Thanks to Fender for taking the time to do the thread, and we all know it takes serious time to upload the pics and do the text.
I know I am just repeating what everyone else already knows, but it is ridiculous to have to fix this many things on a fully painted, multi thousand dollar jet. SM should be ashamed to ship product in this condition.
Just my 2 cents-
Mike O.
+1!!!!!
I have said this for years and years!
It's not just SM it's all of them. To be fair, all of them in varying degrees, but yes it's a huge problem in the hobby industry. Manufacturers don't go all the way because everybody that buys the product doesn't mind tinkering and building planes. You can't hold them to a basic standard of finish and quality because there's isn't strong enough opposition.
The only reason I wrote this is because I was looking at the servo covers in the photos and they don't fit! The screws don't have enough flange area so they are pushed out to the edges. The screws are not even counter sunk!
Then I read the comment above and I'm glad I'm not alone calling this crap out.
I have the 1/6 SM F-16 I bought in bare white to finish and I noticed the same issue, servo covers are a joke.
Anyway, for whatever it's worth, I urge people to voice their displeasure and buy something else if you can. Manufacturers will listen if their sales take a hit.
Last note; I'm a huge fan, I want one of these F-18, it's large, looks to be pretty scale in outline, flies very scale, etc., but for $6 THOUSAND DOLLARS for just the plane it has to be made right and well proven by the manufacturer not customers R&D.
---
Last edited by Chris Nicastro; 11-08-2018 at

06:25 PM

.
11-08-2018, 06:52 PM
Join Date: Feb 2006
Location: Fort Hood Tx
Posts: 6,175
Gallery
Models
Ratings
---
Chris, the hatches are made of real thick fiber glass and are a bit heavy for just a hatch. The backwards servo mounts were a bigger issue, I fixed it all and got them in. I used and drill bit to put a little counter sink to the hatches but you are correct due to the servo mounts and the small area for the screws you have to be careful or you will break the edge.
11-09-2018, 02:52 AM
Join Date: May 2017
Location: BLAGNAC-FRANCE
Posts: 44
Gallery
Models
Ratings
---
Thanks FenderBean, I was able to place my order with TailorMadeDecals for the Hornet maintenance stencils grey rub-ons.
There reply emails were in my spams..
11-09-2018, 07:34 AM
Join Date: Dec 2002
Location: PERTH, AUSTRALIA
Posts: 1,313
Gallery
Models
Ratings
---
Hey Chris, it is interesting to compare the quality you see with the RC gliders out of Europe and compare it to what we get in the jet arena. For $3K AU you get an awesome piece of engineering, absolute precision manufacturing and glass/ carbon work, knife edge trailing edges that are dead straight, etc. Compare that to what we get served up for 3 times the price....

I too love this F18 but am waiting for many of the bugs to get sorted first.
11-09-2018, 09:41 AM
Join Date: Feb 2002
Location: Greer, SC
Posts: 2,789
Gallery
Models
Ratings
---
You are exactly right. Pay 5-10k for a chinese arf then wait 6 months receive it. Throw away the hardware, Pipe, airlines, fuel plumbing, re-engineer the thing, repair ****ty glue joints, fix paint issues, decals dont match side to side, and on and on. Some are improving but NONE are worth the money they demand. Oh yeah, need a part, good luck, wait another 2-3 months to get any support. Then go test fly....cg numbers way off, air leaks from gear and door cylinders. It's a shame there are so few real kits left.
11-09-2018, 05:51 PM
Join Date: Oct 2005
Location: Coeur d'Alene, ID
Posts: 2,561
Gallery
Models
Ratings
---
I have bought and sold more jets than I have built solely because I review them and I'm pissed at how poor they are made, mainly, or they don't look right. I'm not interested in participating at this level of the hobby just to redesign and R&D someone's product. I want to fly jets so like everyone else I just suck it up and cherry pick them. I can't do sport jets they just don't hold my interest or I'd flying a heck of a lot more often.
Oh well, back to the thread....
---
Last edited by Chris Nicastro; 11-09-2018 at

05:53 PM

.
11-10-2018, 05:00 PM
Join Date: Feb 2006
Location: Fort Hood Tx
Posts: 6,175
Gallery
Models
Ratings
---
Didnt do much today, I had to take the wife car shopping. I did finish the tanks and need to hurry up and install the main tank so I dont have to look at the patch job, my OCD can't take it lol
I also fitted the stab servos in the tail, a bit of grinding to get them in and just like the F-14 I will be beefing up the servo screw areas. They use the typical soft ply for this and the rudder mounts so it needs so extra love.
I want to note this stab drive arm needs to be aligned with the shaft of stab both vertically and horizontally. The last picture is all the hardware for the rudders, I'm ditching the brass clevises SM provides for my typical dubro ball ends. Video is uploading as well on youtube, pay no attention to the paint chip in my eyebrow and focus problems lol
Critical area, be sure to align horizontally and vertically
Roll Tide
Rudder setup, I will be ditching SMs brass clevises and using my typical dubro ball ends
Yesterday, 05:46 PM
Join Date: Feb 2006
Location: Fort Hood Tx
Posts: 6,175
Gallery
Models
Ratings
---
Small update, I spent all afternoon putting in the two stab servos, I glued in some extra wood on the backside of the servo screws and I used longer servo screws as well. I used some carbon fiber servo holders to help give a super strong hold.
I had to add something between the servo and the ply to lift the servo so the arm would clear the outer skin, I initially use some small ply blocks but realized I had more carbon plates and used them instead. Super secure and no worry of the servos screws not holding, I even ran some CA in the holes like always to top it off.
Next I trial fit the stabs to see how much area I needed to trim to allow for max throw up and down(see picture below) I will add the metal insert to the stab tomorrow, I switched gears after the stab servos took so long and removed the landing gear. That was a pain and there is a trick to it, it will not come out hole and some of the bolts/locknuts are rough getting out. I took a couple pictures before I started the process and finished cutting out all the SM's airline. Tomorrow I will work on the rudder servos and possibly changing out the air cylinders on the main doors. I am switching to ultra precision like I did on the F-14, I have tried everything with stock cylinders from SM and they always leak. Save yourself the head ache.
Also I noticed a lot of the screws and bolts on the gear loose so if you don't remove it at least check them all. I have to paint mine so it needed to remove them for the paint.
new video on youtube as well, cheers and happy Veterans Day!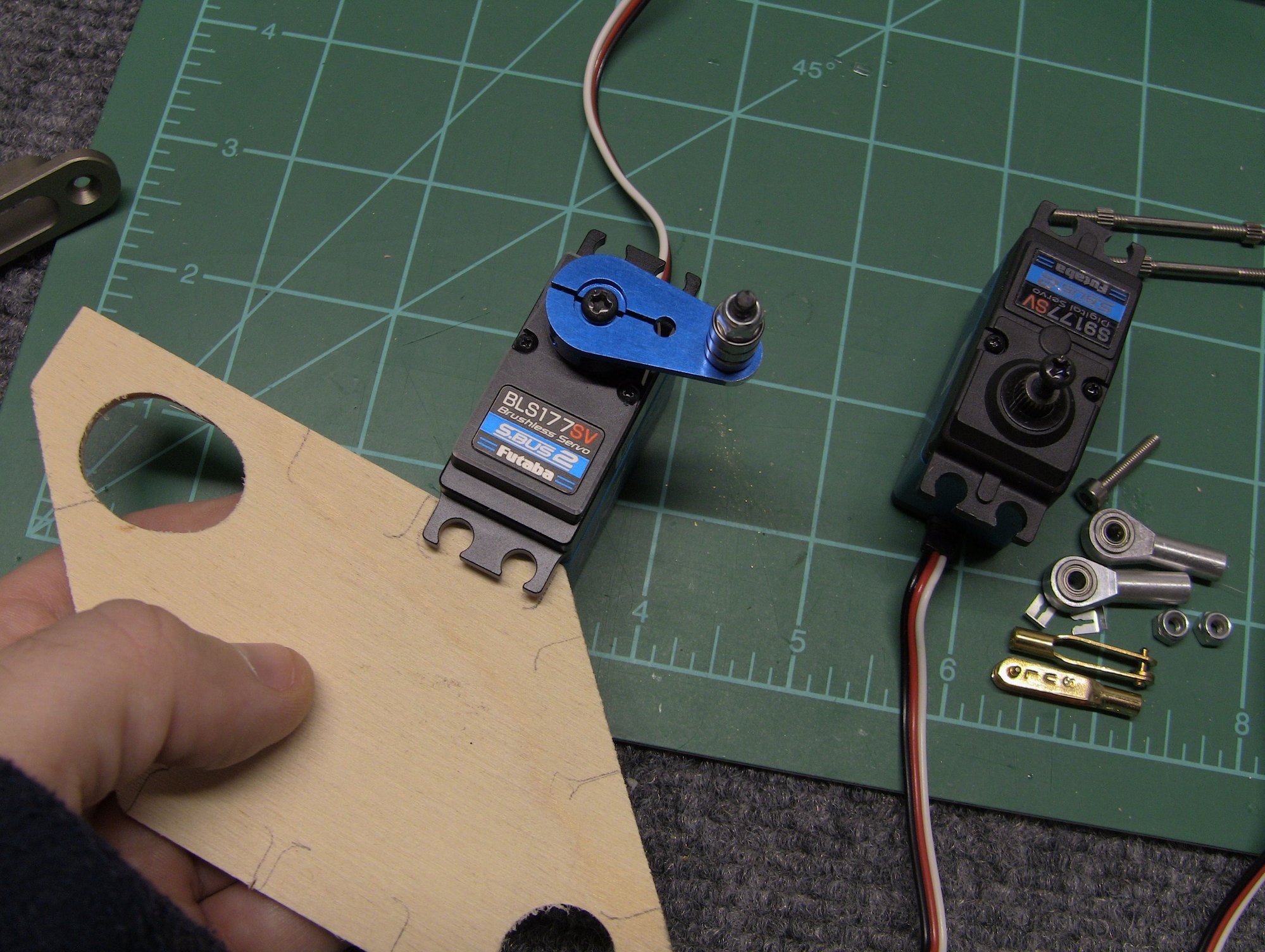 ---
Last edited by FenderBean; Yesterday at

05:54 PM

.
Posting Rules
You may not post new threads
You may not post replies
You may not post attachments
You may not edit your posts
---
HTML code is Off
---