remote bus for servos
01-05-2005, 05:52 PM
Member
Join Date: Jul 2004
Location: PALMERSTON NORTH, NEW ZEALAND
Posts: 63
Gallery
Models
Ratings
remote bus for servos
---
Hi all

I am running 11 servos in a 1/4 scale model and have an idea about power supply to servos that I would like some opinions on.
Option 1:
Run a battery in to the receiver in the normal manner
Splice into +- wires from the battery and run them into a cenral bus board (seperate from rx)
Run each signal wire from each channel on the rx to a channel on the bus board.
Plug servos to remote bus. The theory is the rx generates signal to servos in the normal way but current is directed through the remote heavy duty bus thus eliminating drawing large currents through the rx bus board.
Option 2:
As above but with one battery to rx and another larger capacity pack suppling servos (running neg from servo batt to rx for ground and signal operation. This option I think maintains stable voltage in the rx and thus a stable signal voltage (I think JR signal is regulated at 5v-I may be wrong). Using many servos at once won't cause a drop in rx voltage.

Thoughts?
01-05-2005, 06:00 PM
Join Date: Feb 2002
Location: private, UNITED KINGDOM
Posts: 3,560
Gallery
Models
Ratings
RE: remote bus for servos
---
Has been available commercially for many years, from several different suppliers and with added features. For example, SM Services opto-isolator which uses one battery for the rx, a separate battery for the servos, and optical isolation of the data signal between the rx and the servos. The simplest version is the separate battery for a retract servo, this is done regularly and all it needs is a Y lead with a cut in the +ve line out from the Rx.
See
http://smservicesuk.co.uk/acatalog
and click on "large model units"
There are powerboxes and other brands too.
http://dual-power-control.com/e/start/start/start.php
H
01-06-2005, 04:34 PM
Senior Member
Join Date: Sep 2002
Location: Rochester, NY
Posts: 1,373
Gallery
Models
Ratings
RE: remote bus for servos
---
Make sure you run the ground lines from the receiver to the bus as well, relying on the battery ground for signals is a bad idea.
01-22-2005, 05:14 PM
Senior Member
Join Date: Oct 2002
Location: NEWPORT, RI,
Posts: 330
Gallery
Models
Ratings
RE: remote bus for servos
---
Ah!
I got just the product for you guys (patent pending of course).
This is a "plug-in" unit specifically designed for the Futaba R149DP PCM receiver.
It basically allows you to power your servos seperately (using different battery then the receiver battery) and also provide voltage regulation (6v) to all servos. I have had this in my Patty Wagstaff this past year and worked flawlessly. Power is the only thing isolated in this setup (i.e. receiver and servos share common ground and signal).
I have also designed my own 8 channel double-buffered/amplified Servo opto-isolator. This currently is in testing,.. and appears to work great! This design COMPLETELY isolates the receiver from the servos, allowing for 2 seperate/isolated power supplies. Unlike some other optoisolators I have seen, this design completely isolates the servos (i.e. some units still have a common ground... don't know why as this defeats the purpose)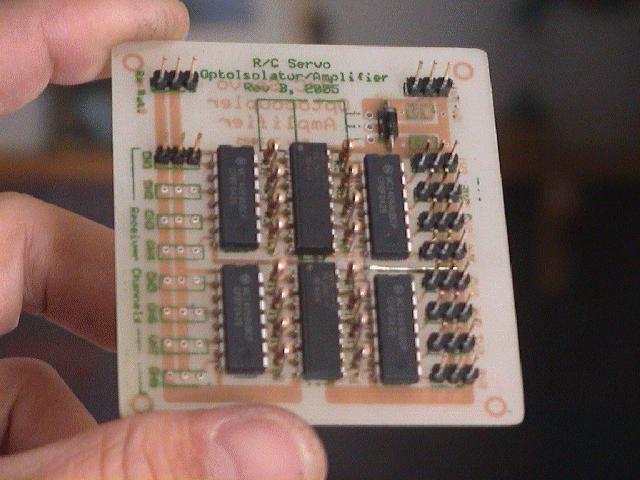 I'll be sure to post more on the status of these up-coming products !
Posting Rules
You may not post new threads
You may not post replies
You may not post attachments
You may not edit your posts
---
HTML code is Off
---