Heng Long M41 converted to run metal Abrams track.
05-31-2018, 04:51 PM
Heng Long M41 converted to run metal Abrams track.
---
Today I finally got to official work on converting my recently built Heng Long M41 to run DKLM Abrams metal rubber padded track. i had been running it with plastic Abrams track for a while now. The new Abrams track was shortened to 63 links and this seem to be working well after a bit of tweaking the idler wheels.
As par for the course with my Heng Long tanks one side is usually a little loose and one a little tight. In this case the tight side is the right and required the use of an Abrams idler wheel (slightly smaller than the M41 wheel) to adjust the track tension down. One more link with the stock M41 idler and it was to loose and one less it was to tight. The left side was just a bit looser and again one less link and it is too tight one more and to loose. The left side was tested with both the stock M41 idler wheel and Abrams idler wheel. The Abrams idler makes the track a bit tighter than I would like on the left side, but the track is still new and will "stretch" a bit as it breaks in and loosens up.
Basic testing in loose dirt, climbing rocks and steeps there were a few times the track would ride up onto the a sprocket, but a simple short reverse corrected this. When I install the metal sprockets with track retention rings I think this will stop the issues. Overall it is a super easy conversion as the M41 is fairly forgiving with its tolerances. Just sprockets, tracks and an idler wheels.
Side note: I did manage to strip out the plastic gearbox during this process, but it is being replaced anyways.
Here are some highlight photos. Your constructive input is welcome.
---
Last edited by Fsttanks; 05-31-2018 at

11:35 PM

.
05-31-2018, 05:50 PM
Join Date: Jun 2010
Location: akron, OH
Posts: 162
Gallery
Models
Ratings
---
Iím interested in seeing how it compares to the longer modern tanks on your test course
05-31-2018, 11:48 PM
---
06-01-2018, 05:07 AM
Join Date: Nov 2014
Location: San Diego
Posts: 1,872
Gallery
Models
Ratings
---
That looks good. Your tests make me think I should put those tracks on my abrams.
Are you coming to the LA Tank fest tomorrow the 2nd? Really hopping to see you there.
06-01-2018, 05:52 AM
---
I am hoping to come tomorrow barring any unforeseen event. If I do I will bring a few tanks including the M41 and if the opportunity arises maybe display or do some driving. Cannot fight with them as they have not had an IR system installed. Just did not have the time I thought I would.
---
Last edited by Fsttanks; 06-01-2018 at

04:50 PM

.
06-01-2018, 12:20 PM
---
Got the gearbox patched up and threw on some 390 red HL motors. The M41 was then taken out to the current test course and run. As expected its performance was outstanding as it was almost unstoppable, though it still suffers from the short overall wheel base. This means climbs up "step type obstacles" end up being steeper and descents sharper downward vs that of the modern tanks like the Abrams and Challenger 2. I almost had the M41 topple end over end during one steep descent (see photo below) but due to the excellent grip of the rubber pads I was able to regain control of the M41 were as with all plastic/metal tracks it would have slid down out of control. The issue with the track riding up on the right sprocket still happened but now mostly due to small rocks getting stuck between them and not as often as with the first fitment runs (track seems to be breaking in). This is easily fixed once I change to a metal sprocket.
The speed with the 390s, 3:1 gearbox and 8.4 battery easily matches scale top speed of 45mph. Slow crawling over the obstacles was not an issue as the tracks are heavy, grippy and on the thight side so throttle response was easier to control vs with plastic track. The only negative I have right now are the darn shock springs are too soft. I have a heavier set (silver) from my old M41, but finding it next to impossible to remove them with out breaking one. So to augment the softer spring I added rubber spacers to some of the shock tubes to add a bit of "pre-compression". It seem to be working for now.
Here are a few photos from the M41 to Abrams track conversion off road testing. Your constructive input or questions are welcome.
Heng Long M41 running metal/rubber Abrams track.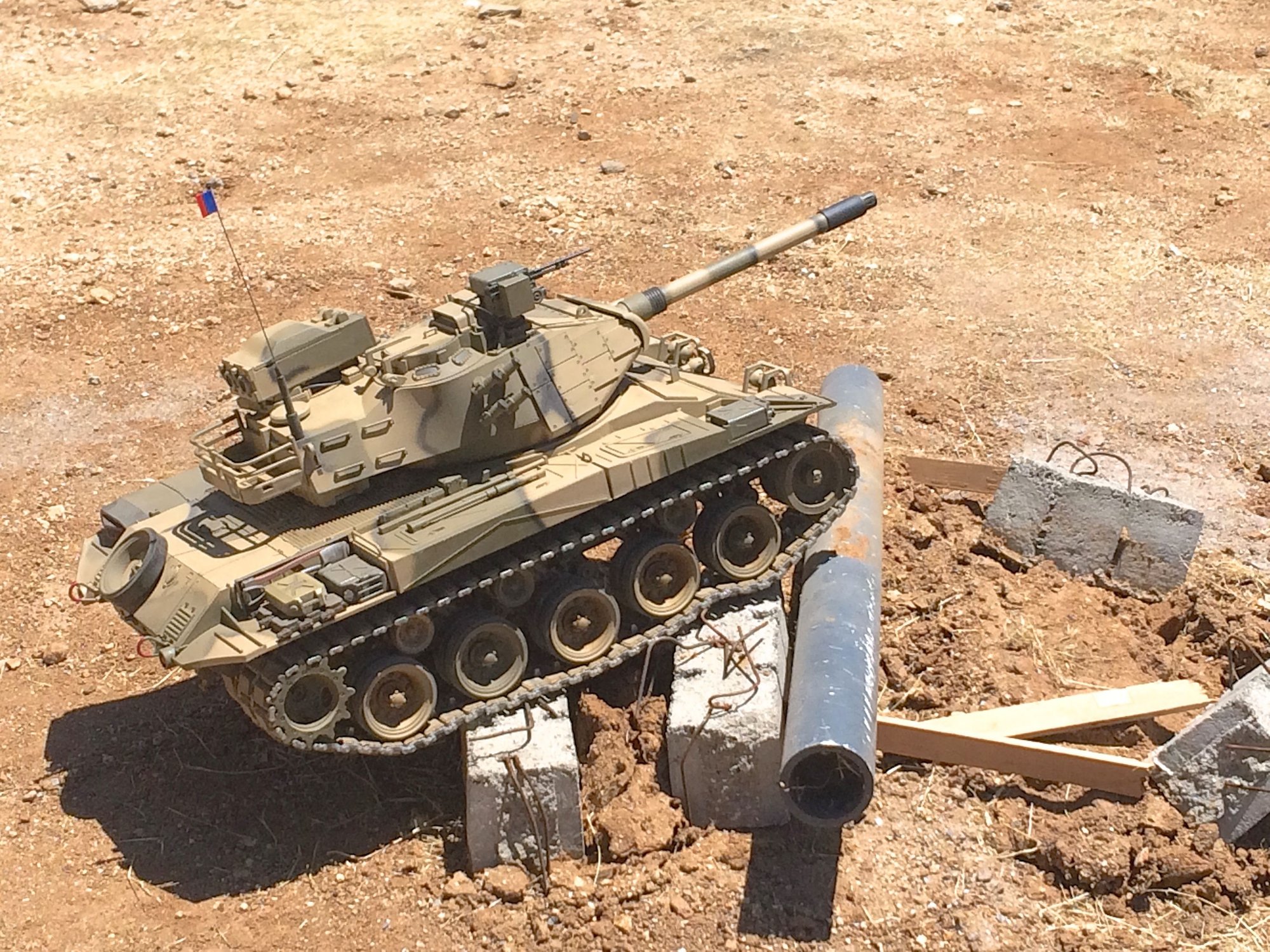 Heng Long M41 running Abrams track
Heng Long M41 almost toppling end over end
Heng Long M41 with DKLM Abrams track making short work of the test obstacle.
---
Last edited by Fsttanks; 06-01-2018 at

09:10 PM

.
06-01-2018, 03:11 PM
---
Since I do not care for the TOY LIKE silver of the DKLM Abrams track ( Heng Long as well ) when they are new I went ahead and started helping out natural weathering and wear by "blacking" them. This is a common practice in model building that uses a liquid rusting agent to darken metal. There are a number of hobby brands that market this and they usually have to be ordered online. That is unless you know what the liquid is. It is the same as "gun blueing" liquid found at most sporting goods stores and for a bit less than the hobby branded liquid.
So here is the results to the track.
After as sort run in the dirt.
After a short run in the dirt.
---
Last edited by Fsttanks; 06-01-2018 at

09:09 PM

.
08-19-2019, 01:25 PM
---
I thought it was time for and update on this thread and to add some new information.
First the DKML Abrams metal/rubber padded tracks have been outstanding performers over the last year of hard abusive use. To the point of being to good, yes there is such a thing. I found that although they could handle almost any terrain with superior grip and retention over the the stock HL / Mato plastic or metal tracks, they were overkill during IR battles and caused the M41 to be a power hog due to the high coefficient of friction they have with the ground during repeated slow tight turns in close confined terrain IR combat (city fighting) of which it was seeing a lot.
Something with slightly less grip than the DKLM tracks, but more then the stock HL/Mato M41 tracks were needed. Noticing how the M41 shares suspension arms and road wheels with the HL M26 Pershing, I figured the track and sprocket might work on the M41. So I attempted to fit the M26 sprocket to the M41 and it fit PERFECTLY. Next I shortened a set of HL M26 tracks by two links and again a near perfect fit. Running the M41 with the HL M26 sprocket and track proved very reliable and provided more grip then the stock type M41 tracks, yet far less then the DKLM Abrams tracks. The M41 was lighter and peak power lasted longer. But this was not enough as the tracks were single pin, all plastic and although they worked well on my slower and much lower powered M26 they did not have the strength to handle the much harder driving style that I expected from the M41. So I acquired a set of Tamiya M26 tracks that were double pin with metal link ends. These proved to be excellent tracks in durability, grip and smooth reliable operation. The down side to them was they wore down fast with my style of driving and lost their initial gripping performance within a few months. I was planning on purchasing another set, but thought I would try something that would potentially have slightly better grip in soft soil and sand. Enter the IMPACT T84 chevron hard "rubber" tracks. These are double pin with metal center guides and metal end connectors. Plus they just looked aggressive and would keep with the "modernized" theme of my M41(s).
Performance of the IMPACT T84 tracks are proving to be what I was looking for (given the power to weight ratio I run on my M41s) when I switched from the DLKM Abrams tracks. They have noticeably better grip and directional control then the HL/Mato/Tamiya M26 tracks yet slightly less then the DKLM all while being reasonably light and flexible. So much so, I have outfitted both my IR battling M41s with them.
Now onto the M26 sprocket. It is slightly larger then the stock HL M41 sprocket, yet approximately the diameter of the Abrams sprocket and as such I have lost little top end speed. With the Abrams sprocket the top end was a solid scale 45mph, with the M26 sprocket it is now a comfortable scale 40mph (8.4v running 390 motors, 3:1 gears and Tamiya Sherman DMD).
** Side note fun fact: I learned during this process that the M26 sprocket is compatible with the Russian T90 tank tracks. This combination is being tested on my M26 Pershing and proving quite promising. If you want to know more about this combination let me know.
Here are some photos of my "modernized" M41s with the M26 sprockets and T84 tracks. The lower hull of the tan/gry M41 is the same lower hull as used above in the initial postings, it has been repainted.
As always your constructive input is welcome.
Tamiya Pershing M26 track on left, IMPACT T84 on right. Both tanks are running HL Pershing M26 metal sprockets.
IMPACT T84 during testing in IR battle.
M26 sprocket and T84 track
IMPACT T84 showing reasonable control on "rock crawl" test obstacle.
M26 sprocket and IMPACT T84 track combination proving to have reasonable grip and retention on rocks.
Powering through soft soil with ease.
---
Last edited by Fsttanks; 08-19-2019 at

01:47 PM

.
Posting Rules
You may not post new threads
You may not post replies
You may not post attachments
You may not edit your posts
---
HTML code is Off
---