Ziroli 1/6 Hellcat Build
04-15-2018, 10:39 AM
Join Date: Aug 2002
Location: Novi, MI
Posts: 189
Gallery
Models
Ratings
---
I hadn't but based on your comment, took a look. From what I can find, don't know how I would adapt what I've already put in. One thing, I'd want the linear servos mounted forward of the sliding canopy, for CG purposes, not behind the cockpit - useful balance weight.
Looking at the Actuonix T-16 models, maybe there would be a way to secure the servo to the front edge of the sliding canopy, above the rails I installed? But the servo arms would be visible, not hidden like the P-47 example I found. The slider from Dynamic Balsa is an H- shape - if I take the outer leg of the H off, I may be able to have it slide under the fuse sheeting, say, a 4" length extending forward of the sliding canopy, forward of the dashboard, that the hidden servo would then to?
Already starting to think about dropping features in order to get the plane flying by summer/fall. Will need to decide quickly, with a solid solution, or keep moving without them.
On my Byron version, I had tried rare earth magnets to keep the canopy closed. After several flights, ended up using a screw on either side to secure it. I could take the screws out, opening the cockpit for static display. Wasn't a museum piece, but worked and still won a crowd vote award at an ad-hoc event (the museum birds weren't there that day!).
04-25-2018, 06:38 PM
Join Date: Aug 2002
Location: Novi, MI
Posts: 189
Gallery
Models
Ratings
---
Fuse sheeting under stab installed, both sides. First attempt at fitting the sheet under the curve of the stab and fitting the control tubes for elevator and rudder ended in scrap. However, the scrap piece was useful as a template to create the next pieces, that fit well.
Next steps will include installing the fin, installing/shaping the tail piece under the rudder, installing throttle, choke, air valve servos and air valve.
Starting to check into radios. I have a Futaba 9C with a 2.4 Ghz module - and have realized that the radio itself must be about 20 years old and that the FASST receivers I've been using are no longer available. Geez, time flies. Radio has been cared for, but what am I risking with a radio this old? And, technology has certainly changed. So, looking at the Futaba 14SGA - price looks acceptable, will run my FASST receivers and the new FASSTest receivers, plus telemetry. Good enough, I expect.
05-11-2018, 05:57 PM
Join Date: Aug 2002
Location: Novi, MI
Posts: 189
Gallery
Models
Ratings
---
Vertical fin installed.
Had a bit of a set back. Humidity change in Michigan, from Winter to Spring is not insignificant, and the horizontal stab was no longer parallel with the wing. Had a choice to make -
tear the stab off and re-level it, perhaps even go farther in rebuild, or,
leave everything as is and try to untwist it
1 would have been the best choice, the most work and I'm sure a long addition to my project. 2, well, if it didn't work, I could always go back to 1.
So, I went with 1 and so far, so good. Waited a week after performing corrective actions and stab is still parallel to wing. Calling it good enough. Lesson learned for next build.
05-25-2018, 06:51 PM
Join Date: Aug 2002
Location: Novi, MI
Posts: 189
Gallery
Models
Ratings
---
Tail Cone installed, sanded to shape. Hollowed it out a bit and cut holes for future - in case I go forward with light set, will have means to pass taillight wire through. Also, decided to use pegs for additional strength. They are long enough to engage the last ply former.
Outline cut, disc sanded
Pegs, hollowed out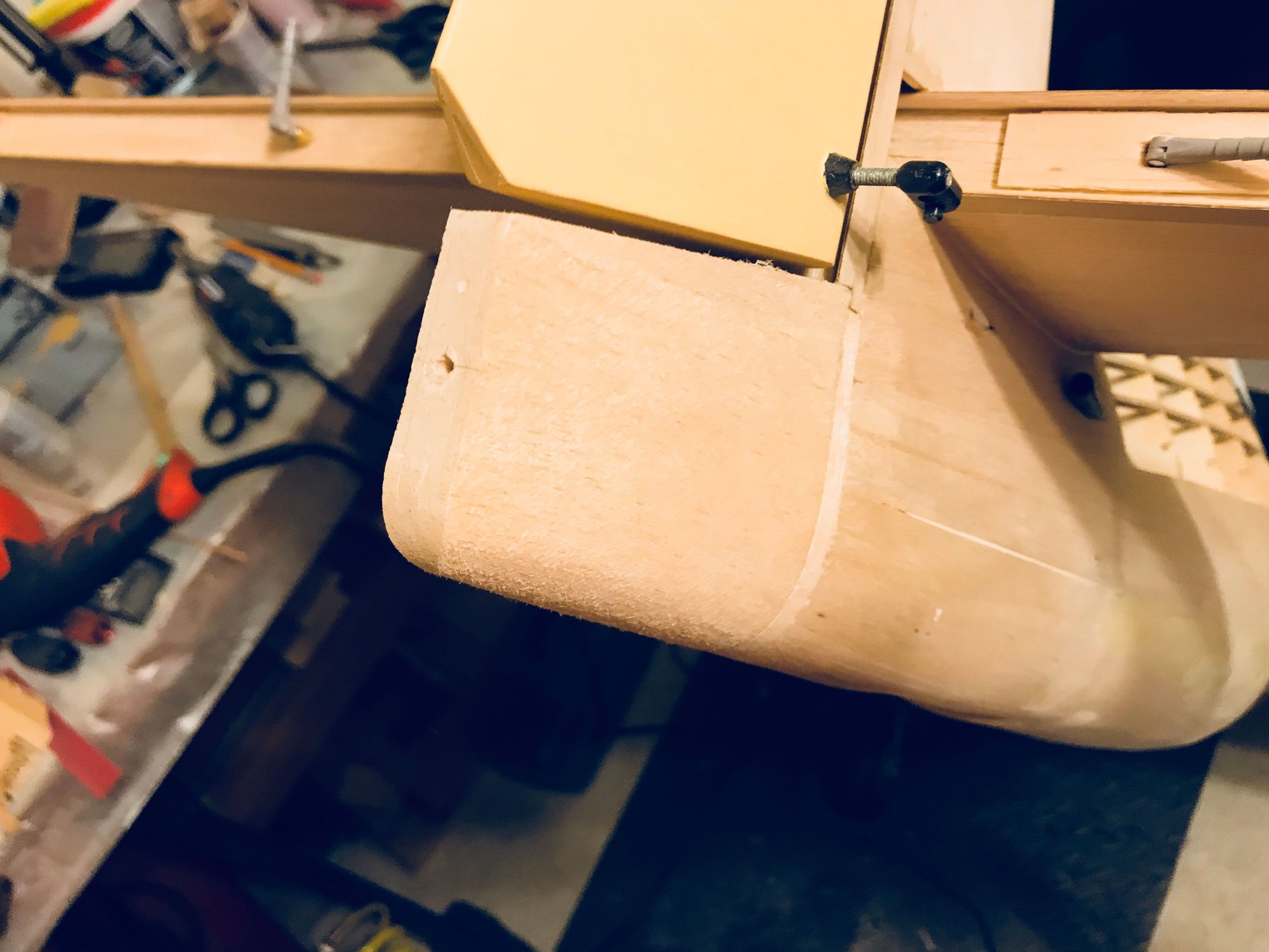 Sanded to fuse shape
06-09-2018, 05:43 PM
Join Date: Aug 2002
Location: Novi, MI
Posts: 189
Gallery
Models
Ratings
---
Gun barrels from
IFlyTailies
arrived. Had them modified to fit 5mm high intensity LEDs. Gun light sequencer from ElectroDyanics (
EDR-117MGS Machine Gun System)
Working now on throttle and choke servo location/installation.
---
Last edited by DaleCS; 06-09-2018 at

07:33 PM

.
Posting Rules
You may not post new threads
You may not post replies
You may not post attachments
You may not edit your posts
---
HTML code is Off
---