Scratch built Hog-Bipe in Havana.
01-09-2019, 04:19 PM
Join Date: Feb 2017
Posts: 42
Gallery
Models
Ratings
---
Hola Raudel. Dime si estuviste tu con el grupo que conocimos y con quien volamos hace anos - no me acuerdo exactamente cuando. Llegaron de Costa Rica, y Mejico, y volamos en una pista cerca de el mar.
EloyM@twc.com
01-10-2019, 07:09 PM
Join Date: Mar 2005
Location: ankeny, IA
Posts: 5,538
Gallery
Models
Ratings
---
The plane looks great, The yellow spinner doesn't hurt at all. The build looks like a quality kit so you obviously know how to make your own parts.. and well.Never flown that kit but it is supposed to be a nice flier.

I only live about an hour from where that kit was designed and manufactured..
01-29-2019, 09:05 PM
---
Eloy, un placer hermano. Te conozco de oídas y muy buenas de hecho. No estuve en Costa Rica porque aunque yo por aquél entonces era el especialista de aeromodelismo del Club de Aviación de Cuba, igual habían intereses de viajar de otro jefe -aun cuando no era aeromodelista- y me dejaron fuera 😡

Raudel.
01-29-2019, 09:32 PM
---
foodstick, thank you. I'm 48 now and have been cutting balsa wood since I was 10 and i've very much enjoyed every project,becaus i love building and that i think does the trick 😉. I mostly built and flew, stunt control line models untill i could put my hands on a Radio Control equipment and that was it. I mean; I love airmodeling because I love real airplanes, so RC models are the closest to that.
Every time I start a project, my first step is to change a little the apearencap of the model, to meet my expectations, which leads me now to what i'm going to do with my next one. The next project will be the SIG's Smith Miniplane. I already have the plans set and -of course- i'll do some changes, to make it look more like the actual plane, because SIG's model is quite different from the real plane, but also will change the appearance of the real plane, just a little bit. It will also be a scratch built and should look something like this.
01-29-2019, 09:37 PM
---
Oops, forgot the picture 😳
Now we're talking! 😉😁
01-29-2019, 09:45 PM
---
These are the possible color schemes, but i'm not sure yet wich one. A little help would be much appreciated 😉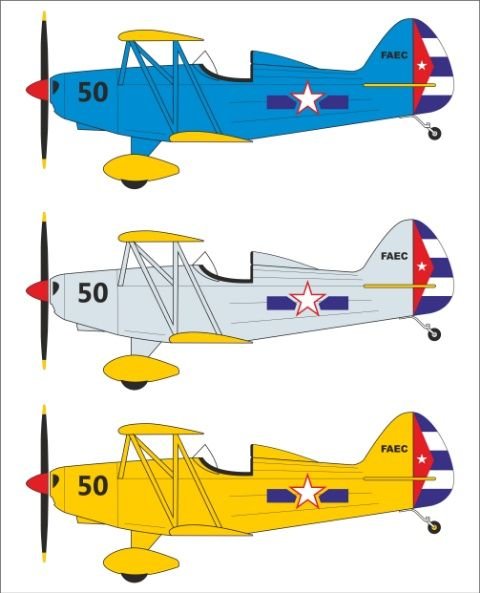 Posting Rules
You may not post new threads
You may not post replies
You may not post attachments
You may not edit your posts
---
HTML code is Off
---