HK500GT-TT Review and Assembly
01-29-2011, 03:53 AM
Join Date: Sep 2010
Location: Jer, ISRAEL
Posts: 6
Gallery
Models
Ratings
HK500GT-TT Review and Assembly
---
Hello to all of the RC pilots!!
I am truly happy to publish this thread which will be a review and assembly overview for the HK500-GT RC heli from HobbyKing!
Before I begin this thread, Ill would like to thank HobbyKing and
efly
RC forum, which is the biggest and the most popular RC forum in ISRAEL, for chosen me to do this project.
Introduction:
The HK500-GT is a 3D 500 class RC heli recommended for beginners or intermediate pilots that look forward for a bigger heli but with less expenses. This heli can be ready to fly with less then 400$ which is I believe is one of the most worthwhile choice available.
The heli structure contains an aluminum frame and almost all of the rotor head and the tail mechanism are metal and CNC parts.
The tail is driven by a torque tube which gives a precise reaction to any tail control.
What's in the box:
So, I will begin with a quick look of what's in the box and the chosen setup for this project.
The box internal is divided to 3 areas. The biggest contains the main frame and the canopy. Additional area is for most of the smaller parts such as the rotor head, tail case, skids and all other hardware parts. The third area contains the boom and the torque tube, tail boom support rods and the main blades. When opening the box, it is clear that this heli comes more then 80% pre assembled already. The main frame and the rotor head comes completely assembled. Also the tail case with its gearing is pre assembled. One missing item which probably should be considered to be added is an instructions manual. Although most of it comes pre assembled, for a beginner it might be necessary to add such manual.
By observing the parts from the first impression it seems that they are made of good quality!
Especially the CNC parts of the rotor head, the frame HW, the boom and tail support rods. All screws are made of great quality! No screw was wearied out.
However, some other part seems that need a little improvement mainly the plastic parts such as the tail blades, the rudder stabilizer, the polycarbonate canopy and the flybar pedals that seems to be made more for a 450 heli and not for a 500...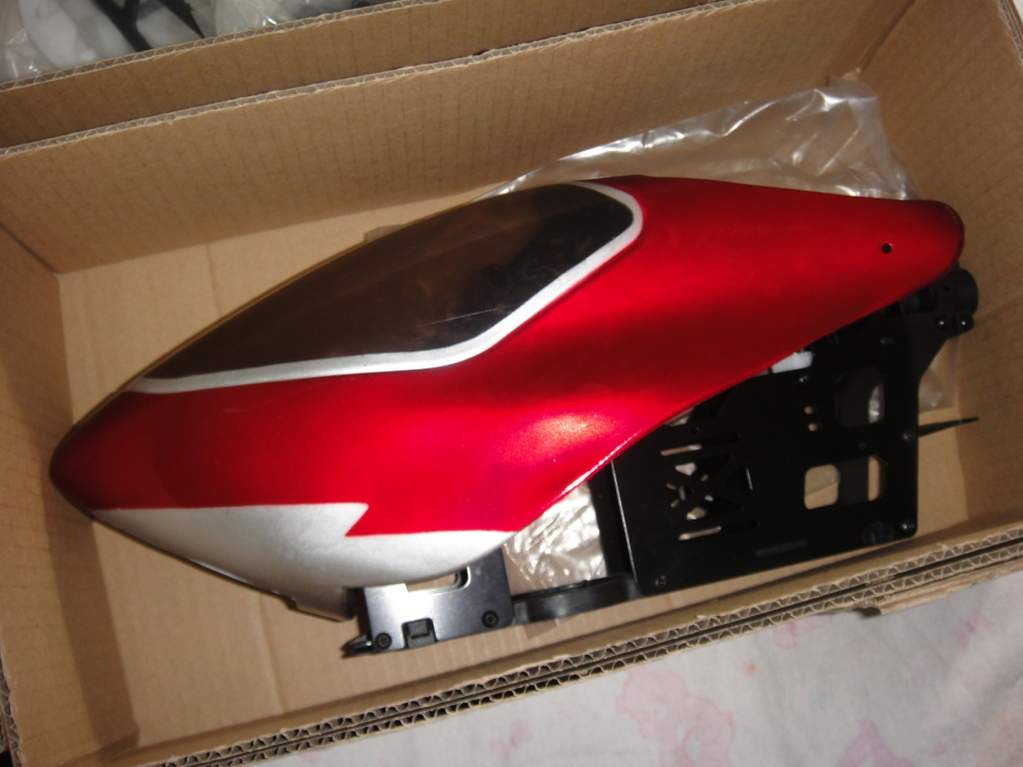 As I mentioned, lets take a little look on the setup for this project
3 X MG930 metal gear servo for cyclic
1 X Futaba S9257 servo for rudder
Turnigy Typhoon 500H 1800KV Brushless motor
Turnigy brushless ESC 85A w/5A SBEC + programming card
Turnigy Piezo Headlock Gyro.
2 X NanoTech 3 Cell 2650 Mah/25C LiPo batteries which will be connected in series.[/list]
Rotorhead Assembly:
Starting the assembly from the rotor head. Although the rotor head comes completely assembled it is extremely recommended to check all metal to metal screws for loctite.
Therefore, each and every screw will be opened and applied a bit
In general, almost all the rotor head made of CNC and metal. The part quality and accuracy is OK.









Rotor head assembly summery
During rotor head assembly there were found a few unexplained frictions in some parts that I couldn't found where their source is..
The flybar seesaw movement and also the blades grips movement weren't freer enough.
Also, as I mentioned before, I was a little bit disappointed from the flybar pedals size. They are small and maybe designed for 450 heli
As a result of these founding I wonder how it will behave in flight.

Main Frame Assembly
The main frame comes completely pre-assembled! However, before continue with all other parts, I would recommend to install the servos first before moving on to the rest! This will save us time because after putting all other part it will be difficult to route the servo wires inside the frame.

Before putting the servos in place, I will cover their leads with protection sleeves and heat shrink isolation.


Install the servos on the frame with the servo mounts supplied with the kit.
Don't forget to put loctite on these as well as they made of aluminum.
Next, Navigate the leads using tie wraps inside the frame all they way to the receiver mount plate.





After installing the servos on frame, let's continue with the rest of the frame assembly. Put the skids on it and don't forget to apply some loctite on the screws that attach the skids to the frame.
Install the canopy holders and the swash anti rotation bracket. All of these parts quality is excellent!





Next, prepare the main gear for installation. Open the bag and check it. The quality of main gear parts seems to be great, makes it's installation along with the main shaft and the rotor head easy.




Thats it! the frame is assembled!!
Frame assembly summery

So far, accept of some little frictions in the rotor head, all other parts assembly was fun and quick!

Tail Assembly
Prepare all parts and put them together.
Next, put together the tail case. Don't forget to apply loctite on all screws here as well!!



Adjust the tail case using the adjustment dowel to fix the case orientation. Actually this part of the assembly was a littlie bit of struggle to do.
I guess the accuracy of this little dowel can be better.



Next, attach the plastic rudder and the horizontal stabilizer and the boom support rods.

Motor Setup
First, put the pinion gear. Don't forget to apply loctite on the pinion mounting screw.
At this point, I will suggest disengaging the motor from the main gear until programming and checking the ESC.



At this point the heli is 90% assembled!
Unfortunately, at this point another friction was discovered..
When turning the rotor head manually it is clearly that something is catchy…
I tried to check where can this friction comes from and found that the source of it comes from the one way bearing..
I have tried to apply some grease on it but still the friction occurs.
As I said, it will only happens when turning it manually so only auto-rotation will be harmed.
The motor however, doesn't affected by this.
I thinks it can fly fine like this but I won't recommend to do any high altitude auto rotations.

I am quit sure that all these frictions will reduce from the flight performance that might have been given from this heli.
To know the answer for this, let's wait for the test flight and find out...

Electronics Setup
Next part will be installing all of the electronic components.
The gyro, the tail servo and the ESC, mount the receiver and turn ON the system, starting with ESC programming, tuning the cyclic servos and rudder servo.

ESC Programming:
Well, the best way to program this ESC will be using its programming card. The ESC can be program using the transmitter but it will be much easier and faster to do so with its programming card.

ESC Programming Video
http://www.youtube.com/watch?v=0OsIGXv4I4o

One nice thing that this ESC has is a power switch. This is quit useful!
In general, the ESC seems to be nice and made of a good quality.
However, the only thing I didn't liked about it is that the soft start function didn't worked at all..
In fact, after reading the manual I realized that the soft start function is just for gear protection and it has only 1.5 sec ramp up from 0 to MAX RPM..
This makes it quite dangers when putting it on a large heli such as this.
If you switch to Idle up on the ground by a mistake you better stay a way of the helicopter.

Continue with the gyro and tail servo.
The gyro installation was pretty easy and quick.
Although, its setup is a little bit different then most head lock gyros that are popular today. This one required to inhibit any gyro sens menu on the transmitter and reduce ATV of rudder and gyro channel to 50%. Also, it will require using rudder trim during the setup.
As I said, the setup was quite easy and quick. Lets wait and see how it will do in flight.






Assembly Summery
[/b]Well, Thats it! The heli is ready for flight! At this point I can say that the assembly was a pleasure for me! I really enjoyed to have this heli on my desk.
Except of some really tiny frictions that I found that I believe won't harm the flight performance so much, the construction was easy and fun!!
Next to come is the test flight.







Test Flight Video

http://www.youtube.com/watch?v=MPVti...&feature=feedu



Review and Assembly Summery and Conclusions

To summarize this review I can say that this heli is very nice and fun to assemble and pretty nice to fly.
For a everyone that looks for a large heli with less budget this will be a great choice!!
In flight, it was very smooth and stable and it was quite fun to fly it. As for 3D capabilities, well I believe that it truly can do this but maybe
it would be better to upgrade the gyro for this.

However, I truly recommend it to my friends!!.


[/b]
Posting Rules
You may not post new threads
You may not post replies
You may not post attachments
You may not edit your posts
---
HTML code is Off
---