New Bright
02-11-2009, 01:52 AM
Join Date: Oct 2006
Location: Ackley, IA
Posts: 42
Gallery
Models
Ratings
New Bright
---
I have a New Bright R/C snowmobile I purchased for my grandson. He was very happy with it, but we dropped it off the shelf and the left steering arm is broken. (The black plastic arm the wire steering rod goes into) also the left shock. Does anyone have any new or good used parts I could buy? Surely someone has a dismanlted one or has removed the stock parts doing a mod.. Thanks
03-18-2009, 10:39 PM
Senior Member
Join Date: Dec 2008
Location: Sunrise, FL
Posts: 691
Gallery
Models
Ratings
RE: New Bright
---
Give me a buzz over at RCBoards.com in PM. I'm rarely in here. I've got some blue plastic and red plastic New Bright stock spring shocks you can have for the price of shipping. I've also come up with some mods for using oil shocks in the New Bright angle formation, in lieu of the standard A-arm config they normally work off of. There's a whole sub-forum devoted to NB products over there. You should check it out. I'm sure that if you had a better hop up on your suspension, a spill off of the table wouldn't break the thing. I treat one of my rigs like it's a brick...
http://s223.photobucket.com/albums/d...t=0a125a11.flv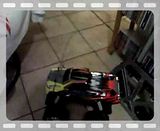 Don't do this with the spring shocks or you'll send the screws/rods straight through your body and because the springs have no give, you'll be breaking the arms again.
03-29-2009, 12:51 AM
Senior Member
Join Date: Dec 2008
Location: Sunrise, FL
Posts: 691
Gallery
Models
Ratings
RE: New Bright
---
Looks like I'm back over here now... RCBoards is now going to be DOA by the end to the week.
03-02-2010, 11:09 PM
Junior Member
Join Date: Mar 2010
Location: , MN
Posts: 1
Gallery
Models
Ratings
RE: New Bright
---
I also am looking for parts for a New Bright RC Ski-Doo (Model #6943) - 19.2V. There is a broken part on one of the skis where it pivots (black plastic piece with thin wires connecting. Also, I am looking for a remote control - 49 Mhz - to replace the one we have which is broken. Can anyone help? We found it very frustrating to discover that New Bright does not provide repair service or replacement parts and all manufacturing, etc. is based in China. Thanks to anyone who can help! My e-mail is
foxjohnson4@charter.net
Posting Rules
You may not post new threads
You may not post replies
You may not post attachments
You may not edit your posts
---
HTML code is Off
---