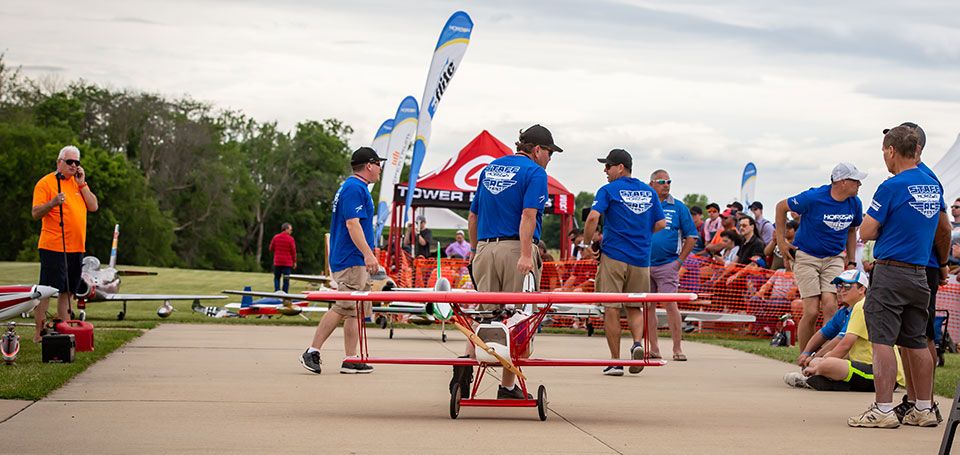 FAA's Remote ID for Model Aviation
As you may know, the Federal Aviation Administration (FAA) is proposing a new set of rules that will greatly impact the hobby we love. The FAA's recent Notice of Proposed Rule Making (NPRM) for Remote Identification (Remote ID) will affect where we fly, how we fly, how RC aircraft are produced, and a myriad of other implications that have the potential to negatively impact how people innovate or are inspired by aviation, whether it's full scale or RC.
The time to let your voice be heard is now. You have until March 2nd to let the FAA know your concerns and ideas to find a workable solution for Remote ID. The method to comment is easy.
We understand the NPRM for Remote ID is a long, complex document. We've captured many of the key issues that impact recreational modelers, provided a brief explanation of the issue as well as a potential path to recommend to the FAA as a better solution. As a model aviation enthusiast, you all are uniquely qualified to provide input as an industry influencer. We highly recommend that you submit your own personal comment, rather than simply cutting and pasting from other sources. Your comment matters to the FAA and to the hobby community
Here are some themes of the NPRM and suggestions to incorporate into your comment:
Remote ID and Network Connection overly burdens recreational modelers
As proposed, there are three different paths for remote ID to allow you to fly in the National Airspace (NAS). (1) Standard Remote ID is a system that incorporates RF broadcasted data elements as well as a network connection to allow for the tracking, recording, and identification of UAS. (2) Limited Remote ID is a network-based solution but requires the UAS to be electronically fenced within 400ft of the operator. (3) Finally, Non-Equipped RID; aircraft that do not meet the requirements above can operate in FAA Recognized Identification Areas or FRIAs. All model aircraft must fall into one of these categories to be considered compliant. There is no consideration given to the location of where you intend to fly.
The technology required to meet the criteria set for Standard and Limited Remote ID is significantly different than what is included in traditional model aircraft. Traditional model aircraft require constant pilot interaction and are not flown beyond line of sight, unlike autonomous drones that are guided by computers. Unless the proposed rules are changed, legacy RTF, BNF, PNP, ARF, racing drones, and Amateur-built aircraft would only be allowed to fly at a FRIA unless they were upgraded to meet the requirements of Standard and Limited Remote ID. Because they cannot be easily updated or cost-effectively equipped with approved remote ID systems these aircraft would only be allowed to fly at a FRIA. In the future, manufacturers would be required to include Remote ID in their aircraft which would increase the cost. This would reduce accessibility, stifle innovation, as well as hurt small businesses.
Requiring non-compliant aircraft to fly at FRIAs places an unnecessary cost burden on recreational pilots. In addition to travel costs, pilots will need to become members of Community Based Organization (CBO) authorized clubs, many of which are operated by the AMA today. Local flying clubs and annual AMA dues can cost a recreational modeler more than $200 per year to fly existing aircraft.
Potential Suggestions:
The FAA should offer exclusion of Remote ID for recreational model aircraft flown within line of sight in Class G airspace. This was originally suggested by the FAA's Remote Identification and Tracking Aviation Rulemaking Committee (ARC).
Additionally, recreational model aircraft should be able to fly within line of sight in controlled airspace by utilizing Declared Intent. LAANC, Low Altitude Authorization, and Notification Capability is used today to give clearance to recreational pilots that choose to fly in controlled airspace and near airports. Pilots should be able to declare their intent even from home if their flying location does not have cellular service.
We agree with the NPRM that recreational aircraft should be able to fly at FRIAs without Remote ID.
The operational distance of 400ft in the Limited Remote ID option is too restrictive for most recreational model aircraft. Line of sight operation should be the recommended lateral distance from the operator.
Part of the Network Connection portion of both Standard and Limited RID requires you to subscribe to a service called a Remote ID USS.  The USS will provide your aircraft the authorization to fly based on location and then constantly monitor and record your flight information. The record of your flight will be maintained for up to 6 months. This service could require a $5.00 per month fee as well as a data plan equipped smartphone.   Network Remote ID may make sense for high technology autonomous UAS that will fly long distances beyond the visual line of sight (e.g. delivery drones). The FAA is under the assumption this technology is largely available and can be implemented with a simple firmware update. While this may be true for higher technology autonomous UAS, this is not correct for recreational aircraft. This technology does not exist anywhere and will take time and expense to be developed. A further concern with requiring a data connection is that user data such as location would be filed with a third-party company for up to 6 months.
Potential Suggestions:
For recreational aircraft, the FAA should eliminate the need for the Network Connection for both Standard and Limited Remote ID. If exclusion from Remote ID is not acceptable, an RF Broadcast only solution would significantly reduce the per-unit cost burden as well as eliminate monthly subscriptions.
The FAA must also allow time for an appropriate solution to be developed. The proposed timeline is a three-year phased approach. Given the uncertainty of requirements, this is a reasonable period to develop initial solutions.
The provisions for the continued support of FRIAs (i.e. flying sites) is too limited
According to the proposal, FRIAs will only be allowed to be set up within the first 12 months. After that, if one closes or needs to move, it is gone for good. FRIAs are planned to eventually phase out as Remote ID becomes adopted. FRIAs will be set up and run under Community-Based Organization rules like the AMA. Likely memberships to the CBO and the FRIA are required.
Potential Suggestions:
The FAA should change the wording to allow FRIAs to remain a viable means to comply with remote ID. FRIAs should be able to be established after the first 12 months to be a long-standing option for recreational model aircraft.
The FAA should allow an easy method for temporary FRIAs to be set up for model aircraft events and competitions that are held outside of normal FRIAs.
Recreational Registration should continue as per registered pilot only rather than per aircraft
Under the current proposal registration for each model aircraft is required. Each aircraft registered would cost $5 and be good for 3 years. You will be required to provide the FAA specific model data and properly label your aircraft.  The FAA estimates that the average pilot has 1.4 aircraft. Recreational pilots know that the size of your fleet grows as you stay in the hobby. Many long-time pilots have dozens of aircraft and it is reasonable that an average pilot would have 8-20 airplanes. It would not be unheard of for a lifelong pilot to have 100 aircraft. This means the cost to the average recreational modeler would be registration fees up to or exceeding $100, which is an unnecessary financial burden for recreational activity.
Potential Suggestion:
The FAA should allow recreational flyers to register the operator once and not require each model to be registered. This will save many hours for both the FAA regarding paperwork and for the modeler who would have to register each aircraft and manage those numbers appropriately.
Product certification process needs to be revised
The current FAA proposal requires manufacturers to produce a product that is inoperable if it doesn't comply with Remote ID requirements. Again, this approach may make sense for high technology, autonomous flight UAS, but doesn't support recreational aviation. The FAA doesn't understand that recreational aviation is dependent on concepts like ARFs, BNF, scratch builds, and other modular solutions that make it impossible to have only compliant solutions available in the marketplace. The current FAA proposal would also require indoor-capable aircraft such as larger UMX and racing drones to have remote ID and would relegate existing products to FRIAs if there isn't a retrofit solution available.
Potential Suggestions:
The FAA should require pilots to ensure remote ID compliance as part of overall safety requirements rather than implementing a technology solution that doesn't effectively support user needs. The FAA should require manufacturers to label product compliance levels at the time of purchase.
The FAA should allow users to upgrade aircraft to be compliant through approved standalone Remote ID devices.
Here are 5 easy steps to creating an effective comment:
Introduce yourself and what you do (or want to do) with RC models.
How you are impacted and by which requirements or restrictions? Be Specific.
What would be a better way to achieve the same goal? Provide solutions.
Answer the FAA's Specific questions that affect you.
Make sure to comment on the aspects of the proposal that you do support.
Prepare Your Comment:
Begin your comment with a little about yourself and what type of flying you enjoy most. How long have you been flying? Is your family involved? How often do you fly? Where do you typically fly: at a club field, open field, your back yard? How far do you drive when you fly?
If the proposed rules are passed, what change will affect will you the most? How will these rules impact where you fly? Will they change what you fly?
Make constructive suggestions that will allow the FAA to find workable solutions to fit the needs of model aviation and commercial UAS. See the suggestions above and work these into your comment if you agree
The FAA asks specific questions in the NPRM that they need your help to answer. Feel free to search the document by looking up terms like "Comment" and "Suggestion" to find these specific questions. Again, the FAA is asking us for constructive input.
Finally, if there are any aspects you support in the NPRM, be sure to let the FAA know.
Not only do you want to make your comment personal, but you also want to help guide the FAA decision. Now is the time to let the FAA know how the NPRM will affect your hobby. Please do so in a polite, constructive manner providing comments and solutions on specific areas of the NPRM. Help save OUR hobby!
SOURCE: HORIZONHOBBY.COM