Carving Laminated 1/2A Props

01-22-2015, 06:52 PM

Carving Laminated 1/2A Props
---
I would love to hand carve a few laminated .020 props. I need suggestions as to the woods and any carving specs re:blade length and pitch. I am assuming that a slab of mahagony would be on the inside of each piece of maple. Any suggestions would be appreciated. I am retired and in the winter I need a bit of a task. My brother and I have all
the kits built.......11 planes ready to fly from a scale 60" Spitfire to a few Flyzone babies. Anyway, if any one has something to say other than "you're nuts" I would love to hear. Thanks.

01-22-2015, 07:35 PM
Senior Member

---
Steve, I've carved some 1/2 A props out of slow growth [New England] maple.
I think 4 x 2 is a workable size for your .020, but you could look at Cox International's inventory to see what sizes they carry.
Any tight grained hardwood should be fine...in fact I've run a 7 x 2 made out of relatively soft basswood on a .049 and it held together just fine.
I have used thin CA to fortify the wood where it was made real thin on a home made pusher prop.

01-22-2015, 07:53 PM

Join Date: May 2003
Location: Orangeville, ON, CANADA
Posts: 8,657
Likes: 0

---
You're not nuts, its safer carving small props anyways.
4.5x2 is the standard.
4x2.5 is the speedier prop.
The little three blader is not worth looking at to most.
The other commercial decent alternative, for more sedate models, is the Graupner 5x2, it has the right prop hole too.
That gives you a good idea of suitable prop loads. TD or Pee Wee?
Cox once made a small 1/2A prop for their Camel that looked pretty cool. Interesting subject for carving I'd think in a 4.5x2-ish size.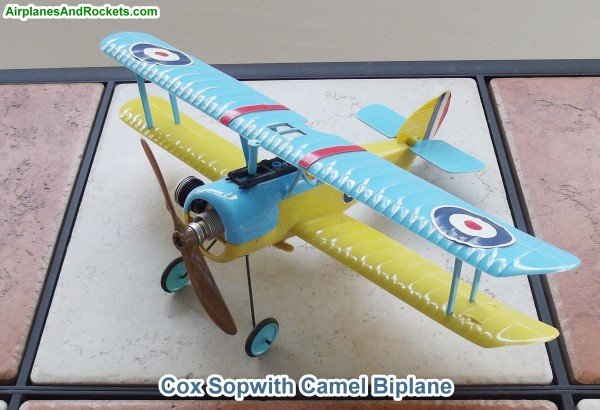 01-23-2015, 05:18 PM

---
actually, I could use a better .020 with a good throttle on it. I do have a couple of good Cox .020's but my throttle set up sucks!!!!! Any info would be great in this regard. Thanks.

01-29-2015, 03:51 PM

Join Date: Jul 2005
Location: Upper HuttWellington, NEW ZEALAND
Posts: 1,578
Likes: 0
Received 0 Likes on 0 Posts

---
Steve a couple of points-if good throttling is important to you, consider a G-Mark 03-these pop up on Ebay reasonable frequently and fall between a PeeWee 020 and a TD 020 for power. The R/C version has a very effective throttle-and they come with a decent sized integral tank. The down side is that they're well and truly out of production so spares a few and far between. The key concern would be the glowhead-but fortunately a couple of people have come up with effective conversions-Bob Mattes for example (
www.flyfreeflight.com
) and Doug Galbreath have developed a replacement head for the 020 based around the Nelson button-and this has been successfully done to the G-Mark as well...[there's a thread here somewhere..!]
Propwise the pictures show a quick rummage through my spares box-note that there are two versions of the Graupner 5x2-the wider blade version seems to be the current one. G-Mark also did a very nice 115x50 prop for the 03 [which came in the box if they were new] which also works well. The new Cox 4x2.5 'racing' props ['new' in the sense that Cox Intn'l have just recently had a batch made-the original Cox ones haven't been made since the late sixties!.] you can get from Cox Int'l or their dealers.-personally I tend to use the yellow nylon Cox 4.5x2 simply for visibility-but I'm largely flying F/F duration classes with these engines [FWIW the G-Mark 03 proved quite competitive in our NZ miniature replica vintage class, on the front of the R&N 36" Playboy-but I was running reasonable nitro and no muffler]
The old master Ken Willard used the G-Mark quite extensively on some of his small 'Sunday Flier' R/C designs in the 1980s. To the best of my knowledge it is still the only small glow engine with a proper throttle-though there are several diesels of 0.5cc and smaller that have them.

01-29-2015, 04:37 PM

---
The Hummingbird .030 turns up well with a 4 x 3 mine idles very well and starts with very lil effort. The Cox 4 x 2.5 is a great prop on lower nitro. Thrust monster with the 4.5 x 2

02-02-2015, 08:43 PM

---
I am planning on doing a display prop for our Spitfire (5 foot span or so) with a piece of thin ebony between 2 pieces of some birdseye maple I have that is old and almost presentation grade. I have basic tools and do have a dremel tool. Any suggestion will be appreciated greatly. Steve


ps: CBP......would love to hear any suggestions.

02-02-2015, 10:40 PM
Senior Member

---
Steve, I wanted a 4 pitch, so I first found out how many degrees that is.

IIRC, it worked out to a diagonal line drawn across the ends of a rectagular blank that was 1/4" thick x 3/8" wide. I already had a center hole drilled.
A very fine line marker is a great tool for marking your wood.
I decided on a flat bottom airfoil, so that is the first thing I did was carve the bottoms. I whittled most of it, but also used a drum sander mounted on a drill press to finish that task.
Next, I drew on some card stock the blade's shape as you view it from the front, cut the pattern out and used it do draw matching profiles on each blade.
The next step is where you have to trust your eyes and carve, sand and scrape the blades down to what look like miniature airfoils. This is where I spent a lot of time comparing my progress to what a APC looks like. I also test ran the prop a few times [with disappointing RPM results] until I had scraped enough material away to allow the engine to rev.
Scraping [by dragging a #11 blade] does a nice job of taking away material when the prop blades get thin, but it takes patience.
Carving a working prop is one of those exercises where the first one you do takes twice the amount of time as the 2nd one you make.
---
Last edited by combatpigg; 02-02-2015 at

10:46 PM

.

02-03-2015, 04:48 PM

---
CBR.................earlier you mentioned applying CA to the thin parts of the blade. did you let it soak in or did you wipe it off quickly? I am realizing that a 4" prop for an .020 might only contain 2 birdseyes!!!!! I want to do as I mentioned, a bigger prop for the spitfire(10 to 12 inch) with black ebony between 2 pieces of birdseye..........I guess the birdseye is out of the question for the 4 inch prop. What do you think?

02-03-2015, 05:09 PM
Senior Member

---
Steve, I don't recall the exact details, but the CA helped me form a sharp trailing edge on the blades.
If you are just carving an ornamental prop I'd just make it look the way you want it to look.

03-08-2015, 09:31 PM

Join Date: Jan 2003
Location: Timmins, ON, CANADA
Posts: 2,912
Likes: 0
Received 0 Likes on 0 Posts

---
I have the TD .020 with a G. Mark .03 throttle installed, along with the G mark .03 itself and a few months ago was contemplating doing up an Ugly Stik for them, you know, just to finally FLY them instead of being bench queens. Well, some inspiration led me to weigh them and darned if a VA MK1 with throttle and muffler wasn't lighter than both. Yes, an .049, the VA .049 MK1 is lighter.
Well, no wonder. There's no liner, the bore of the case was nickel plated. Both the TD and the G Mark have lots of heavy steel aboard. Shoot, even the piston and rod are steel.
And with the VA, even the crankshaft is lighter than the other two. As I recall,,,,, that was months ago.
That VA sure was something special. I've often wondered what coulda been if they had made an .09 version. Or an .020
For a long time, we waited for an.020 from Norvel. Now THAT woulda been neat.
Sure glad I have a half dozen,, two are very early versions with the Nickle plating all over. But the castings weren't so crisp so they don't present as well as you would wish. Ah well. They'll be runners eventually, if I live long enough.
---
Last edited by AndyW; 03-08-2015 at

09:44 PM

.

03-09-2015, 05:32 AM

Join Date: May 2003
Location: Orangeville, ON, CANADA
Posts: 8,657
Likes: 0

---
The MkI is an amazingly light engine, 34g IIRC? The Space Hopper is a close second, 37-38g as i recall, but not the same power output, though decent.