Re-Stock Kyosho Chambliss & Besenyei RedBull RTF Kits

09-10-2012, 03:33 PM
Senior Member
Join Date: Apr 2010
Location: Yokohama, JAPAN
Posts: 308
Likes: 0
Received 0 Likes on 0 Posts

Re-Stock Kyosho Chambliss & Besenyei RedBull RTF Kits
---
Back in Stock
from Kyosho The Chambliss & Besenyei RedBull RTF Kits Now at Banzai Hobby.
Lightweight speed and maneuverability controlled with a 3-channel 2.4GHz R/C system. Aileron equipped for sharp control that will please even expert-level fliers.
The most amazing micro R/C airplane the world has ever seen now flies even higher with its fusion of light weight and maneuverability. Able to fly in stronger breezes than before, the sharp flight of the new MINIUM can also be enjoyed outdoors. Its secret lies in the fuselage designed for slow flight and the change from a cambered wing to a flat bottom main wing with ailerons that deliver greater speed and maneuverability. Also, the 6mm coreless motor has been replaced with a high-power 8mm version that drives the new specification gear unit and propeller. Combined with the special Li-Po battery included, the MINIUM EDGE 540 realizes its more powerful and dynamic flight capability with the ailerons allowing control around the roll axis. This fully pre-assembled model is loaded with an ultra-small control unit with built-in amp, receiver and two linear stroke servos and has all the linkages pre-set. The 3-channel system provides elevator, aileron and motor control for the full scope of flying experiences. Control is managed on the worldwide standard ISM band 2.4GHz frequency with a system that automatically scans for clear frequencies to use. Simply switch the power ON and the system automatically scans a 79 wave spectrum for a free band to secure a radio signal free of interference. Even expert level fliers will be amazed at the flight performance and maneuverability of the palm-top sized MINIUM EDGE 540.
Besenyei RedBull RTF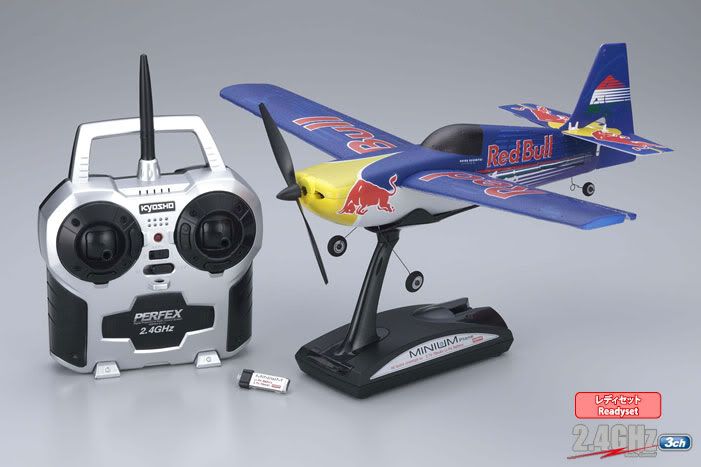 Chambliss RedBull RTF
Get in Quick as these are selling FAST!!!
Banzai Hobby Team