NEW Kyosho Kits !!!

02-27-2014, 09:31 PM
Senior Member
Join Date: Apr 2010
Location: Yokohama, JAPAN
Posts: 308
Likes: 0
Received 0 Likes on 0 Posts
NEW Kyosho Kits !!!
---
New Kyosho Kits now at Banzai Hobby !!!
Mini-Z Audi R8 LMS Phoenix Racing NBR 2010 #98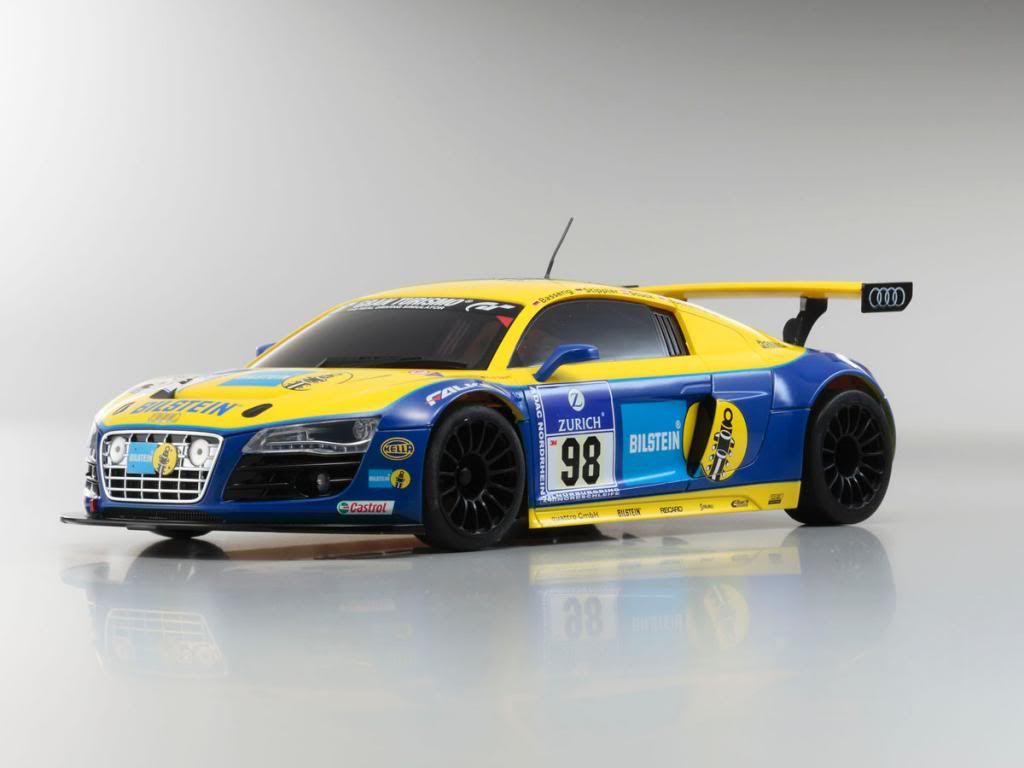 Equipped with MR-03 front suspension in addition to DWS!
Evolutionary jump in MA-020 chassis design realizes a new level of MINI-Z AWD performance.
The advanced design of the Mini-Z AWD incorporates four wheel independent suspension and a shaft driven 4WD featuring precision differential gears on front and rear controlled by the pre-installed ASF 2.4GHz unit, and is small enough to fit on the palm of your hand! The one-piece RA-23T receiver-amp unit features a Chase Mode that turbo-boosts the excitement of R/C racing. When used with a compatible 3-channel transmitter (sold separately), the Chase Mode acts as a power limiter to restrict output to 70% of full throttle. However, when the opportunity presents itself, push the 3rd button and output is instantaneously increased to 100% for a 3-second burst of speed. Inspired by the boost button on full-size formula racing machines, this new feature dramatically increases the intensity of racing action! Restricting the maximum speed actually allows better driving lines and supports easier control, but once the overtake button is pushed, the machine surges forward like a tiger in attack! However once you're in front, you become the hunted. The lead can change numerous times during a race with much more overtaking, adding greater excitement to your racing battles. Also, the Chase mode can be set so the overtake button can only be used a certain number of times per machine (optional No.82080/I.C.S. USB adapter and computer are required). This allows you to apply a handicapping system by restricting the number of speed bursts each car can use, allowing beginners to compete on a more even footing with more experienced drivers. Of course, the ASF 2.4GHz 2-channel transmitter for the MINI-Z Racer can be used and the optional gyro can be installed inside the upper cover. As it evaluates the running posture of the model it automatically corrects the steering and throttle for smoother control making it easier to drive, especially for beginners and drift drivers. As this set is packaged without transmitter, it is ideal for existing owners of an ASF 2.4GHz MINI-Z Racer, making it economical as a 2nd or even 3rd model. The advanced AWD chassis and the blistering acceleration from the Chase Mode produce highly addictive levels of excitement and racing action.
1/7TH Scorpion B-XXL VE Readyset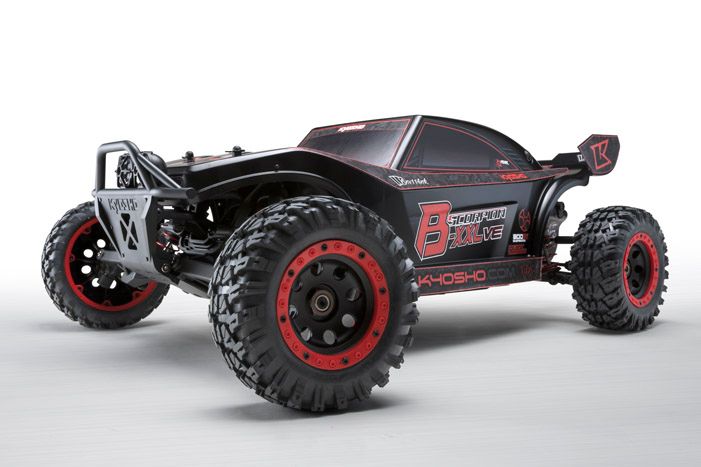 Switch the power on for explosive running performance!
Enjoy the distinctive body style of the 1/7 scale Baja Racer!
Until the Scorpion B-XXL VE, big size machines were difficult to enjoy, even in designated areas. With its ideal 1/7 scale size, proven off-road performance has been matched with real Baja Racer form in matt black color and smoked windows to create an ice-cool look. Sporting 111 (One Eleven) graphics, rugged block pattern tires on bare bolt beadlock wheels, the model surges to life as soon as the power is switched ON so the near silent running performance can be realized without limitation. Packaged as a Readyset, the formidable size becomes even easier to enjoy. With a powertrain using the ultimate in model electronics at its core, the Team Orion brushless motor and special ESC delivers dynamic acceleration and breathtaking top speed. Based on the Scorpion XXL chassis, the unique specifications can be seen throughout, including the red springs on the oil shocks. Dynamic running power is supported by large capacity suspension to take on big jumps with confidence in this machine packed with performance that promises the ultimate off-road experience!
Join us on Facebook for Weekly Specials and Updates !!!
Banzai Hobby Team