"" JOKER "" Is this a pattern plane?

03-19-2006, 11:10 PM
Junior Member
Join Date: Feb 2006
Location: laguna niguel, CA
Posts: 10
Likes: 0
Received 0 Likes on 0 Posts

"" JOKER "" Is this a pattern plane?
---
Can someone shed some light on this plane here. Has a YS 61 FZ motor with tuned pipe underneath. Not sure what year it is, but it seams really well built.

It says ( JOKER ) on the wing tips ? Someone told me pattern plane, but i have'nt seen another just like it.

Wing is 70in
Fuse is 60in

Is this an easy plane to fly with this YS 61 motor?

Someone told me to get a YS 91 for it and it would go 200+ MPH ??????????

Its in excellent cond with just a few paint chips where i pulled off the guys name and it chipped. DUhhhhhhh!!!!!!!!!

The paint is awesome and the canopy is molded into the fuselage like its one piece. Im impressed.


NOW I JUST HAVE TO LEARN TO FLY RC's . Oh' THE SEA PLANE IS EASY, I JUST HAVE MY WIFE DRIVE .


Thanks for any info you can share on this baby.

03-20-2006, 02:38 AM
Senior Member
Join Date: Jan 2002
Location: Ringgold, GA
Posts: 11,488
Likes: 0

RE: "" JOKER "" Is this a pattern plane?
---
You have in your possession one gem of a model and engine. Congratulations.

It is not a beginner's model, as you have probably surmised by now. However, it is not difficult to fly once you have enough stick time to fly a low wing model. In fact, you will find it extremely pleasurable to fly since it goes exactly and only where you point it.

Yes, it was a pattern aircraft. Unfortunately, my memory isn't providing me with the designer's name at the moment, nor the manufacturer. If it does return to me, I will make it a point to post a follow up article. That happens a lot, by the way.

Hold on to this model if you can. No, it is not a 3D capable model, but it is an excellent trainer for advanced aerobatics and was a formidable competition aircraft in its day.

I don't think the YS.91 four-stroke engine would give you any more power than the two-stroke YS.61AC. However, it would make the model grossly nose heavy for no practical advantage. Powered with the existing engine, it should have nearly unlimited vertical capability and will cruise along at over 100 mph with ease. It should also pretty much ignore the wind, when other models are grounded because of same.

03-20-2006, 06:56 AM
Senior Member
Join Date: Feb 2002
Location: Endicott, NY
Posts: 782
Likes: 0
Received 0 Likes on 0 Posts

RE: "" JOKER "" Is this a pattern plane?
---
Yes, a very good pattern plane from the mid 1980's. Designed by two-time World Champion Wolfgang Matt, kitted by MK.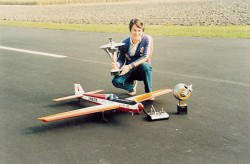 03-20-2006, 02:49 PM

Join Date: Feb 2002
Location: glen allen, VA,
Posts: 2,160
Likes: 0

RE: "" JOKER "" Is this a pattern plane?
---
the Joker is a great flying airplane (i've built and flown 4 of them). It was designed around a 2 stroke .60 so dropping a 4-stroke .91 into could make it very nose heavy as noted above. However, I noticed that there is a hatch on the fuselage bottom just in front of the stab. Are the elevator and rudder servos supposed to be mounted there? If so, then the CG might be pretty far aft with a 2-stroke .60 in the nose. By the way, how much does it weigh empty (as it sits)? Mine all weighed around 7.75lbs with retracts except my last one which had fixed gear and was a bit less than 7.5 lbs.
The Successor to the Joker was the Saphir also powered by a rear exhaust .60 (Webra). For the 1989 FAI World Championship, Matt installed YS 1.20s into his Saphirs. They flew great: FAST with unlimited vertical... wind was irrelevant

Try it with the .60, but check your C/G before you fly. You can always install a more powerful engine. I've always thought the Joker would fly great with a YS .91 (or 1.10) 4-stroke.
Good Luck!

03-20-2006, 03:39 PM
Junior Member
Join Date: Feb 2006
Location: laguna niguel, CA
Posts: 10
Likes: 0
Received 0 Likes on 0 Posts

RE: "" JOKER "" Is this a pattern plane?
---
Hey Willy, im not sure if the rear servo's are suppose to be there, but they are. The weight is 7lbs right now with nothing in it except the retract gear and retract servo. The guy i got it from said the original owner won many trophy's with this plane and he said he changed nothing? the rear elevator is a single rod set-up and the rudder is a wire pull.


The only thing im REALLY bummed at, is the cockpit has 2 cracks in the floor and 2 of the instrument gauges came unglued and are moving around in there. Thats driving me crazy and the canopy is so nicely moulded in, that i cant see how i could get to them.

So far as the CG, i guess i will know soon when the new servo's come in and i get it back together.


Willy, do you know where i can find the ( original ) retract wheels that you see here??????????


Thanks Much,


Ken

05-24-2006, 10:49 AM
Junior Member
Join Date: May 2006
Location: Aylesbury, UNITED KINGDOM
Posts: 4
Likes: 0
Received 0 Likes on 0 Posts

RE: "" JOKER "" Is this a pattern plane?
---
i have one of those, its a great plane even on an irvine 61 abc with tuned pipe and 12 x 12 prop, as someone else says it flys great even in adverse weather and is v.fast.

One thing though, the wing bolt mounting blocks (wooden blocks with threads tapped) are glued to very thin sheet on the inside of the fus. If you land and clip a wingtip on these can actually tear out a chunk of the fus. rather than break the wing bolts.

I have installed a reinforcing plate either side , sliced off the additional thickness from the wing bolt threaded blocks and have braced across the back of the blocks to stop them twisting and therefore shearing when the wing bolts should be snapping!.

I have to say that i have had a lot of trouble with the tank / engine setup and as a result a few dead stick landings. It must be said that they fly well on dead stick until the flair comes at which point it can stop dead. I think this is down to the long section wing thin wing(and the fact that I need more high speed dead stick landing practice) and the ability to stall this wing is high.

Engine on landings with a 12 x 12 prop can be interesting as it will not slow down even on landing so low and as slow as possible is the order of the day using the grass as the brakes.

Overall flying is very accurate and knife edge perfomance allowed for a few knife edge loops before its semi demise.

Still should be back to normal quite soon! (unlike the pilot.)

06-22-2010, 09:43 AM

Join Date: Mar 2005
Location: Haines City, FL
Posts: 242
Likes: 0
Received 0 Likes on 0 Posts

RE:
---
Hi everyone:

I have this plane i bought it a few weeks ago it came with a rossi .61 with its tuned pipe and that's it..

I have it ready for flight just need to know the C.G. on this plane..

By my measures it should be 5 1/4 but the plane is still too much tail heavy only way it balanced was with 62 1/4oz leads in the nose !!

Could anyone tell me the correct C.G. for this plane?

06-22-2010, 01:01 PM

Join Date: Apr 2008
Location: Montreal, QC, CANADA
Posts: 5,196
Likes: 0

RE: RE:
---
My view of Matt's Joker is that it is his answer to Hanno's Calypso. It was the turn in design when models went from complex intricate setups (Magic and Granat) to the more simple designs of the Calypso and Joker with conventional gear. I also believe that both models marked the start of the four stroke era even though both were powered with 60's.

While Hanno retained a regular 2 stroke 61 powered Supra Fly (F3A version), the Supra Star and Mystic were produced as 120 size versions (as well as 60 size) and this was the case for Matt's Saphir and the follow up design, the Rubin.

It would be quite interesting to compare a Calypso and Joker in consecutive flights. While the Calypso is a better known model, I suspect that the Joker with a "snapping" wing planform more akin to the Supra Fly is perhaps a better flier.

David.

06-22-2010, 05:34 PM

RE: RE:
---
I have a New Boxed Mk Joker kit bought from Singapore last OS trip plus a ST 61 RE 1980's version NIB which I will be building next year,
Having owned and flowen two Calypso's If the Joker flys half as good I will be very happy.
As stated before a Joker is not a beginners Plane, I would learn to fly a 60 Size Ugly stick and a Kao's first both these are avalable from Tower as ARF and are Expendable ( Or you can also build from Plans or a Short Kit)
A Joker is not Expendable

you may never find another.
I would keep the Joker Safe as a Hanger Queen untill you are ready.
Johnkpap

06-22-2010, 07:22 PM

Join Date: Mar 2005
Location: Haines City, FL
Posts: 242
Likes: 0
Received 0 Likes on 0 Posts

RE:
---
I agree the Joker is not a novice plane..

As i have seen in my flying field with Curare's, Joker's and 1 Carrier.

But these are planes that once you know the intermediate flying and are properly set up will help you learn how to fly more precise and look good while doing it.. they fly on rails.

I myself have a Curare, TypoRare [another version of the curare] and now this Joker. And i love these types of planes.. I have 3D, FAI pattern planes but allways enjoy flying these types of planes.

Now if it would be possible could someone tell me the C.G for the Joker as I honesly can't get it right. the best i could get it balanced today was at 6 1/4 and i think that's too much..

06-23-2010, 12:30 AM

Join Date: Nov 2005
Location: Auckland, NEW ZEALAND
Posts: 1,961
Likes: 0
Received 0 Likes on 0 Posts

RE: RE:
---
You can work it out for yourself... measure the chord halfway 'tween fuselage and tip. Calculate 30% (not 1/3rd) and measure this back from the leading edge at this half way chord. Spanwise this point is in line with your balance. It should be just in front of the mainwheel axles. Fly the thing, then move the balance till you like it.
Evan, WB # 12.