Carl Goldberg Buckner Jungmann rebuild.

07-11-2019, 05:08 PM


Carl Goldberg Bucker Jungmann rebuild.
---
So i recently bought a CG Bucker Jungmann off a fellow. I was pretty excited because I have wanted one of these since I was about 8 or 9 and I looked through Dad's Tower Hobbies catalog.
It was assembled while I was looking it over. Cosmetically it needed some TLC. As far as I could see It looked good structurally. After spending some time with the guy and looking at the rest of his stuff I let my excitement get the better of me and I left with only a minor review of the plane.
Now that I'm home and looking, It needs some minor fixes. It is clearly an older plane. Probably has seen a decade or so of life. I know it has has at least 3 owners including me.
The motor, a Webra 1.60, is pretty loose. There is not a lot of compression, but he says it runs like a bat out of hell. I'll have to wait to find out, as right now I have to strip the plane and see if I can get the old soaked wood clean enough to glue what needs glued, and recover.
The rudder has what appears to be 21 Century Fabric, or something cloth like. The rest of the plane is monokotw, so I assume it has had at least one recover. The placement of the servos, and remnants of where they use to be also indicate some modifications along the way. I don't see any obvious signs of a structural rebuild.
So the cover is coming off to be able to clean the oil. I started with a heat gun to boil out the oil, but there is too much surface needing cleaning. This evening I tried alcohol and corn starch mixed into a slurry and applied liberally. After a couple house it brushed off and appears to have taken a good deal of oil with it. By no means did it clean it all, but I'm in good spirit about getting enough out to do what is needed.
This is going to be a process I'm not all that familiar with, as I
The advertisement photo for the sale.
Fabric style cover on the fin/rudder.
Cleaned some of the oil with a cornstarch and alchohol slurry.
Uncleaned side.
The first structural problem was noted with the cabane struts. I thought maybe they were just a little loose, but realized the wood is compromised. This will probably be the biggest repair that is needed. I don't believe it to be too dificule to fix.
The front lower mounting block was #2 problem I found. It is cracked right at the blind nut.
The grubby Webra 1.60 with evidence of smoke fluid burned on the exhaust.
usually crash my planes before they need a strip and recover.....
---
Last edited by CHassan; 07-12-2019 at

04:47 AM

. Reason: Typos

07-13-2019, 04:57 AM


---
Yes sir this plane came Johnny Dangerously style. Peel the to layer of covering off and you get 2 more layers. To be fair, most of the wing only had 2. The left side is the only one with 3 layers.
Rudder has seen better days.
miMy hopes this was a mostly unmolested plane died today.

07-15-2019, 07:23 AM


---
You may find it easier to just make a new fuselage. I have found the 1/8" lite ply at better lumber stores and have walked out with a 4'x4' peice for about 15.00. You should have enough there to use as patterns.

07-15-2019, 04:28 PM


---
I've never been good at cutting out large ply parts. Probably because I only have a #11 blade and an old razor saw, and not enough patients to score it 100 times.

The alcohol and corn startch is doing wonders to remove the oil from the wood. The wood itself is actually solid, except where the ply decking has been mutilated by the previous owner(s)

Last night I rebuilt the rudder and finished uncovering the wings. Need to replace the cabane mounts in 2 places, and fix some cracked balsa sheeting, but they look pretty good.

08-29-2019, 10:20 AM


---
Progress is being made. If anyone is watching....
I've made some wood repairs. Beefed up some weak areas, rebuilt some parts, and generally cleaned up the mess.
I've mounted the new RCGF 26CC gas engine in place of the Webra 120.
The wings and control surfaces are recoated with Fabric utilizing Stewart System's water based glue. Frankly this is a very simple method. It took one wing to get comfortable, and to learn the little tips and tricks, for a clean finish. The fabric forms around corners very nicely and shirks up well enough to get a clean tight surface.
I've begun the painting process. I'm using Latex and have bought some System Three WR-LPU if I so choose to seal it. I've never painted a plane, so this is new to me. One wing has the base coat and first trim color sprayed. I'm using a Badger Anthem airbrush and thinning the paint about 50-50 with water. I've tried some windex and windshield washer fluid, but I just don't see much benefit based on my knowledge and skill..
I'm starting to look forward to getting this in the air, hopefully before the air gets too cold.
---
Last edited by CHassan; 08-29-2019 at

10:26 AM

. Reason: pictures

08-30-2019, 12:00 PM

Join Date: Sep 2003
Location: Talamanca de JaramaMadrid, SPAIN
Posts: 583

---
Yes, CHassan, we are watching!

Congrats on the job which I will follow as I have similar project but for a CG Extra 300.

If you have never painted a model plane, be sure you are doing a superb job!

Best Regards from Spain.

03-23-2020, 03:33 PM


---
Time flies, progress moves at a snail's pace.
Very few things left to do.
Some idiot forgot to close the lid on the orange paint and it dried out and they then didnt want to buy more so the paint job has changes.
Sanded the top wing to repaint. Got the fuse completed and mostly painted. I may add some pinstripes yet and need to find some kind of decals or something.
So far I've used about 8 oz of light blue, 4 of yellow and 6 or so of dark blue. I can say much if it is overspray that floated around the basement. Wife was not so happy about that, so I built a more I closed booth.

04-12-2020, 07:45 PM


Home stretch.
---
So I've been crackin down on finishing up this beast. My available time and the scope of the project were both vastly under estimates. While I didn't spend the time to get the final results I wanted. I am about to have a flyable plane. With any luck it may even be a pretty good flying plane.
This past week I think I put in a dozen orders to Horizon, Amazon, Valley View, Tower, RTL Fasteners, and other supply spots. Just getting back into things and this being my first build in 15 years I'm lacking for most of the basics. Factor in my experience is really with nitro, not gas, I find new things I didn't know I needed constantly.
That said I think I'm just about done with the work and about to start playing.
So you know I know.... The canopy needs to be something other than yellow. I put the tape on the wrong side on the line on the aileron. I apparently forgot to close my yellow paint, so the top wing and the masking issue are what they are.
With any luck with weather and the mailman, I hope to fly it by the end of the week.

04-18-2020, 12:31 PM


The end.......
---
So I finished up some little tid and bits. Went and bought some gas and oil. drove to the field and remarked how nice it was at the house and how wind it was at the field..... Typical.
Put the plane together. Field it up. Choked it. Flipped it over a few time and it roared at me. DC slipped off the choke and sun the prol a couple more time and she came to life.
It is rich and sputters and frankly I'm new to gas engines so I farted with it a bit. Shut it off, put it back to stock settings, and started it and let it go. Still rich, stil la bit of stutter on throttle up, but good enough I guess.
Filled it back up. Put the cowl back on. Fired it up. Took off. very quickly took off. Scared me it took off so quickly, but no tendency to tip and fall.
First flight took some down and right aileron. being pretty windy and bumpy I didn't worry to much about trimming. I just had fun flying it around. Doesn't couple as bad as expected. Knife edges for ever and a day. I think the ailerons need some differential and a little more throw and I think I may be a little nose heavy.
I've had 2 flights so far. pretty pleased and it diesnt actually look too bad in flight, just need to break up that yellow canopy.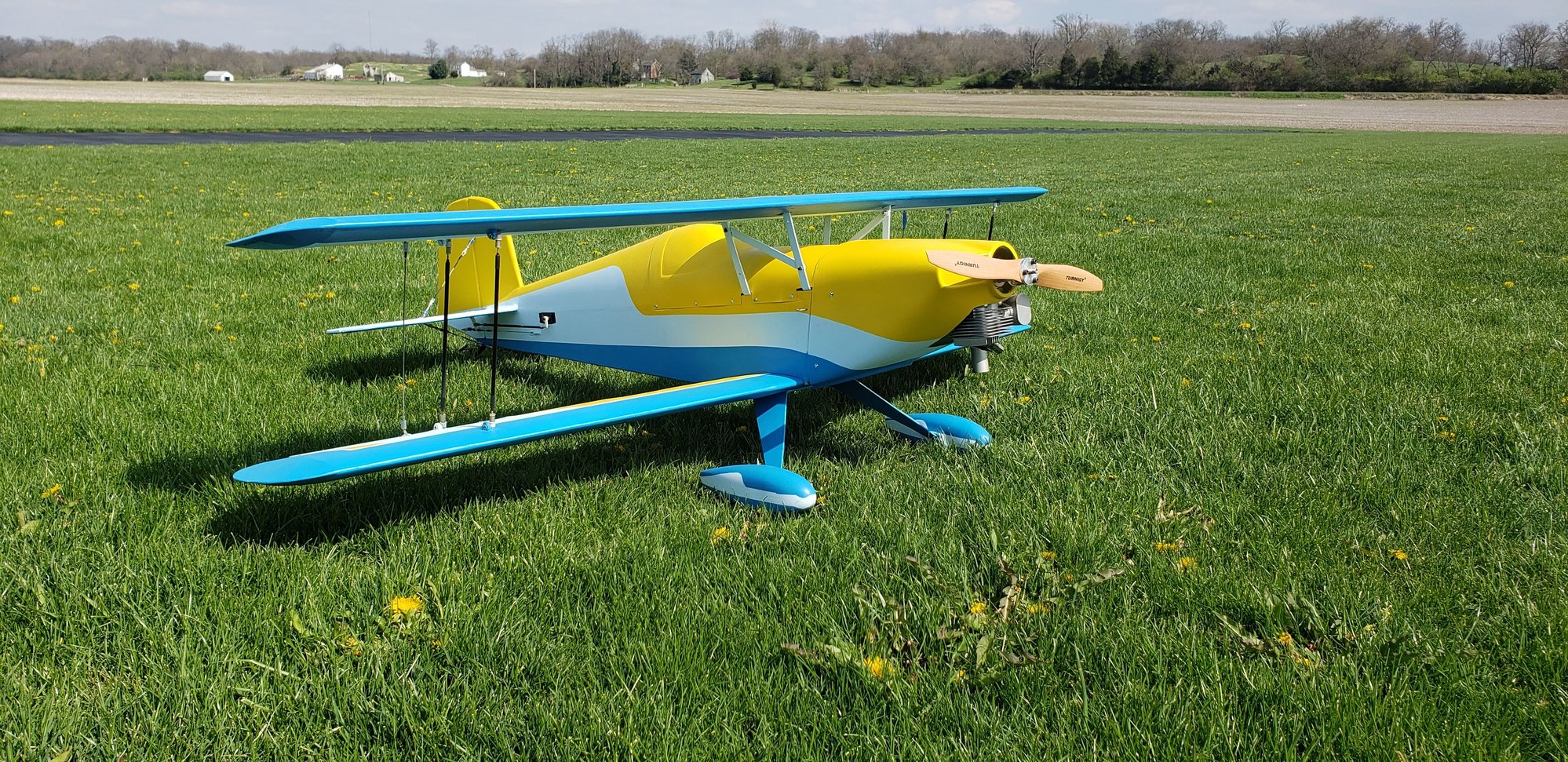 The following 2 users liked this post by CHassan: