Giant electric foamy.

05-10-2022, 01:39 AM

Join Date: Nov 2010
Location: Coffs Harbour NSW, AUSTRALIA
Posts: 1,531
Likes: 0

Giant electric foamy.
---
Building and flying light wing loaded GIANTS. "JF-G-XL & JF-ULTRA-XL"
As most of us in RC know, the bigger the better they fly. I have certainly confirmed that in the last six month or so, scratch building at least 6 new models, using my favored material, Depron sheets, I just love working with, being cheap, clean to work with and extremely light.
This time, having a bit of detour from EDF's or turbine powered jets, to my other big passion, flying high performance 3/D models. Not only bigger, but more power flies better as far as I'm aware off.
Most of the kits or ARF models in above category I have found to be slightly too heavy, so with the use of Depron I can keep the AUW to minimum especially after more experimentation with the use of lighter glues than my favored Epoxy, which I still use but in minimal dozes. In my earlier days I have used up to 2 kilos of Epoxy on very large jet models during the lamination process, a dead weight, but the only glue that cures in large air tight areas I knew off at the time.
Slower cure, various poly/U type of Gorilla stuff is much lighter for lamination of Depron if used sparingly, also there is less possibility of foaming /bubbling up, which I hate if applied in larger quantities.
But even lighter is widely used these days, 'some' foam friendly quick contact spray type, bonding instantly, but rather tricky to work with on larger areas, but practice makes it perfect.
Some of my recent builds were a number of very small 3/D creation BI-Planes to keep on improving the flying skills in the backyard. The smaller they are, the more of the handle, also more stressful than enjoyable flying to avoid trashing them, LOL.
I said bugger it, let's go bigger! The first of the larger projects, "JF-BI" running on 6S/60 E-power I have recently fully documented in my article is just such a brilliant flier, built to fit in my transporter, so I said why not go even bigger.
This time based on it, I have decided to create a real Depron GIANT, as the largest, lightest and most powerful model as an experiment. At 2.1 meter wingspan, 2.25 meter long, a great challenge using 6 mm Depron sheets.
After some initial drawing of the layout, I was trying to work out the AUW, making a decision about the size of the power unit to use. Hoping for some 4.75 kilo AUW, was a bit of wishful thinking, the further I was coming along with the build.
At first, hoping to complete the main frame, to check the weight idea, was abandoned, after spotting a second hand bargain EF110/295kv size motor for sale, I thought it would be more than adequate. Unfortunately not so, finding soon after rushing into buying it! Recommended for 3/D models up to 5 kilos, I have soon realized it will be very marginal as my giant creation was putting more and more weight after daily sessions to stiffen it up. The enormous frame size was so flimsy on the workbench before bracing it that I started to have some serious doubts if it would hold in one piece together! LOL.
Some 50 meters of Carbon Fiber tubes and rods of various gauge to make the whole structure sound & safe for 3/D performance didn't add too much in itself, but combined with the glue, some ply made a huge difference, doubling it. Additional plywood and lighter balsa bits to re-info
Giant profile fuse cut out.
Test fit of all the cut out parts.
All sections painted before final assembly.
Static check runs.
Happy as could be after the maiden.
Showing off its size.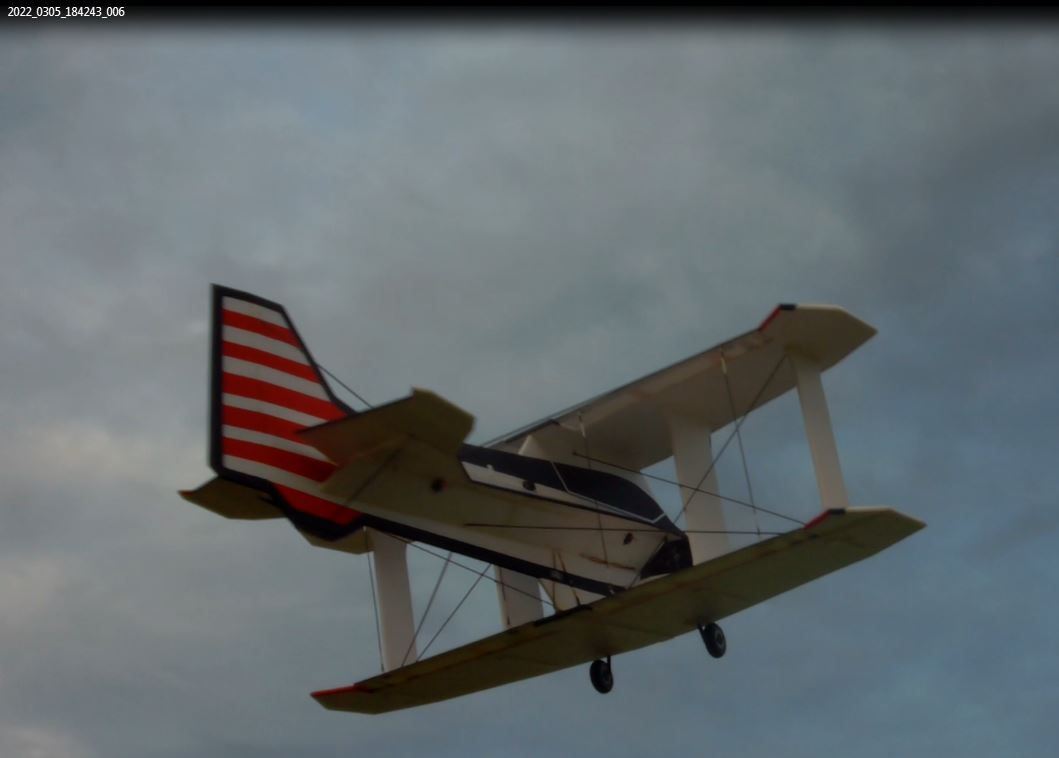 Slow-Low&Close.
rce all the crucial controls or landing gear areas all added up, not to mention use of metal gear servos with all the sturdy control linkages etc. for safe operation of such a huge frame structure.
The closer I was getting to a full frame completion, the more I realized that I can forget about 3/D performance with the current power set up, and at the best finished off with a nice sporty model, not being my target!
After the full completion fitted with Eflite110/295kv on 8S/4Ah/60C packs the AUW was well over my target of 4.75 kg, ending up at 5.25+kg! Rather disappointed, but being realistic, with such a huge rather complex frame, it all adds up. Next thing was selecting the prop for optimum performance, another issue, as I couldn't find the size I was after with a large diameter and minimal pitch. Sacrificing a few of my large unused wooden props I have re-shaped to the size I was after and hooked it all up to check some static figures.
While hoping to use a second hand fully programmable high voltage 100A/2-12S OPTO speedy I got hands on from a modeler, I have found an issue with programming it without any instruction manual to match the cell count. After replacing the unit with a more simple 100A one I had on hand, the first thing was to pull it out to check the truth.
Marginal at best, despite getting some 7+ kilo pull at peak, at very high current draw, so the whole idea of this power setup had to be abandoned and upgraded.
Back to the RCT listings came up with another bargain, saving me a huge amount after spotting the next size up, EF160/245kv power unit for sale. Didn't take long with the nice hardly used giant motor sitting on the workbench, with an identical mount set up.
Even better, being considerably heavier to sort out the CG, as the smaller 110 unit had to be mounted with machined 50mm standoffs, and the battery tray had to be also relocated all the way to the front. To minimize the weight I have decided to stick with the 8S/30V set up, while the motor can handle up to 10S.
The recommended prop size 18-20 inch was also upsized to 22 inch after modifying another larger wooden one 22x12 I found on hand, to 22x4 by dramatic re-shaping, being just one of my specialties over the years with many dozens of props experience doing so. For 3/D flying I always go for the maximum diameter with the minimal pitch, to enjoy slow-low and close flying.
As expected, the AUW increased again after the upgrade, this time to 5870 grams on the same 8S/4Ah set, but with some 275 dm2 of flying area, this 'doublewinger GIANT's wing load is miniscule. Next thing was curiosity to check the static figures, with well over 8 kilo thrust/pull but lower current draw at some 6200 RPM, I was more than happy and ready for the excitement of the maiden flight.
Next day, the first thing in the morning, off to the flying site in perfect dead calm conditions. Slightly anxious during initial power advance, but taking only a few seconds after lifting off the strip, I knew I built a winner. Just couldn't believe it how smooth, quiet and stable the GIANT performed during my short 4 minute test flight, while taking it slightly easy, but next few flights pushed it harder than what it is capable of. Just loving it, an absolute magic flying model to enhance my 3/D fleet.