Naruke / hui yang advantage bipe ep

05-06-2021, 06:11 AM


Naruke / Hui Yang Advantage Bip ep
---
Between the lockdown and the humid and windy spring we have in France now, i have time for an ADVANTAGE BIPE review.
Let's start with the specs, and the box arriving home ...
Design by

Giichi Naruke

Wing span

1770mm

Fuselage length

1985mm

Wing area

92.6dmē

Horizon Stabilizer area

17dmē

Spinner diameter

82mm

C.G

130mm backward from the dowel of bottom wing

Aileron servo

Futaba BLS173sv x4

Elevator servo

Futaba BLS173sv x2

Rudder servo

Futaba BLS171sv x1

Empty weight

EP 2350g
Souvenir of a friendly visit in JAPAN
KEN HIROSE and GIICHI NARUKE
UPS has a box for you
I let you appreciate the packaging !
Not a single scratch 👏👏
Thanks YANG YONG
---
Last edited by J-P; 05-06-2021 at

06:32 AM

.
The following 3 users liked this post by J-P:

05-08-2021, 01:05 AM


---
Starting with a full inspection of the parts and record of the weights
Fuselage with Rudder and Canopy 1013 g
Top Wing 540 g
Bottom Wing 549 g
Left Stab 92 g
Right Stab 90 g
Struts and Wings bolts 52 g
Total weight 2.236 g
Really close to the announced weight on HUI YANG website ( 2350 g)
Time to make room on the workbench and start ...

05-09-2021, 12:29 AM


---
Equipment
FUTABA T18 MZ / T 32
RX 7003
BLS 173 SVI Ailerons & Elevators
BLS 151 Rudder
ADVERRUN SINGLE DRIVE
D3 ESC
The landing gear legs with wheels pants and wheels weight 168 g
ADVERRUN plus D3 ESC 616 g
Batteries tray 31 g + 12 g
I start with the wings servos installation.
Paint is very fragile, and I use a foam protection when working on the surfaces.
I found useful using a carbon rod mounted on a plastic horn to position the horn parallel to the hinge line.

05-14-2021, 12:50 AM


---
Landing gear box reinforcement
Flying from a grass runway, I'm used to reinforce the ldg box with a 1 mm carbon plate, and to add some carbon tissue to distribute the efforts

05-15-2021, 09:05 AM


---
Engine installation.
With the thick nose ring and the short ADVERRUN Drive shaft, I bolted directly the engine to the nose ring using the soft mounts.
As the air intake is small, the air exhaust on the bottom of the fuselage seems to be large enough.
KONTRONIK runs cool as well as the D3.
80 or 82 mm FALCON spinners are used with a 2 or 3 blades prop

05-16-2021, 01:34 AM


---
Both are very good props
For RS there is juste one size, 21" X 14
For FALCON, you have different models
Diameter Pitch
19″ 13.5 EL V2
19.5″ 13 EL V2
19.7″ 13N EL V2
20″ 12.5 13 & 13,5 EL V2
You have too the MEJZLIK
20" 13 EL
20" 14 EL

05-17-2021, 01:24 AM


---
Final installation
CK AERO tolls for perfect elevators adjustment
RX battery and switch plate
OPTIPOWER Optiguard for battery backup
Clamp filter (ferrite core) to reduce the effects of radio interference by FUTABA recommendation for 7003SB RX - TDK ZCAT1325-0530A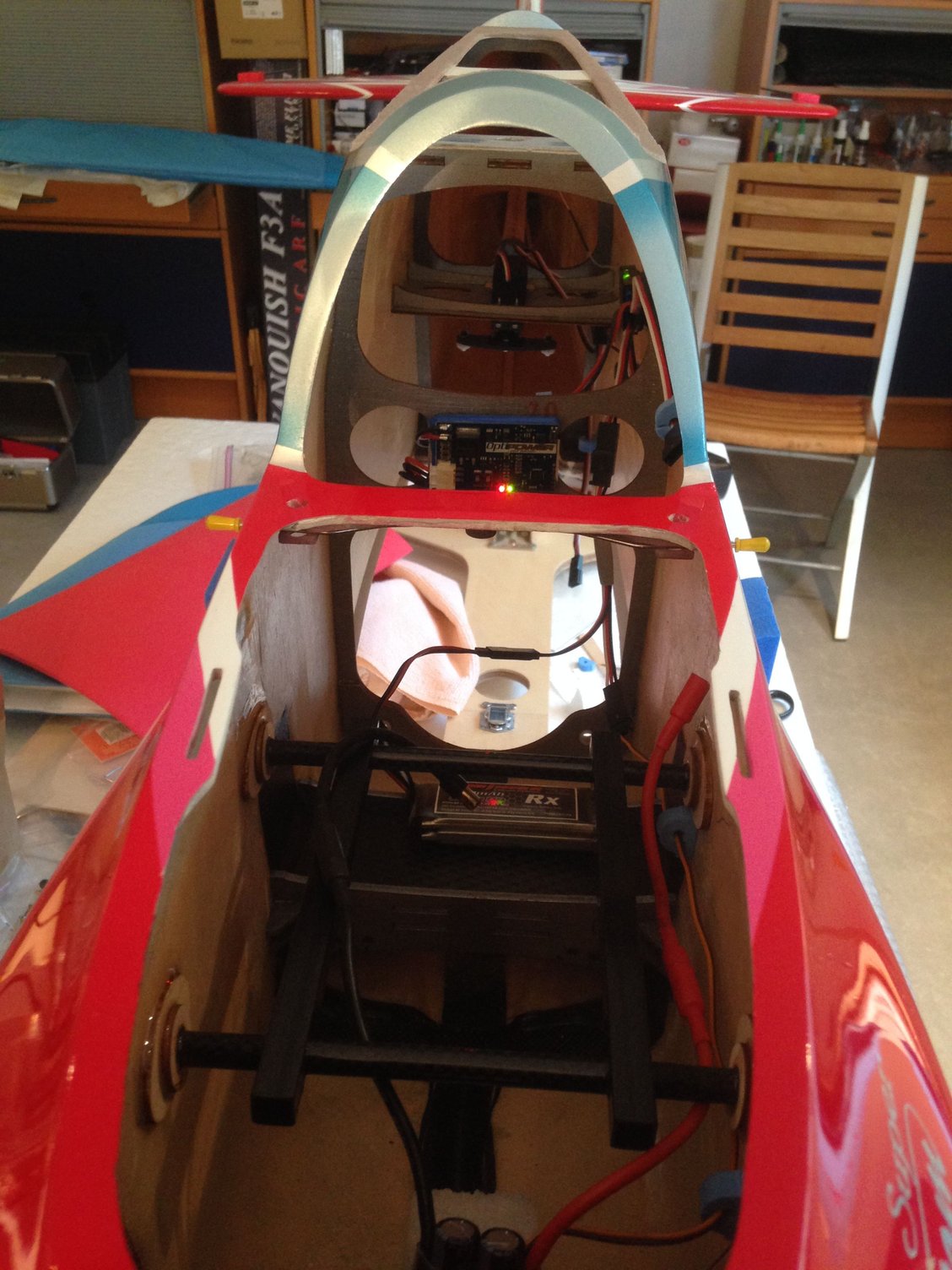 The following 3 users liked this post by J-P: