F-4 Phantom Foamie Tuning

09-25-2012, 01:42 PM


F-4 Phantom Foamie Tuning
---
Hello EDF Community,
i've been flying a slightly modified Kyosho DF-55 Phantom EDF for about 2 Years. It was all-stock, i just replaced the nozzles and took off the nose to make an E or F model with the long nose, and repainted it in german air force cammo, and replaced the canopy with a composite one that saved quite some weight.
On the stock EDF it was a good but not awesome, it improved with the tighter nozzle and the longer nose much to my suprise.
However thrust to weight was always a problem, so i'd like to share my newest project with you and maybe gather some tips or improvements. It'd be great to see a way to make the small F-4, which is a great flyer, to be an awesome performer.
I just received the F-4 and the new parts, so assembly will start the next few days. I will do the same "long-nose conversion" as i have done on the old one, but this time i have also planned to replace the powerplant.
On the table i have a WeMoTec Microfan, Typhoon 240-15 6000kv and a 50A ESC. This should boost thrust by about 35%, providing at least some vertical performance.
It will be finished in the 20 year anniversary scheme of my old homebase.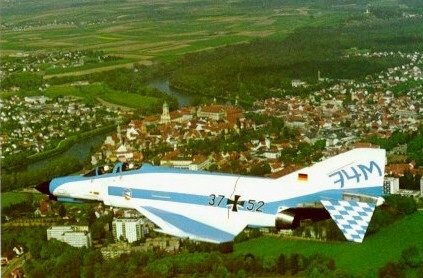 Please feel free to comment or make suggestions, i will report and post pictures as i move along on "Phantom 2.0"
Hank

10-02-2012, 02:21 AM


RE: F-4 Phantom Foamie Tuning
---
After some time i finally got a chance to grab the molds and make a new nose, fuselage hatch and the first nozzle. They were tempered over night and are now ready.
Next i'll cut off the nose of the kyosho, and after the glue has set will start puttying the seam.


10-06-2012, 02:13 AM


RE: F-4 Phantom Foamie Tuning
---
Work goes on, i decided to make the wings removable with 3 M3 nylon screws.

I tunneled through the wing using a dremel with enough space to allow the entire screw-head to pass. On the inside a small fiberglass plate was glued in. The nut is epoxied into the cavities generated in the fuselage.

When it's dry i will start fitting the microfan.

Any interest in me writing further about this project?