Custom folding hybrid quad frame, plus FPV questions

02-11-2013, 12:38 PM
Junior Member
Join Date: Oct 2009
Location: , NY
Posts: 8
Likes: 0
Received 0 Likes on 0 Posts

Custom folding hybrid quad frame, plus FPV questions
---
So I have designed and built my first quadrotor, and she is flying beautifully so far. Still need to balance the props and tweak the vibration damping, and learn to fly, but I am well on my way. The full thread is herehttp://www.rcuniverse.com/forum/m_11334501/tm.htm
For right now, the frame includes a gimbal mounted go pro for recording aerial video/images. Once I get better at flying (this is my first aerial vehicle of any kind, but I am getting there) I would like to add an FPV setup to the mix.
I have been reading all about FPV non stop, but need a little help with the final details before I pull the trigger. I want an FPV setup for fairly close range work, I don't see myself going much farther then 1000-1500 feet, although behind trees might be possible. I built this quad to capture cool images of nature, events, and things of that nature, and I would like to be able to FPV it as well to get a better perspective of the shot. Things like flyover video of an RC car race, or aerial images of a wedding, or some cool shots in a park, that kind of thing. All pretty close range, no cross country or high altitude flying, just a better viewpoint of line of sight stuff.
I am thinking 900mhz since it is better at penetrating trees, and I don't mind the large antenna. I am planning on making myself a set of cloverleaf/skew polar antennas to go with it. Now I know hobbyking FPV stuff doesn't hold a candle to other systems, but would it be good enough for my purposes, at least to try it? Is there another option that is in the ballpark (although obviously more) price wise that would be better?
I do a lot of design consulting work for
http://www.vuzix.com
so I should be able to get a pair of goggles from them to hook up as the display.
I am currently using a turnigy 9x 2.4ghz for control, would I need to upgrade to an FrSky module, or can I get away with the 9x for the close range stuff I am doing?
Here is my quad, it is designed to incorporate the best features of the X frames and the H frames in one durable vibration resistant folding frame. The X shape of the arms give you the stiffness of an X frame, while the central fuselage gives you room for FPV gear and gets the camera ahead of the props. The entire central frame is rubber isolated from the X frame, cutting down on vibrations. The arms themselves use spring pins to lock in place, allowing you to fold and unfold in seconds without any tools.
Here are some images of the frame, and a picture from my gopro
With the LEDs on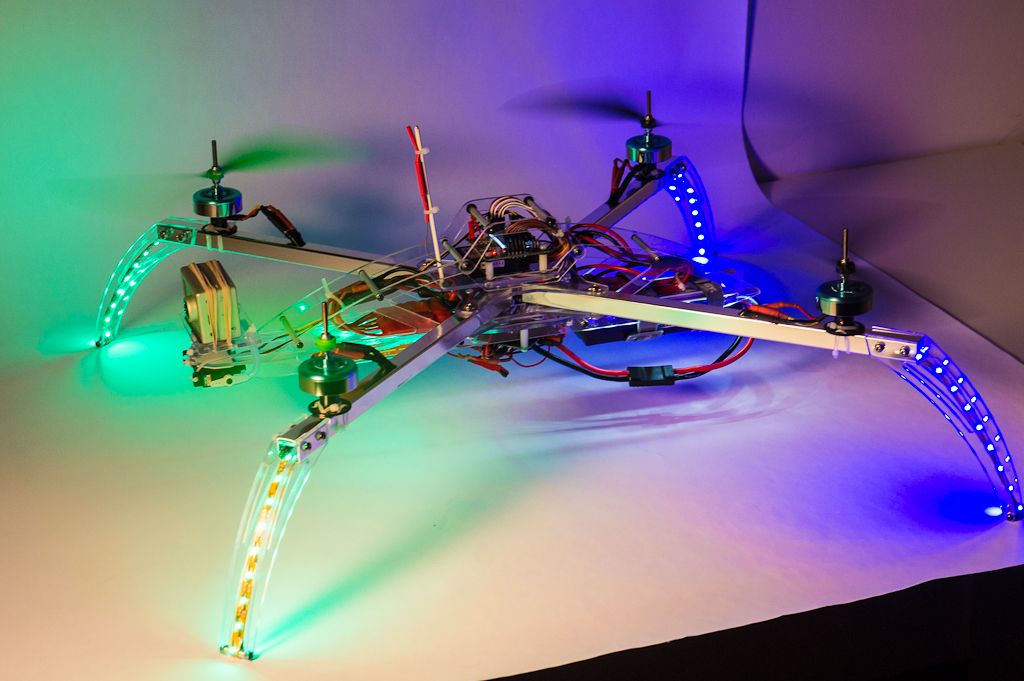 Detail shot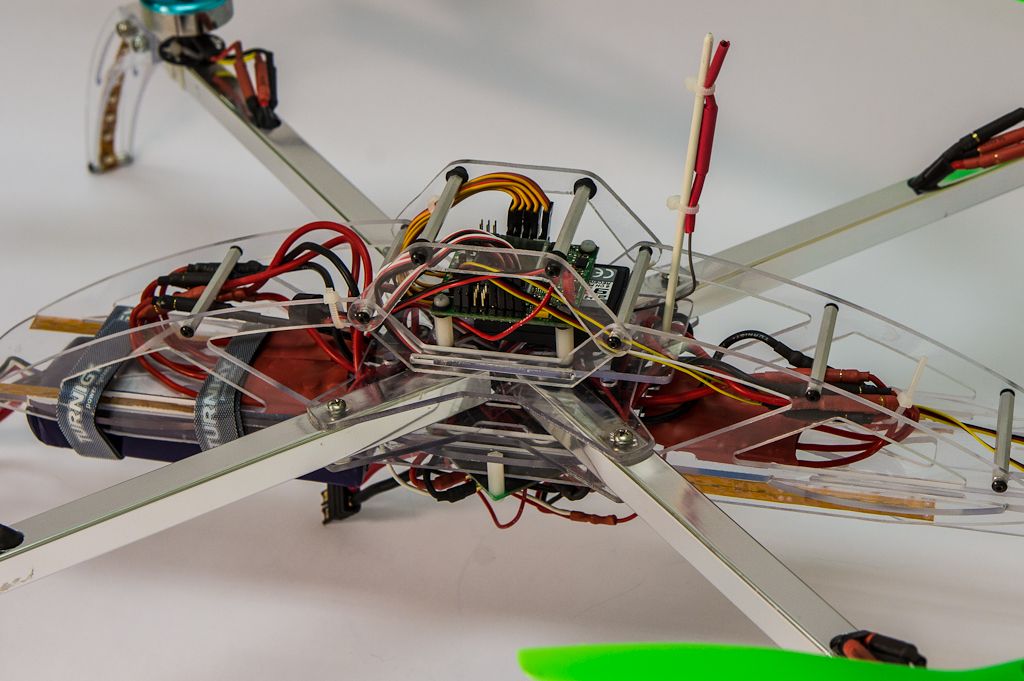 Here it is folded up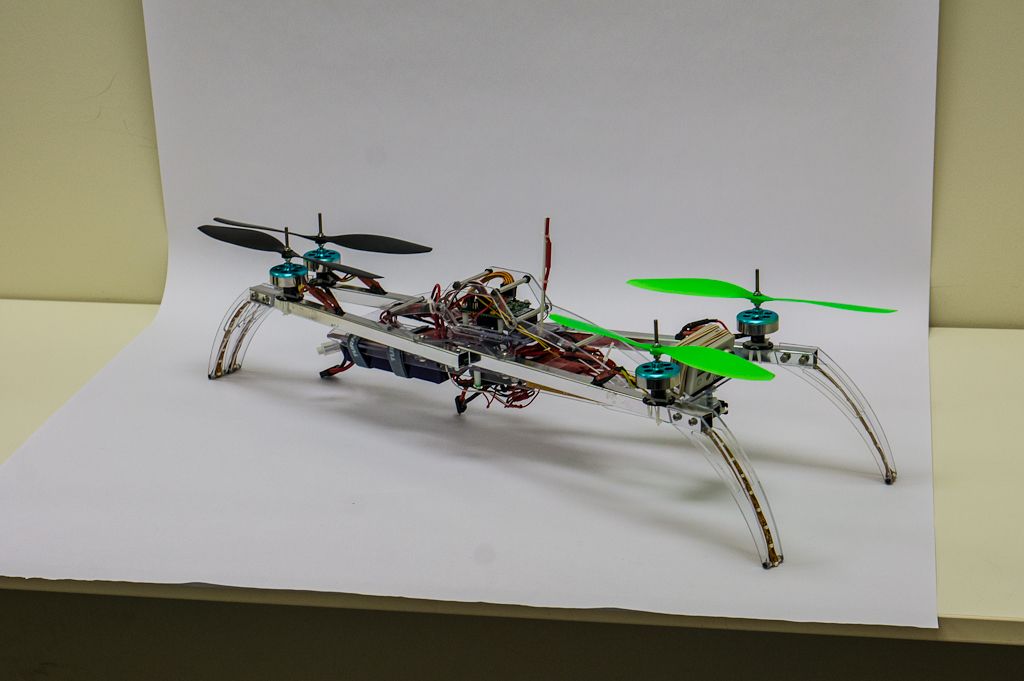 Image of my front yard from the GoPro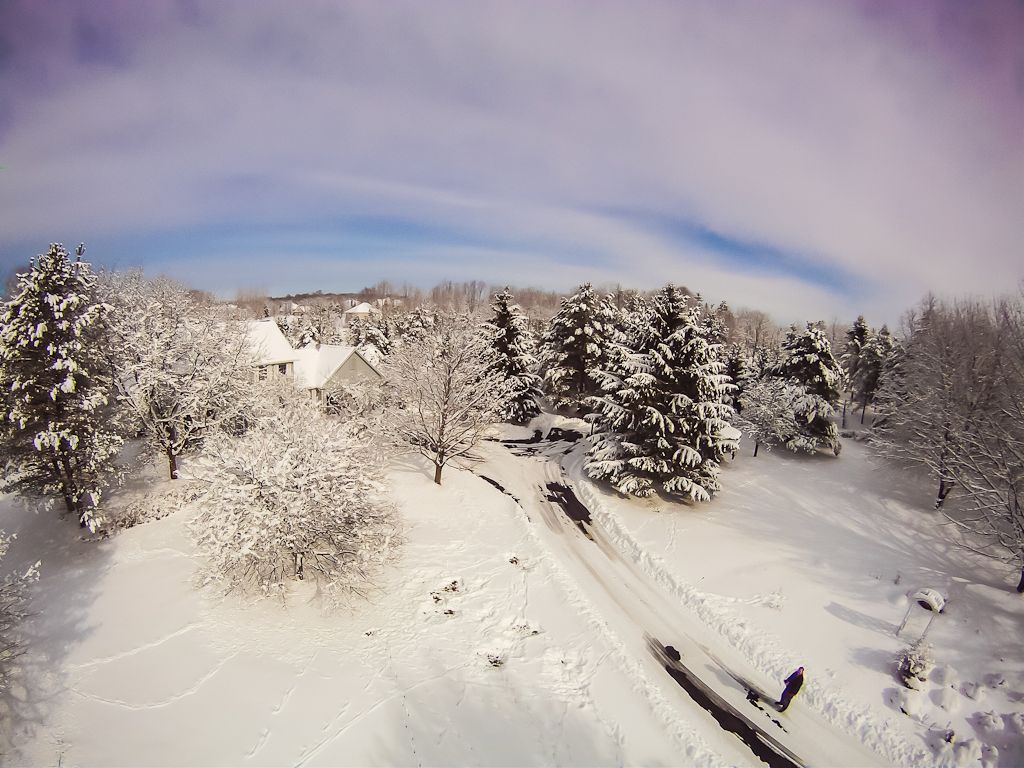 Video of the gimbal
[youtube]http://www.youtube.com/watch?v=STPiBHNHlWk[/youtube]
And video of one of my first flights - ending with me hitting a tree haha. No damage other then a prop, it collapsed and came apart just like it was supposed to!
[youtube]http://www.youtube.com/watch?v=2ywjqZro0FM[/youtube]
My plan is to rigid mount the separate FPV camera underneath the gopro gimbal at the front, with the video transmitter as far toward the back as I can. What do you guys think, will that hobbyking system work for me? Or am I wasting my money?
Thanks so much!

02-12-2013, 01:40 PM
Senior Member
Join Date: May 2003
Location: Rochester, NY
Posts: 5,710
Likes: 0

RE: Custom folding hybrid quad frame, plus FPV questions
---
Hi,

I have used the HK 900MHz video system without issue. It is a good starter set. Do a search for "Skywalker FPV" and you should find my thread in this forum. You can always upgrade the camera if you want more resolution.

You can also find the thread via my Web site [link=http://www.gregcovey.com/fpv.htm]here[/link].

Good luck!

P.S. If you go to Vuzix, tell Gary VanCamp that I said "hi".