Composite-Arf 33% Gee Bee R2 - First Flight - Pics - Videos - L@@K

01-18-2020, 09:49 AM
Member
Join Date: Aug 2019
Posts: 45
Likes: 0
Received 0 Likes on 0 Posts

---
I'm using 18% (approx, 76mm) from the leading edge just outside the gear legs. You can't actually balance this plane at the wing root because the fillets interfere but since the leading edge is straight it's not a problem.
Thanks again Josh for the postings,

---
Last edited by 5th GeeBee; 01-18-2020 at

09:53 AM

.

01-20-2020, 03:26 PM

Join Date: Oct 2002
Location: Dixon, CA
Posts: 1,006
Received 0 Likes on 0 Posts

Pilot
---
Gents,
IF you want the absolute ULTIMATE PILOT for your airplane, contact Sarah's Custom Pilots OR Hannes Speed Shop.. both on Facebook.
They're unbelievable!
The one in front is, of course, one of the greatest pilots to ever live - Delmar Benjamin.
The incredibly good looking pilot in back is.... yours truly


01-25-2020, 03:10 PM
Member
Join Date: Aug 2019
Posts: 45
Likes: 0
Received 0 Likes on 0 Posts

---
Plumbing's done, Because I've got so much going on behind the removable dome and at some point I'll need to access it, I was forced to leave more excess tygon tubing than I'd normally like for the fuel line and smoke oil line. Hopefully, this will be the last time I mount the dome and engine before she flys. It does all lay in cleanly with no interference or pinched tubing. One more final balance, graphics and pin striping, and I'm off to the field to tune it,
My plan is to tune and taxi test at my local field. Tail wheel alignment is important on this plane as the landing speed is said to be in excess of 40mph and directional control after the tail is planted is critical for avoiding a flip or wing drag. I intend to maiden at one of two dry lake beds within a couple of hours of me. This will allow me unlimited altitude and landing run-out and will ensure I can land and take-off directly into the wind. I'm confident I can take off and fly this thing but the landings are an adventure and I'd like to get several under my belt before I try it on a paved 600' runway. Hopefully, Richard will join me there and we'll have a double GeeBee maiden event.

Mark

01-27-2020, 01:27 PM
Member
Join Date: Aug 2019
Posts: 45
Likes: 0
Received 0 Likes on 0 Posts

---
About a quarter of the pin-striping and half the graphics done. I had to compromise the scale position of the 7 on the wing in order to miss the flying wire hatch. I used Prostripe vinyl pin-stripe tape from Autozone, less than $3 a 40' roll and it works well. (I had bought the Hangar 9 tape from Horizon and like you said Richard, it doesn't work very well and it isn't cheap.
Now it's starting to look like a Gee Bee!


Mark

02-01-2020, 09:39 AM

---
Hey guys,
you like Delmar Benjamin? You own a Gee Bee R2? You need a pilot?
Here is the solution! We create a 31% Delmar Benjamin pilot head!
Like one? Send us a message :-D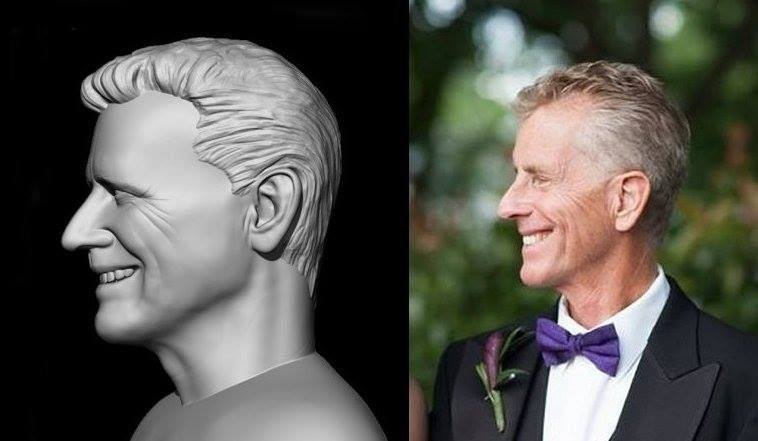 02-03-2020, 12:14 PM
Member
Join Date: Aug 2019
Posts: 45
Likes: 0
Received 0 Likes on 0 Posts

---
I'm not sure if I saw this before or it's an original idea but I can't think of a better way to store the flying wires when the wings are removed.
Had a catastrophic.servo failure on my Wilga yesterday. Perfect T.O. into a gentle left turn and at 50' it rolled on it's back and went in. Hard. I really enjoyed slow flying that thing. Had well over a hundred flights on it with no issues. Might have to build another one.

Everybody Crashes!!

Thanks again Josh

Mark

02-08-2020, 02:28 PM
Member
Join Date: Aug 2019
Posts: 45
Likes: 0
Received 0 Likes on 0 Posts

---
I've been re-reading the old threads on this plane the last few days. It sure used to have a lot more activity. Richard, your first CARF was certainly fraught with problems. Forget the throttle servo problems, losing engine bolts on a DA 150? Yikes!!

Mines done. Waiting for good weather.
Mark.


02-09-2020, 11:10 AM
Member
Join Date: Aug 2019
Posts: 45
Likes: 0
Received 0 Likes on 0 Posts

---
Hi Hannes. I've been watching your videos for years. Mines complete except for some minor adjustments. You've apparently had a few CARF GeeBee's....What do you recommend for the throws and do you use differential on the ailerons?

02-15-2020, 10:05 AM

---
Hi Mark,
yes, I use some differential on the ailerons.
Good luck with the maiden, please let your buddy take a video of it.
Best wishes,
Hannes

02-15-2020, 10:08 AM

---
So guys, the R1 cowling is in production, it fits like a glove on the CARF fuselage.
Like one? Send us a message:
GeeBeeR2@web.de