Giant Astro Hog Laser Cut Kit - Jerry Bates

06-23-2020, 10:56 PM

Join Date: Jun 2008
Location: Perth WA, AUSTRALIA
Posts: 821
Likes: 0
Received 0 Likes on 0 Posts

Giant Astro Hog Laser Cut Kit - Jerry Bates
---
I finally bought the Jerry Bates Giant Astro Hog Plans and Laser Cut Kit from Laser Cut Kits Australia.
I was looking into this project for a couple of years now. I first bought the plans (late February) to review the task ahead and then bought the short-kit (I think) in early May (and sat on it for a while...).
The plans are incredibly detailed, and I will rate them as some of the best I have ever seen. I knew what to expect as I saw JB's plans for the 1/5th scale Hawker Tempest before (purchased by a friend and they were also very good).
The one downside to purchasing JB plans is that it seems that none of the fibreglass accessories is available from him. He never answered my friend emails, and he never answered my own inquirers regarding the cowl and headrest for the Giant Astro Hog. Lucky that in this case I don't care and will probably won't bother with a cowl (as was the original Astro Hog) and will make my own headrest.
I will also make few changes to bring this old design to be used with modern radio equipment and current control setup.
I am still short of couple of items before I can actually start the build (I will be starting with the wing construction), however, I used my time to test forming 3/32" sheet piece to a LE stock by soaking it first in warm water (as I have no intention of using Ammonia as suggested on the plans). It seems to work fine.
This may be a slow pace build then some other I posted (but it should be much quicker then the Me-109 build), so apologies in advance ; )
Cheers,
Eran

06-25-2020, 11:53 PM

Join Date: Jun 2008
Location: Perth WA, AUSTRALIA
Posts: 821
Likes: 0
Received 0 Likes on 0 Posts

---
After removing the laser cut ribs for half a wing from the balsa sheets, I tested the wet formed 3/32" sheet on a rib and it fits perfectly.
Today I was plying with the idea to make the wing-tips of the Astro Hog removable. This will shorten the wingspan by 400mm (to 1,900mm). I know from past experience that around 2,100mm wingspan one-piece wing just fit in my Mazda 6 waggon without obscuring the driver view out of the passenger window.
I did consider building the wing as 3 piece (cut after the wheel mounts), however, this solution was a bit more involved and I am too lazy.
My plan is to use two "W4" plywood full length ribs, substituting the "W6" short rib (as it had the aileron behind it). This modification will shorten the aileron by 3mm (see photos).
Once the decision was made, it was time to create some dust in my Cave. Tracing, cutting and sanding two 3mm birch plywood and two 2mm Lite ply newly created "W4" ribs.
Cheers,
Eran

06-29-2020, 02:24 AM

Join Date: Jun 2008
Location: Perth WA, AUSTRALIA
Posts: 821
Likes: 0
Received 0 Likes on 0 Posts

---
I thought that I will be glueing some ribs today, but I realised that I am still missing some spruce.
What I end up doing was dry fitting the ribs and having a look at the stages I will need to do when I am ready to glue everything. The laser cut fit is good, which helped.
I then glued the main spars to the main spar doublers. I also cut a hole in the ribs for the servo leads (my servos will be placed next to the ailerons) and wet formed 1/16" balsa around a poly-pipe for the TE of the ribs adjacent to the ailerons.
Cheers,
Eran

06-30-2020, 01:59 AM

---
I built one several years ago. Unfortunately, a bad receiver got it and it was destroyed on the first flight. Too bad, as it flew fantastic. I scratch built a cowl and headrest out of fiberglass. I wouldn't call the control system antiquated. The aileron torque rods run all the way into the center of the wing to keep the servos and linkage hidden. They are also counter balanced. It results in a very neat, clean look. If I were to change anything about the control system, it would be to put the aileron servos in the wing center section instead of the fuse. I didn't like having to attach the aileron pushrods to the torque rod ends through the cockpit.

carl

06-30-2020, 04:10 AM

Join Date: Jun 2008
Location: Perth WA, AUSTRALIA
Posts: 821
Likes: 0
Received 0 Likes on 0 Posts

---
Carl - Thank you for the information regarding your Giant Astro Hog. I was surprised that I could not find much information regarding this JB design considering the popularity and number of forum threads for his other designs .
While I do not mind that the controls will be exposed, I will give the ailerons torque rod design a second thought. I will definitely have the aileron servos in the wing, either within the centre section using the torque rods or next to the ailerons.
Considering the available torque of the intended servos, it is unlikely that I will bother with the ailerons counter balance.
Any chance that you have some photos of your Giant Astro Hog that you can post here?

On a positive note for my build, I sourced today the missing Spruce and I should be able to get going soon (once time permits).

Cheers,
Eran

06-30-2020, 03:24 PM

Join Date: Jun 2008
Location: Perth WA, AUSTRALIA
Posts: 821
Likes: 0
Received 0 Likes on 0 Posts

---
Thank you Carl. I did see this photo on Jerry Bates' website.
This is one of only two photos I am aware of of this model. A very nice finish if I may say so.

Cheers,
Eran

07-01-2020, 01:23 AM

---
Thanks. The finish was uncertified aircraft fabric and Randolph dope. I was sick when I lost it. The only thing I salvaged from it was the head rest. I have never so completely destroyed a plane.


carl

07-02-2020, 10:48 PM

Join Date: Jun 2008
Location: Perth WA, AUSTRALIA
Posts: 821
Likes: 0
Received 0 Likes on 0 Posts

---
After test fitting the wing (actually half of the wing) few times, I finally glued it. It came out very nice.
In addition, I am still playing with ideas for securing the ailerons hinging. I am looking at birch plywood "bushings" for strengthening the passage through the ribs as well as possible retention of the carbon fibre rod to prevent side movement. I cut few pieces which you see in the photos, but this is still not finalised.
I also test fitted my "end rib", but am yet to commit to anything. Time for some more coffee while I am thinking about it all.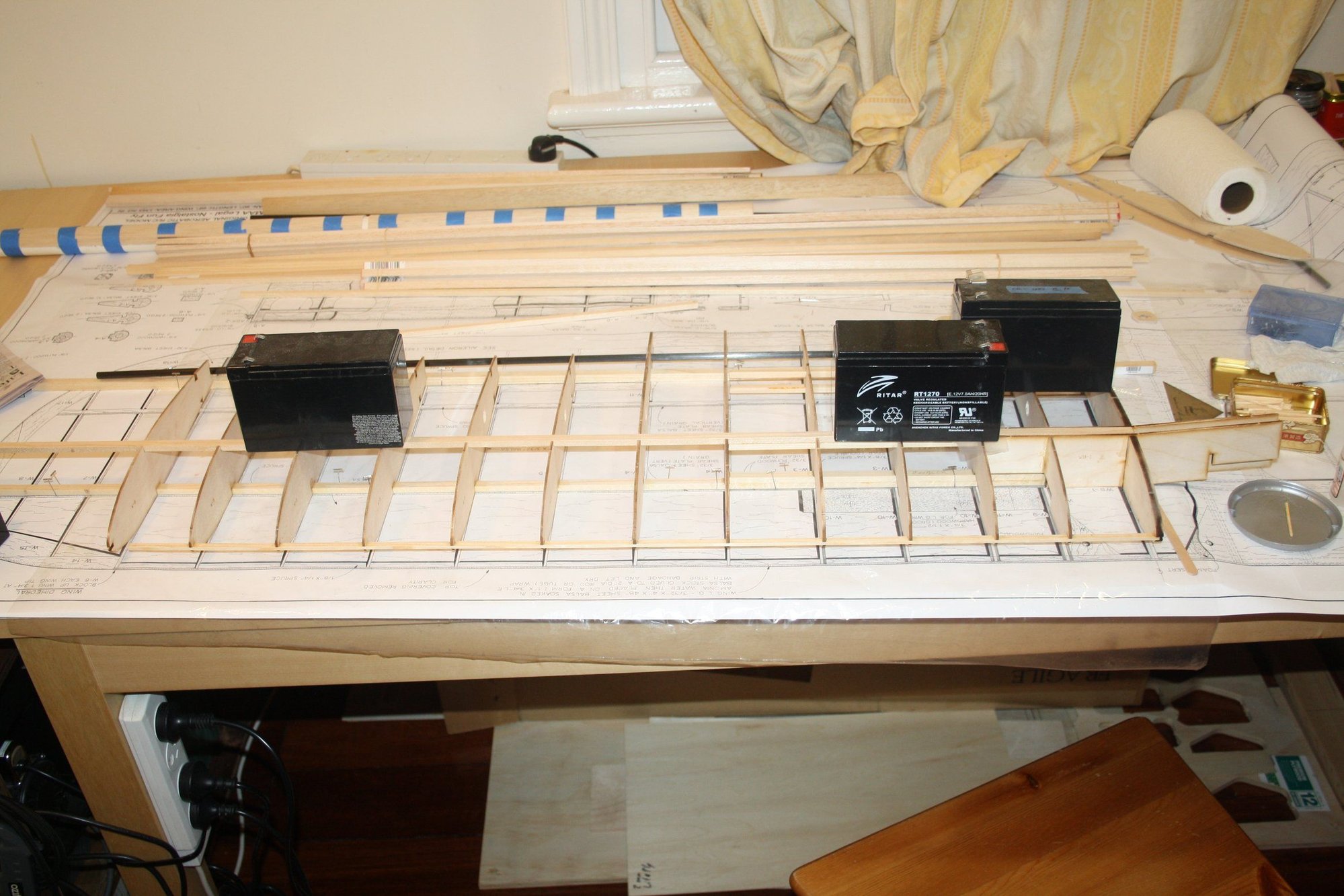 Cheers,
Eran

07-14-2020, 03:25 AM

Join Date: Jun 2008
Location: Perth WA, AUSTRALIA
Posts: 821
Likes: 0
Received 0 Likes on 0 Posts

---
I finally cleared the desk in my Cave of maintenance work on couple of aeroplanes and am back to the build.
I made couple of 1.75" blocks to support the right wing-tip when checking for correct dihedral.
I then glued the Spruce spars to the Spruce "spar doubler".
Cheers,
Eran

Yesterday, 10:40 PM

Join Date: Jun 2008
Location: Perth WA, AUSTRALIA
Posts: 821
Likes: 0
Received 0 Likes on 0 Posts

---
I glued the secondary spruce spars to their corresponding spruce doublers (as was done with the main spar).
I then made the left wing panel and once the glue dried, I attempted to dry fit the wing.
Two things were immediately obvious in the process:
1. That the blocks I made for the wingtips to hold it in the correct dihedral will not do. I fabricated proper cradles from the laser cut "negative" of the ribs, which worked very well.
2. The dihedral brace has substantial wrong angle to it (I did check and the laser cut perfectly fit the plan).
As I already glued the dihedral brace to the right wing panel, I glued the wing with it as is and will fix this once it is dry.
Cheers,
Eran

Today, 03:42 AM

Join Date: Jun 2008
Location: Perth WA, AUSTRALIA
Posts: 821
Likes: 0
Received 0 Likes on 0 Posts

---
I just realised that I miss red the note regarding the support of the W6 rib for dihedral.
The height was for under the rib and not the rib tip as I was reading it. In that case, the brace is of correct angle. Too late for me tough...

Cheers,
Eran