Mouse Trouble

12-06-2012, 11:13 AM

Join Date: Jan 2006
Location: Pleasantville, NS, CANADA
Posts: 2,355
Likes: 0
Received 0 Likes on 0 Posts

Mouse Trouble
---
As the weather is now getting colder, the local field mice seem to have found a new home inside my house. I have let it go too long, and I suspect there's quite a number of the little guys. Time to get rid of them. Being kind, I have tried a Live Trap, but no luck with it, so with a determined attitude, and clenched teeth, I loaded up some mouse traps with peanut butter and placed them in various areas of my basement. That was last night.
Today I went down and checked. Three traps now contained dead mice, but one of the traps is GONE. I suspect a larger animal tripped it and then dragged it off. Maybe a squirell, or worse, one of those lage rats that live along the river.
My imagination says it's one of these: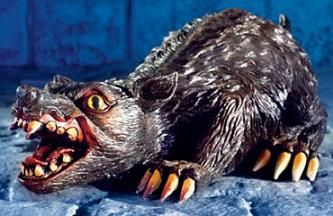 Now my house is over 200 years old,, and the basement is like a dungeon. Dark, with low ceilings, and various alcoves made of cement or rock making the basic L shape full of places where a wounded mouse might leap out at any moment and go for my jugular. I'm thinking of getting on my chain saw gloves, steel toed boots, eye protection.... maybe some hockey gear, and descend down there with a really big stick.
Or, maybe I might try one of these:
The whole thing reminds me of Sylvester the Cat and the Giant Mouse, or maybe more like John Candy and Dan Ackroyd trying to catch the bat that found its way into the cabin in the movie, The Great Outdoors.
So... before I try to do any more... any ideas on what to do next?

12-06-2012, 11:22 AM
Senior Member
Join Date: Aug 2011
Location: horseheads, NY
Posts: 2,643
Likes: 0
Received 0 Likes on 0 Posts

RE: Mouse Trouble
---
LOL if the mice are as your imagination shows, call the SWAT team, and get the hell out of there!

I've found peanut butter usually works the best, and have never NOT gotten a mouse off of it. I think you are doing all you can. Maybe lay down some rat poison in other locations?

12-06-2012, 11:27 AM

Join Date: Jan 2006
Location: Pleasantville, NS, CANADA
Posts: 2,355
Likes: 0
Received 0 Likes on 0 Posts

RE: Mouse Trouble
---
Being a Hunter, I believe in a quick kill, so I'm not happy about Warfarin. The close quarters have ruled out the 30-30, 270, 30-06, 12 Ga, 16 Ga and even the double-barrelled 410. Even the Air rifle (1000 fps with a scope) is out due to ricochets.

I'm afraid it's going to be hand to paw combat between mouse (or whatever) and me. Or maybe I could send Mrs Argess down there. I'd be at the top of the stairs, ready with the cellphone to call 911.

Sheesh... this is worse than going to the Dentist!

12-06-2012, 12:01 PM
Moderator
Join Date: May 2010
Location: A place in a place.
Posts: 4,197
Likes: 0
Received 0 Likes on 0 Posts

RE: Mouse Trouble
---
I'd recommend to get a stud detector (not sure if it could find a mouse tho) and where it goes off, bang it and see if you hear a noise. If you do, then quickly find the cracks where he's getting in and block those, and then rip out the brick where the mouse is, and then shoot the lil' sucker with an air soft gun or quickly stab it with a knife. Not the best thought.... lol

12-07-2012, 12:37 PM

Join Date: Jan 2006
Location: Pleasantville, NS, CANADA
Posts: 2,355
Likes: 0
Received 0 Likes on 0 Posts

RE: Mouse Trouble
---
Back again. The mystery of the missing trap is solved, and the extermination may be close to completion.
I've been given some ideas. First was those 22 shot-shells. I do actually have a few of those, although I havn't seen them in stores here, they ought to be available somewhere as I was given a ½ dozen or so once upon a time. I'd say a thick pair of Safety Glasses might be in order when shooting in close quarters though, so I decided against using them. Here's a pic of the type I have: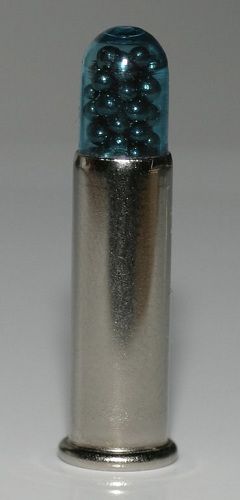 I decided to borrow a Tom-Cat and see what might happen: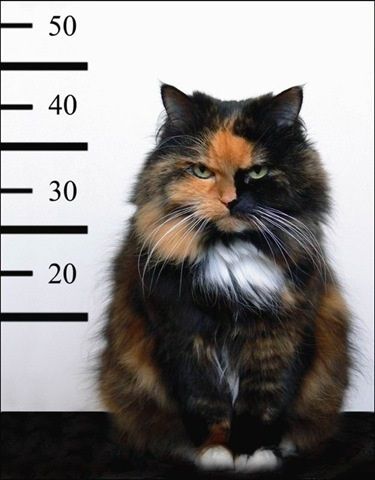 However after leaving it alone in the basement for a while, I checked on his progress and he didn't seem like he had very good luck:
Next I set up my Night Game Camera and finally nabbed a pic. If you look closely, you can see the missing trap on the nasty fellow's paw: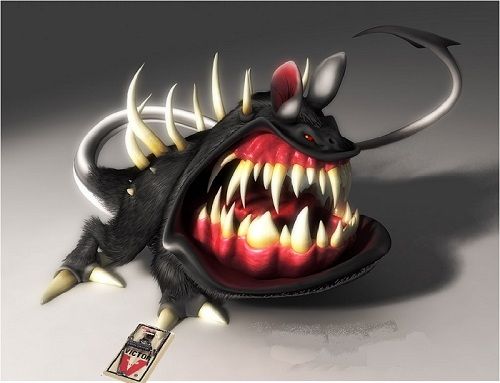 I decided against one of those sticky surface traps as no doubt they would still be alive and then dealing with them gets very personal. Besides, leaving them to starve to death over a few days sort of goes against my grain.
My parents see mice more under the term "vermin". They just leave half full buckets of water around. The mice fall in and drown. Quicker than the glue idea, but still not my cup of tea.
Deciding to go with a method to restrain the trap from being moved too far, I opted for chain and a weight vs. nailing the trap to a board, I came up with this idea: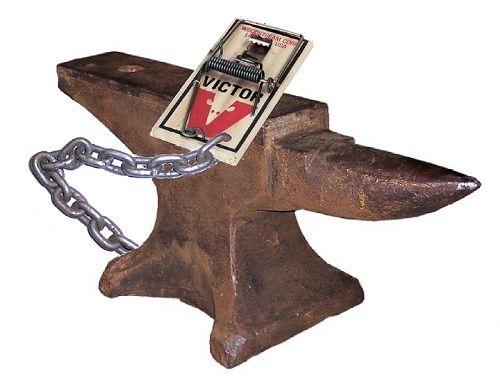 But no luck.
And of course the "real story" is this. Those traps can flip over due to the violence of the Snap, and the missing one did just that, but did it a few times. Mrs Argess found it over a foot away from where I had set it, just behind a can of paint. And yes, it had a normal victim in it. In fact the night in question was a success. Four traps set, and four mice caught. Cute little fellows like this: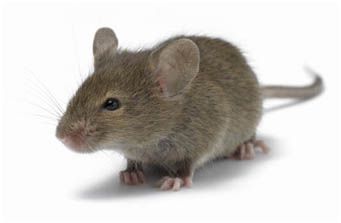 Now to be fair to me and my imagination, it was only a week previous to this that a flowerpot was knocked off a shelf in the basement and broke into many pieces. I have serious doubts a little mouse could have done that. So I was looking for a larger animal that could have dragged himself and the trap away to hide.
The latest news is I set up 6 traps last night, and to date none have been sprung. Food not stolen either, as I have had instances where the mice managed to eat all the peanut butter without springing the trap.
A bit of coincidence I think. 4 traps all catching a mouse one night, and 6 traps not catching anything the next night. So I'll leave the traps set for a while and we'll see what we shall see.
All in all I really did worry I had injured a squirrel or rat and had a BIG deal to take care of. But I had fun making pictures (as currently, the weather is too cold and damp to go RCing, although I have gone in colder weather). The adventure continues, but it all seems rather tame now….

12-13-2012, 02:02 PM

Join Date: Dec 2007
Location: Mesquite, TX
Posts: 240
Likes: 0
Received 0 Likes on 0 Posts

RE: Mouse Trouble
---
I had a problem with the neighbors kids not putting the lids back on their trash cans or letting it spill over, ended up with a rodent problem in my shop/shed. I used traps to some degree of success but more success happened when I had a word with my neighbor. For awhile I did snipe the rodents with a coupl'a arguns I have, primarily a Benjamin 392 and a Crosman 1377 low power 3-5 pumps, really helped on cleaning the rest out. If you are seeing access holes try some spray foam with a bit of steel wool.
Not sure if pic's like this are allowed but,,,,

Custom Crosman 1377 and if I remember Gamo Raptors or Tomahawks whichever one the rodents never complained.
All shots were one hit humane deaths,,,know your limitations.

12-13-2012, 02:21 PM

Join Date: Dec 2007
Location: Mesquite, TX
Posts: 240
Likes: 0
Received 0 Likes on 0 Posts

RE: Mouse Trouble
---
BTW, some cats are natural mousers some cats aren't. We had two cats at one time, one felt his only role in life was to hunt and eat all small rodents [just find the hind end with a tail] the other would catch them then play with them on the ground or just sit there and watch as they skittered by. What really works on mouse traps if thats the course you go is a bit of Nutella spread mixed with sunflower seeds.

good luck.

12-13-2012, 04:43 PM

Join Date: Jul 2007
Location: North West Indiana
Posts: 12,798
Likes: 0

RE: Mouse Trouble
---
about those sticky traps majority of the time they don't stay alive long from what I seen. Good chunk of the time the mouse will hit it and their head will get burried into the glue covering their nose, and mouth. We had mice once, out of 6-7 (talked to an exterminator he said high chance the one we got was pregnant as we live on the 2nd floor with that many at once with 0 mice prior) only one wasn't dead that we found on the trap. Instead it was letting off this extremely high squeal that could be heard anywhere in the house so I threw it while it was alive into the dumpster.

12-16-2012, 08:50 PM
Senior Member
Join Date: Aug 2010
Location: Akron, OH
Posts: 2,604
Likes: 0
Received 0 Likes on 0 Posts

RE: Mouse Trouble
---
If you are seriously considering using a firearm, I would suggest frangible ammunition. It is widely available for home defense, and you can shoot a steel plate at 6 inches range with it and not worry about ricochets. Ear protection is also advised.

Otherwise I would try a few rat traps and go from there. If it is too large for a rat trap to take care of, a firearm might be a good next step!

12-17-2012, 04:27 AM

Join Date: Jan 2006
Location: Pleasantville, NS, CANADA
Posts: 2,355
Likes: 0
Received 0 Likes on 0 Posts

RE: Mouse Trouble
---
I'm not really thinking of firearms, although wax bullets did come to mind, but thank-you for the comments. I was somewhat amused by my own wild imagination and consequent paranoia and thought it might be fun to share. After all, if you can't laugh at yourself, who can you laugh at?
The latest update is I have not caught any more mice, although I did trap one Vole which was the same size as the other mice. Too bad as the Vole probably wouldn't be very destructive, although on the other hand he likely wouldn't have found his way back out of the basement and slowly starved to death, so a quick kill may have been merciful.
Oddly, back last Tuesday, I awoke from a dream…. about the unknown nasty creature of likely superior size and very nasty disposition. A voice seemed to be telling me to lock the basement door for 10 days, and on the tenth day, open an outside door, and then the basement door and the hungry (and likely enraged beast) would run outside.
Dutifully, I locked the basement door and went to mark day 10 on the calendar. Much to my surprise, this tenth day ended up on 21 December, 2012.
Could it be that the Horror in my basement is the destructive force the Mayan's had forecast so many long years ago?
So… if the world ends on the 21 December, 2012, no doubt it will be my fault. Mrs Argess will be furious.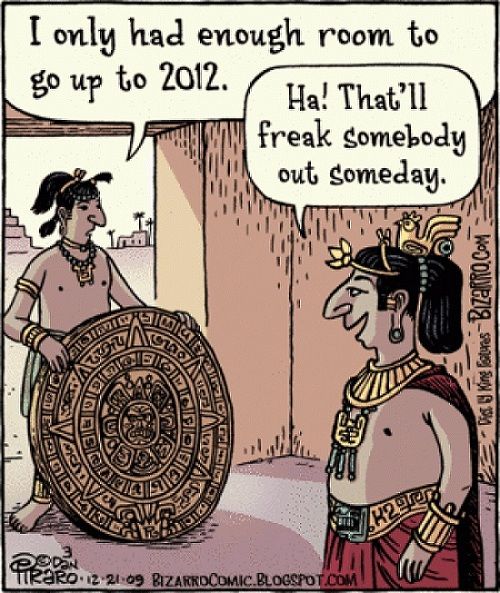 12-22-2012, 07:03 AM
Senior Member
Join Date: Mar 2008
Location: San Diego but living in Dubai, UNITED ARAB EMIRATE
Posts: 4,857
Likes: 0
Received 0 Likes on 0 Posts

RE: Mouse Trouble
---
I dig this thread. My work buddy was complaining about a mouse that's gotten into his apartment. It woke him up the other night because he could hear this crunching noise coming from under his fridge. The mouse got a hold of a plastic wrapper that had some left over food on it. When he turned on the lights, crunching didn't stop. When he banged on the fridge....crunching didn't stop. It was like this mouse was telling him to #$%@ off! I'm eating.
So he tells me about it and that he doesn't want to put out mouse traps. I told him the story of how I used to catch my kids' hamsters when they got out of their cages.
He goes home and sets up the ghetto 'live trap' I explained to him and lo-and-behold.....it works. But unbenounced to either of us, mice can jump.....hamsters cant really. It got away....ROFL!
The hunt continues.