Balsa USA Smoothie

12-21-2009, 09:47 AM
Senior Member
Join Date: Aug 2006
Location: Fremont, MI
Posts: 270
Likes: 0
Received 0 Likes on 0 Posts

Balsa USA Smoothie
---
Just noticed that Balsa USA re-released an RC Smoothie kit. I had a smoothie many many years ago as a Control Line kit. So this one caught my eye. Has anyone built this new RC Smoothie and flown it. How was it?
Rich

12-21-2009, 12:06 PM

Join Date: Feb 2004
Location: Norton, OH
Posts: 737
Likes: 0
Received 0 Likes on 0 Posts

RE: Balsa USA Smoothie
---
The R/C Smoothie is nothing like the old control line model. The only thing they have in common is the name. Both fly very well! I built the Balsa USA version in the early 90's, and I've built a couple of U/C Smoothies. I would really like to build an R/C version of the old Bob Palmer design.
Doug
The control line version is available from Brodak! [link=http://www.brodak.com/shop_productdetail.php?ProductID=2588]Brodak Smoothie[/link]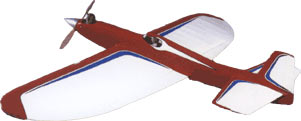 12-21-2009, 01:37 PM


RE: Balsa USA Smoothie
---
The BUSA Smoothie is just as it's name implies... it's smoothe!
Only modification I would make is buy a set of aluminum landing gear and if you are going to put a stout .40-.46 on it shear web both sides of the spars. Also, if you're going for some speed, move the aileron servos out into the wing bays instead of using the torque rods. I use mine for "Race what you brung" pylon races and it usually does pretty good. On the other end of the spectrum it floats pretty well considering the thick airfoil.
I have built six of these planes over the years and I would put it at the top of my "fun to fly" list. Get one, you won't be sorry.
Don
This is my most recent one

12-21-2009, 04:32 PM
Senior Member
Join Date: Aug 2006
Location: Fremont, MI
Posts: 270
Likes: 0
Received 0 Likes on 0 Posts

RE: Balsa USA Smoothie
---
That is a pretty bird Don. I won't be looking for speed, just a fun Sunday flier and simple aerobatics.
I was thinking of using my Satio 82a since it does't have a home.
Rich

12-21-2009, 08:23 PM


RE: Balsa USA Smoothie
---
Well, an .82 4 stroke might be able to get shoehorned in there. You may have some prop clearance issues as it rotates into level on the takeoff roll. Make the mains a little taller.

Post some pics of it and let us know how the flight goes. It should go vertical with no problems.

Thanks for the compliments you guys

Don