New build and having a tire issue

06-22-2020, 12:33 PM
Junior Member
Join Date: Dec 2019
Posts: 16
Likes: 0
Received 0 Likes on 0 Posts

New build and having a tire issue
---
Hello,
My son and I are completely new to this. He got a car for Christmas to build. This is the car he has built: PR S1 V3 FM SPORT 2wd Buggy kit
He is to the point of adding his tires which he did and finished up the rest so he could try it out. When he went outside to test it out the front tires kept coming off. Are we suppose to glue them on or place foam(like we did on the rear) in them or anything or how do we keep them on? With the tire on they seem like they are riding on the rim.
He has these tires
front:
https://www.amainhobbies.com/schumac...6775%2fp232424
rear:
https://www.amainhobbies.com/schumac...6842%2fp697584
Thanks for the help.

06-29-2020, 01:53 PM

---
---
Last edited by RustyUs; 06-29-2020 at

02:01 PM

.

06-30-2020, 04:36 AM
Junior Member
Join Date: Dec 2019
Posts: 16
Likes: 0
Received 0 Likes on 0 Posts

---
Thank you very much for the reply and sorry about that. I didn't realize I was posting to the wrong forum. Is it best that I copy and paste this question over there?

I think before I glue these on maybe I should be sure they are the right tire for running outside on the street and dirt. If you have a suggestion that would be appreciated.

07-03-2020, 09:38 AM

---
One of the reasons I got away from 1/10 scale buggies was, because large knobby off-road tire selection is very bad. I gave up searching for tires. If I were "bashing" a buggy around, I'd have a set of tires for both off-road, and on-road RC fun. HSP, Exceed, Redcat Racing, DHK 1/10 scale buggy tires are what I would use for off-road. I'd try and find them unmounted if possible, 'cause I'm not sure of front offset you would need.
06025 rears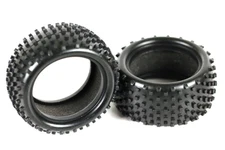 06009 fronts