Black and Gold City RC Drag Racing 22 May 2010

05-24-2010, 09:58 PM
Member
Join Date: May 2009
Location: kiln, MS
Posts: 48
Likes: 0
Received 0 Likes on 0 Posts

Black and Gold City RC Drag Racing 22 May 2010
---
hey everybody.

comin from the big easy, by way of new orleans east... i present the
Black and Gold City RC Racers.

warren 928 can be seen with his blinging evo.
there were plenty of new guys there, one even hit the light tree.
plenty of fun tho.. hope you enjoy the vid.

[youtube]http://www.youtube.com/watch?v=pMr6nDIl4u4[/youtube]

05-27-2010, 09:45 PM

RE: Black and Gold City RC Drag Racing 22 May 2010
---
sounded like fun' were there a bunch of zephyr field guys be there like mark and all his drag racing stuff just let him know what channel your on or he will turn on his radio and run your car into the wall because he thinks he is king and and you need to watch for him [:@]

05-29-2010, 01:23 AM

RE: Black and Gold City RC Drag Racing 22 May 2010
---
no where since i moved right outside baton rouge we do have two dirt tracks within a few miles from me and a dirt oval and soon a on-road course but i have not had a chance to race especially since i work weekends when the club races are but once the onroad open i may have to request off. when i lived in metairie i was always at zephyr field on Sundays when there not a game. sometime there are just to many people out there and all i could do was hang out. if you don't have a 2.4ghz your just asking to have your car crashed
here in action hobby with there track
http://actionhobbiesraceway.com/Acti...=0&si2=0&si3=0
here the other track it one of the nicest around anywhere
http://www.********peedway.com/

05-29-2010, 10:04 PM
Member
Join Date: May 2009
Location: kiln, MS
Posts: 48
Likes: 0
Received 0 Likes on 0 Posts

RE: Black and Gold City RC Drag Racing 22 May 2010
---
to make sure im always runnin my nomadio. i see that happen way too often.


blam! right in the wall or a tire.

im about to leave for gretna... gonna meet up with warren928 for some evo midnite club!

05-30-2010, 02:12 AM

RE: Black and Gold City RC Drag Racing 22 May 2010
---
i hear you i will be looking to put my brushless gtp2 up against someone soon. i almost finished my 1/7 scale mod on it going to be big and fast. just waiting for my machinist to cut the longer chassis . got the 6 cell lipo and the mamba monster max is on the way
how it sits now
when it is done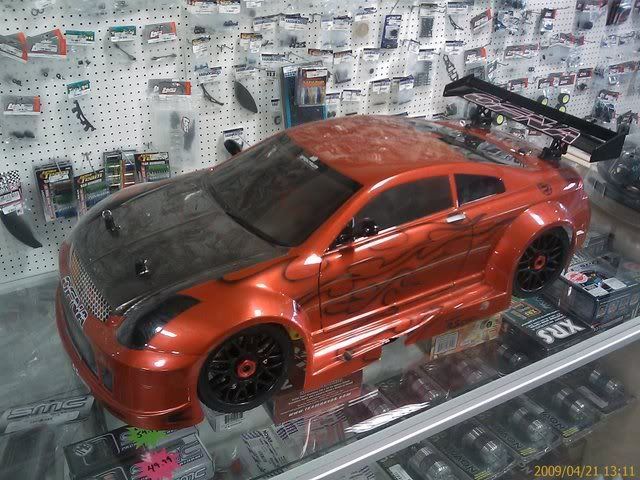 05-30-2010, 06:08 AM
Member
Join Date: May 2009
Location: kiln, MS
Posts: 48
Likes: 0
Received 0 Likes on 0 Posts

RE: Black and Gold City RC Drag Racing 22 May 2010
---
not for nuttin,

them losi cars are some bad motha truckas.

i get my best races with electrix. theyre tough to beat.

who has the blue ofna viper GTP? it was nitro but converted to 6s electric.
only seen it once at reed blvd behind lowes, nobody could touch it.

i think it was getting 80+mph within 132 ft.. clocked it with a bushnell radar.

05-30-2010, 11:02 AM

RE: Black and Gold City RC Drag Racing 22 May 2010
---
it was most likely the guy that works as adrenaline rc in metairie. mine gets it pity good now i just want something bigger it will have a little wow factor . it might slow it down a little bit but the Nissan body in thin so it wont be much heaver . it burns all 4 wheels for at least 10 feet