DIY 1/4 CARS RCMK 600B (finish the unfinished)

05-11-2022, 01:06 AM
Junior Member

DIY 1/4 CARS RCMK 600B (finish the unfinished)
---
In fact this is about an unfinished post (started on April 13, 2013) by our founder and chief designer Mr. Yang. 2013. Here is the post:
DIY 1/4 CARS RCMK 600B
. Due to the language, he didn't finish it. However it made a hit in a Chinese forum (
https://www.rcfans.com/thread-552461-1-1.html
). I think it is still worth sharing after 9 years passed. Let people see how we make our cars.

We didn't keep the original documents, so all the pictures are downloaded from the Chinese forum. The shame is all the videos are missing. The fabrication process spans almost 5 months. A lot of pictures. I will translate all the original words he posted in the Chinese forum, so that you won't miss anything. The post will be splitted into several updates, but this time I'll finish it. Any translation mistake, please point out.

Beneath is the designer's voice. Hope you'll enjoy it.

This is about the whole fabrication process of super off-road racer. It starts from upgrading 2-cylinder engine. Actually I don't know how to determine the scale.

First let's do the RCMK 2-cylinder engine. Regarding its dissipation issue, please follow up my post and I'd like to hear your voice.

Below is the design. I'll use RCMK 2-cylinder for it.
1st design is enforced dissipation. Sync belt drives the fan.
cons: 2 cylinders have different dissipation.
pros: it's mechanical.
2nd design dissipates by 4 large fans.
cons: needs extra power
pros: stable and good dissipation
1/4 Super Car, Chapter Engine
1: SKF bearing and Sweden seal ring for retrofiting casing
new side cap and casing for pull-start, HV ignition and coil
2. mount SKF bearing (12 x 32 x 10)
assembled up casing
HV ignition
install ignition coil
mount cylinder head.
fit the clutch mount last
attach a picture of separate parts
Chapter engine is over. Waiting for further update!
Chapter aluminum alloy body
First let's have a look at the design. I'll update the pictures on Mar. 22nd, 2013 (it's under Oxidation).
Body Configuration
Below is body aluminum parts:
Update some pictures of metallic parts (before oxidation). My plan is first assembly and then surface treatment after confirmation.
Let's check the chassis length (overall 850mm)

05-11-2022, 01:13 AM
Junior Member

---
It seems good with the engine on it.
Mar. 22nd, 2013 Updates
Chapter Nylon Parts, All CNC Machined
Today I went to factory. CNC is working the side protective boards. Share some finished and unfinished pictures.
Front bumper + front wheel mount + support etc.
battery box + gearbox cap + rear wheel C mount + small components
rear support + front bumper + small components
3 Gearboxes (diff. casing)
thickened front suspension
body side protective board under fabrication:
the material is more than 80mm thick, fabricated in one-time forming, took 24 hours.
finished product
To be continued

05-15-2022, 07:30 PM
Junior Member

---
Note: below words are translated from the original Chinese forum by our founder and chief designer Mr. Yang.
Thanks for all the support and attention!
Mar.31st, 2013 update is about oxidated alloy parts
The chassis parts will adopt Titanium alloy oxidation to render a metallic feel, though it's made of aluminum alloy.
1. front section
2. rear section
3. side boards
4. front diff. bracket
5. front upper plate support
6. middle diff. bracket
7. rear diff. bracket
8. steering rod
9. rear shock tower
10. big gear plate
11. dual steering servo bracket
12. throttle servo bracket + 4 wheel hydraulic pump bracket
13. twin cylinder engine side brackets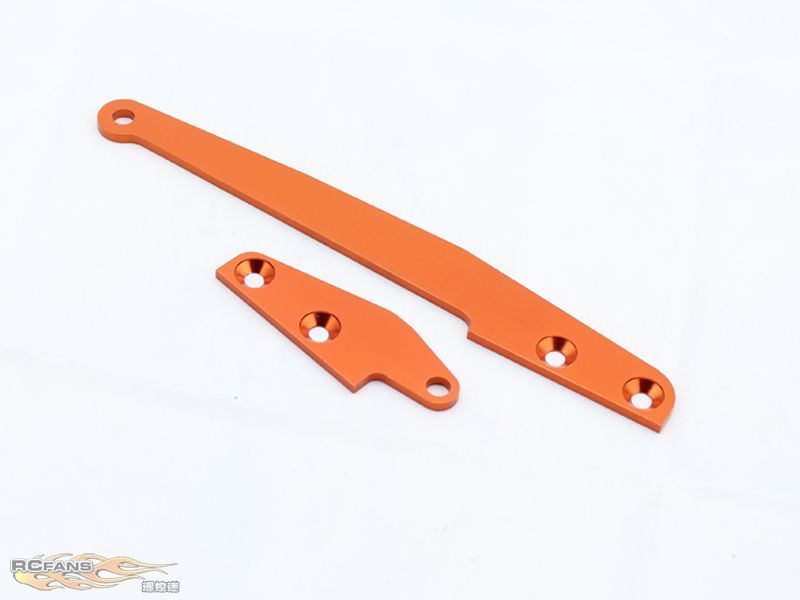 14. front / rear lower arm bracket
done with alloy parts update
The next update is about Nylon Parts

05-19-2022, 11:40 PM
Junior Member

---
I'll transfer all the updates to our company facebook page. Anyone interested, please check
FID Racing | Facebook