LED arrangement for night flying

12-10-2010, 04:21 AM
Junior Member
Join Date: Jul 2007
Location: , MO
Posts: 17
Likes: 0
Received 0 Likes on 0 Posts

LED arrangement for night flying
---
Hi All,

I'm going to venture into the world of night flying a glider. I'll be putting together a multiplex easyglider. I'm leaning towards the xerogear LED system. I want have the LED color effect to be as much blue as I can get it. I've googled and can't find any examples of a monochrome arrangement example other than a neat looking video on youtube. The problem is I can't quite figure out how the pilot arranged the lights.

Does anyone have any recommendations on arrangement of an all or mostly blue LED system that will allow me to stay oriented in flight?

12-10-2010, 04:42 AM
Senior Member
Join Date: May 2005
Location: Tacoma, WA WA
Posts: 353
Likes: 0
Received 0 Likes on 0 Posts

RE: LED arrangement for night flying
---

12-10-2010, 12:00 PM
Join Date: Oct 2002
Location: Chilliwack, BC, CANADA
Posts: 12,373
Likes: 0

RE: LED arrangement for night flying
---
It's extremley difficult to orient pinpoints of light.  I suggest one of the better ideas would be to set white LED higher power "emmiters" in the sides of the fuselage so that they shine onto the wing panel undersides.  Simarlly the same white LED emmiters be installed somewhere on the wings to shine onto the fuselage.
Otherwise you're trying to pilot a bunch of pinpoints that will work to blind your night vision so that you don't see the model at all, just the light sources.  At that point orienting your perspective will be a tough job.
I'd also suggest that you use coloured LED's on the wing tips, nose and tail for identification purposes.  Red for the right, green for the left blinking red on the tail and maybe blue or white on the nose as a landing light...

  I'd still suggest that you need lights that shine onto the structure in addtion to the tip lights though.  Or a buddy that runs the search light to keep the model pinned in the beam the whole time.

12-10-2010, 12:53 PM

RE: LED arrangement for night flying
---
-I first did some night flying almost 20 years ago with miniature Christmas tree lights. With all the ultra bright LEDs available now, it's much easier to make a night flying plane. Your first plane should be a stable, slow flying plane like a Gentle Lady glider or a light trainer plane (like a Kadet Senior or Seniorita). Your first flights will be confusing, it takes a little time to get use to looking at lights instead of a plane. After a while, you will be able to fly with fewer lights and trust that your plane and your thumbs are doing the right things.
-For me, the red and green nav lights with a nose and tail light is adequate for a glider, but my Seniorita has a dozen or so lights (9 of which I can turn off in flight when I get bored). If you put LEDs inside the wing and fuse and project them on a white or yellow covering, you will have much more area illuminated. I have also mounted them on the wing and shined them on the nose and fuse for a good effect. I suggest temporarily taping LEDs on to locate the best places to mount them.
-For patterns, you could put a "V" pattern on the top of the wing and a straight line of LEDs on the bottom. The trick is to remember which pattern is where when you are flying.
-Dimension Eng. sells some landing lights that just plug into a spare receiver channel (like the retracts channel), so all you do is use the spare channel to turn them on or off. You only need landing lights if you plan on landing!
-Xero Gear makes some really bright lights, the blue LEDs are almost too bright for me!


12-10-2010, 03:24 PM
Junior Member
Join Date: Jul 2007
Location: , MO
Posts: 17
Likes: 0
Received 0 Likes on 0 Posts

RE: LED arrangement for night flying
---
Thanks everyone. That is just what I was looking for. I'll do some thinking. If anyone else has any experience with this topic feel free to let me know how you did this.

01-25-2011, 07:28 PM
Junior Member
Join Date: Jul 2007
Location: , MO
Posts: 17
Likes: 0
Received 0 Likes on 0 Posts

RE: LED arrangement for night flying
---
Well, the lights came in and this is what I did. Any thoughts? I'm going to fly it late afternoon and get progressively darker(when the snow is gone). I was thinking about adding more lights on the topside wingtips and another line perpendicular to the fuselage on the bottom-I'll probably fly it this way first to see if that's needed or not.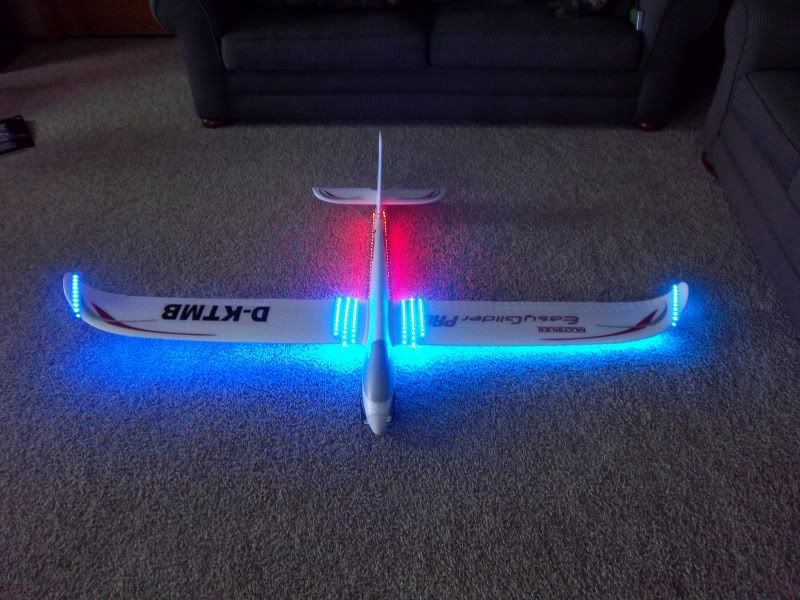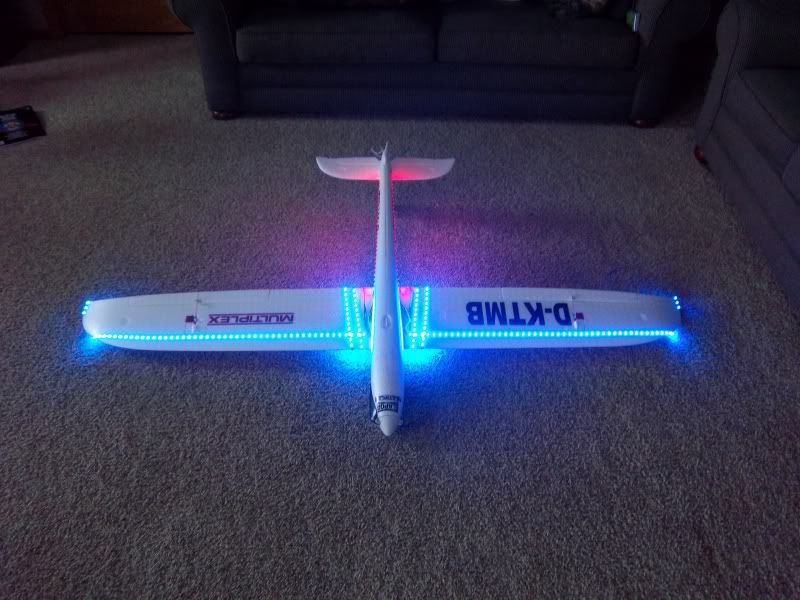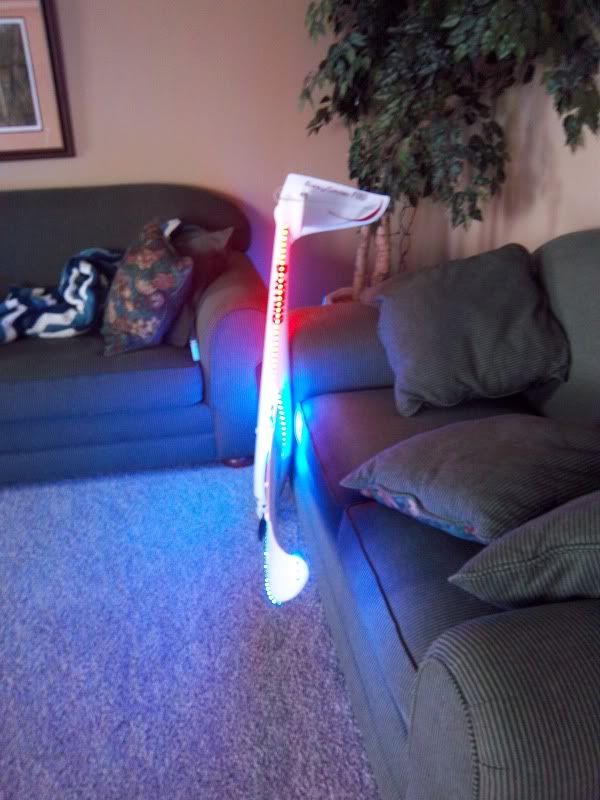 01-26-2011, 10:19 AM

RE: LED arrangement for night flying
---
-Hey, that looks pretty nice! When you position lights, think about which points on the aircraft you need to see for orientation in flight. For example, wing tips, nose, and tail are important points to see for pitch, yaw, and roll feedback. It's important to also recognize the top and bottom of the wing, especially when you are making turns, loops, etc. Having very different light patterns on the top and bottom of the wing works well.
-Because I sometimes land on a runway, it's important for me to have bright landing lights so I can see obstacles and flair at the right time.
-It's good to do a short flight in daylight so you can set the trim and make sure everything is working OK. Watch out for sunset, it's easier for me to fly at night than with a backlit sky (unless the LEDs are super bright!). I've seen guys fly sailplanes with just two glow sticks, you're way ahead of those guys. Good luck!