Sailplane Wing Design Round II

08-18-2012, 02:11 PM
Senior Member
Join Date: Jul 2004
Location: Issaquah, WA
Posts: 124
Likes: 0
Received 0 Likes on 0 Posts

RE: Sailplane Wing Design Round II
---
Dissimilar materials = dissimilar deflections and dissimilar load distribution. Assuming bond strength is there. When talking balsa or any other wood, the bond strength will surpass the wood in question so your dissimilar materials concerns vanish. Gets back to Deflection. Likewise your statement about a stiff spar and your so called monocoupe balsa "problem". What is a problem with your moncocue balsa wing sheet build is transferring the lift from said skin to said spar. I have seen this in that there were no ribs to transfer said load to the spar. Therefore the wing will shatter where it is attached to the spar as the numb nut brained person building said wing did it wrong. You want as stiff a spar as you can get. Stiffer the better.

Take the 787 for example where I worked on the LE/TE slats/flaps along with the systems/sensors which was being contracted out and my brother worked Main wing and Wingtip structure. 787 CF main LE/TE spar. It was deflecting so much and creating near impossible aerodynamic drag that they almost gave up on CF entirely and went with an aluminum spar structure and CF skin as said CF spars were loading the skin up way too much creating monstorous stress risers that are not present in an aluminum skin due to its allotropic properties. Then found out they couldn't go with a CF skin due to said stress risers for same weight. Instead said skin had to be heavily increased in weight to compensate. In fact the 787 CF skin is heavier than an aluminum skinned wing because of this. Where they saved so much weight is in the major structural components. Add in the problem with lightning strike and the giant amount of copper that had to be laid into the skin and the weight further increased drastically. In short, there were no weight savings in the wing due to Carbon Fiber. Its far more complex to create/work than aluminum and it was barely lighter due to the very large wing structure weight in comparison to the skin. The last 40 feet of wing would have been far lighter to build out of aluminum but it was deemed impractical to change entire plants to work both materials. IE Moog didn't want to do it in Japan as it wasn't in the contract... Its why the next 737 will have aluminum wings and a CF fuselage or aluminum/glass wings and CF fuselage.

Back to dissimilar materials issue it has everything to do with edge shape(How loads are applied) between structures and stress lines not aligning in a structure. Just another stress riser and is something we 787 engineers have had to deal with daily and how is done on all composite structures as it is Not an allotropic material. It all depends on how the orientation of the fiber and how one runs this into the next piece/joint. In short every layer of a CF build is a dissimilar material as its deflection orientation and load orientation are ALL COMPLETELY DIFFERENT! All structures really, but is far more apparent when designing/manufacturing with composites.
............................................

08-21-2012, 02:11 PM
Junior Member
Join Date: Feb 2012
Location: , UNITED KINGDOM
Posts: 17
Likes: 0
Received 0 Likes on 0 Posts

RE: Sailplane Wing Design Round II
---
@BFoote - I think you're not understanding me correctly as you seem to be contradicting yourself. Back in the day my analysis team did the initial design for the A380 wing, and sure composites were a real pain, it's why they came to us, but FEA does not lie and the A380 flew. Sure models are not A380's, but FEA for models works just as well and it says - stressed skin is the answer for small models (this really shouldn't come as a suprise look at all the DLG mouldies). I've backed this up with 7 own designs over the years that work well with a stressed balsa skin, but, and I stress this, they are designs for LEG (Light Electric Gliders). As to the "stiffer the spar the better"...well let's agree to disagree there, when you show me a spar that glides efficiently on its own and therefore takes all the flight loads directly without the need for that pesky wing transferring them, then you'll have me convinced

Anyway - this is all a bit of a rabbit hole as far as this thread goes, so let's not muck up what is a good build thread any further. Happy to start another thread to discuss this if you wish, as it's always good to learn stuff you never knew, but this is not our thread and we should leave it to Nodd.

08-21-2012, 02:40 PM

Join Date: Feb 2012
Location: Fairfield, CT
Posts: 415
Likes: 0
Received 0 Likes on 0 Posts

RE: Sailplane Wing Design Round II
---
Yeah as much as I appreciate a good debate & I do find this subject interesting, for the sake of folks reading this thread, I'd like to keep it at least somewhat on topic if we could. Besides this stuff could be deemed a little too technical for this, & I quote, "numb nut brained person".

08-28-2012, 06:14 PM

Join Date: Feb 2012
Location: Fairfield, CT
Posts: 415
Likes: 0
Received 0 Likes on 0 Posts

RE: Sailplane Wing Design Round II
---
Wingtip Ornaments
Although I've done a load of research into the science behind winglets, I've come to the conclusion, for a sailplane of this size, winglets are little more than eye candy & I'm fine with that. So today I put away my research notes & got down to building these puppies...
I stumbled upon some wood in my workshop that's perfect for the job, a lowly roofing shingle...
The shingle, made of pine I think, is both light & fairly strong. Best of all it has a nice ready made taper...
The other parts are balsa & light plywood...
After carving an airfoil into the shingle winglets I epoxied them to the balsa & then began the sculpting...
Checking symmetry between the two wing-tips. This would make one wicked pinewood derby car :-)
For ease of transportation & so I have the flexibility to experiment with different wingtips I made these detachable...
I don't know about you but they look pretty sweet to me...
Pretty happy with these. They look cool yet are small enough that they shouldn't screw with the aerodynamics too much & if they do, I can always take em off...

08-30-2012, 02:00 AM
Junior Member
Join Date: Feb 2012
Location: , UNITED KINGDOM
Posts: 17
Likes: 0
Received 0 Likes on 0 Posts

RE: Sailplane Wing Design Round II
---
Love the winglets - you're right, but there's nothing wrong with eye candy.
Winglets and tip sails do work in some circumstances (mostly glass wings) if they are very carefully designed - tip sails are used by most soaring birds which is a kind of natural proof of their effectiveness at RC model scales but they have serious construction drawbacks and I've never had any success with them. However, both are beyond the call of duty for most projects as the reclaimed vortex energy is very low. I've had success with them on large GF flying wings (100" plus), but they were designed using CFD and then wind tunnel tests to tweak.
For a future project (if you want to have some fun), try exporting your CAD to OpenFOAM CFD and modelling the fluid flow - OpenFOAM is free and CFDis not hard and there are only a few rules to follow about analysis meshing at the macro level that are all common sense. The beauty of CFD is it gives you a great idea of how the wing behaves in flight (you'll be able to see high and low pressure, vorticies and break away at stall). Here's some simple CFD simulations in OpenFoam.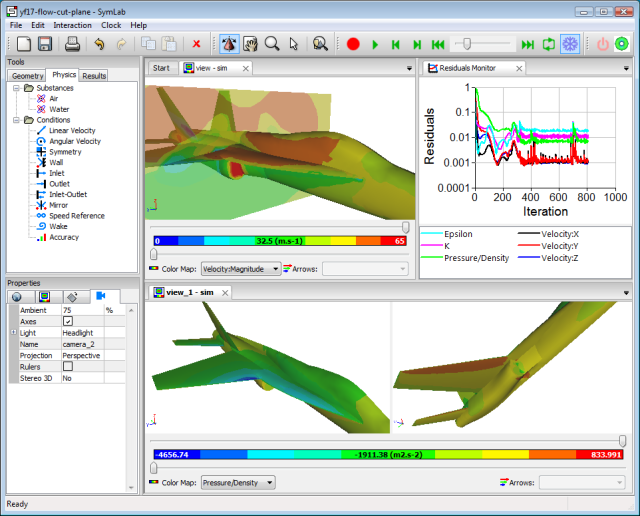 You can get OpenFoam from here:
http://www.openfoam.com/
its Linux but you simply run it on a VM if you have another operating system installed on the laptop/PC.
Of course you have to test in the *real* world for tweaking if you're really into it, but building a simple wind tunnel is easy if you really have to go that far (i.e. some wood, a few plastic drink bottles, loads of drinking straws, an old fish tank or similar, an old desk fan and a days work and you have a wind tunnel!). Mine works pretty well and I've had it for years.

09-04-2012, 01:55 PM

Join Date: Feb 2012
Location: Fairfield, CT
Posts: 415
Likes: 0
Received 0 Likes on 0 Posts

RE: Sailplane Wing Design Round II
---
Thanks for the openfoam link. I'll check that out.


And that's a wrap
At this point I'm going to call this project a done deal. The wing is, for the most part, complete. I'm really happy with the way it turned out, she totally exceeded my expectations. I couldn't have done it without the help of the community here. You folks rock.
So what's next?
I've come to the realization that this wing has surpassed the quality level of my original fuselage. It'd be a crime to fly her on that flimsy pod-n-boom. Not to mention it was involved in a pretty harsh crash & who knows what unseen damage it sustained.
So the plan is... drum roll please... design & build a new fuselage.


I'll be starting a fresh thread to document the fuselage's progress. You can find that here...
http://www.rcuniverse.com/forum/fb.asp?m=11217436&key=
And to properly wrap up this thread here's a moody, over processed picture of the completed wing...