First Glider (Airtronics) Questions

03-22-2009, 03:56 PM
Senior Member
Join Date: Feb 2008
Location: Perrysburg, OH
Posts: 1,167
Likes: 0
Received 0 Likes on 0 Posts

First Glider (Airtronics) Questions
---
I recently picked up a glider from a guy who aquired it when a family member passed away. It is an old Airtronics glider which is in very good condition and was obviously built and maintained by an experienced modeler. The only thing it was missing was the rods to hold the main wings and the horizontal stabilizer on. The guy I got it from had bought some steel rods, but had never cut them to length because he decided it wasn't really his type of plane and decided to sell it.

This is my first experience with a glider, and I have a couple questions. First, I cut the rods to length and test fitted everything but I don't know what holds it together once everthing is slipped into place on the rods. I questioned the guy I got it from (he said he had flown gliders years ago) and he said that you don't need anything else, just slide everthing together and your good to go. I questioned how everthing would stay together and he simply commented that it wasn't like I was going to be doing aerobatics with it. However, now that I am test fitting everything together I and even more apprehensive about simply sliding the wings on the rods (they only go in about 3.5 inches) and flying it with nothing holding the wings and stab from simply sliding apart. There is absolutely no way for me to store (much less transport) it in one piece, so it must remain able to be disasembled. I don't see evidence of what was used in the past to keep it together, so maybe he is right, but I don't feel right without further reasurance that it won't come apart in the air. I'm sure I can come up with something, I just wondered if anyone could shed some light on how they are intended to be set up.

The second question is about what I actually got. It says Airtronics on it is several places, but a search didn't lead me to a definite conclusion to the model I actually have. However, from some pictures I found I would say it looks a bit like a Cumic. The guy called it a 2 meter glider, but it is a bit larger than that (though I haven't measured it yet). The wingspan stretches from my floor to just a couple inches shy of my ceiling. My guess is 2.5 meters. Other than a couple small holes in the covering (which have been patched pretty well) it is in excellent condition. The covering job is outstanding and it is very straight and true. The fuse has a small chip in the top, but is otherwise also in virtually like new condition. It also came with a Kraft receiver and servos installed, and though I won't be using them, they look like new (though they are probably as old as the glider). I paid $75 for everything.

Sorry for the long read. I am just getting started in all this (gliders/sailplanes), so don't be afraid to treat me like a newbie. Thanks for your time and any thoughs/opinions/help.

Tony B.

03-22-2009, 04:33 PM
Senior Member
Join Date: Jan 2008
Location: Bisbee, AZ
Posts: 170
Likes: 0

RE: First Glider (Airtronics) Questions
---
Tony,

Is there any way you can post a picture of it? That would make giving you an I.D. for it a lot easier. It sounds like it may be a Sagitta 900 but without a picture I can't be sure.

The wings if loose can be secured by running a strip of electrical tape on each side. Top and bottom. If here is a top hatch you may need to install a cup hook on the root or each wing and use a rubberband to hold them tight to the fuselage. Youmay need to pinch the rods together gently to bend them just a tad. It won't take much at all and the extra friction it will place on the wings will also help to hold them in place.

As far as the tail attachment goes... If I'm understanding you right here the horizontal stab is a full flying one and has the wires running through the vertical stab. This is a common system and as long as the wires have some drag to them they'll stay in place during flight. If they're loose, then you have a couple of options you can try. FIrst one would be to flex the wire rods gently towards each other. You want to gently move them so they stay a little closer to each other on the ends. This will give you a pinching action to help hold it in place. The other option would be to rough up the inside of the tubes that the wires-rods slide into. These are inside the halves of the stab and may be hard to reach.

If you need any other help let us know!

Jeff

03-22-2009, 04:52 PM
Senior Member
Join Date: Feb 2008
Location: Perrysburg, OH
Posts: 1,167
Likes: 0
Received 0 Likes on 0 Posts

RE: First Glider (Airtronics) Questions
---
Thanks a lot Jeff. You are indeed right about the full flying stab setup. Slight tweaking of the rods sounds like a good option, and I was already thinking that a bit of tape top and bottom of the wing would probably work if nothing else. I also thought of "knurling" the rods slightly to create a bit of extra friction, similar to what you were thinking of with the tubes.

Identifying it isn't critical, I was just curious. I will post pictures if I can.

The spoilers use strings that run through the wings to the fuselage. I just got done replacing the strings. They still worked, but not knowing how old they were I didn't want to trust them. I used the old strings to pull new ones through. I have an AR7000 receiver which I will be using with my DX7, along with some standard digital servos I will be installing.

Once I get it all setup it's just a matter of buying or making a highstart. My cousin has hundreds of acres of farmland that I can use to try it out.

03-22-2009, 05:17 PM
Senior Member
Join Date: Feb 2008
Location: Perrysburg, OH
Posts: 1,167
Likes: 0
Received 0 Likes on 0 Posts

RE: First Glider (Airtronics) Questions
---
Here are a few pictures. My DSLR batteries are dead, so I took a few quick pictures with my cheapo point and shoot. Don't know if it's really enough to identify it, but either way, what do you think? It's not perfect, but I think it ok for $75.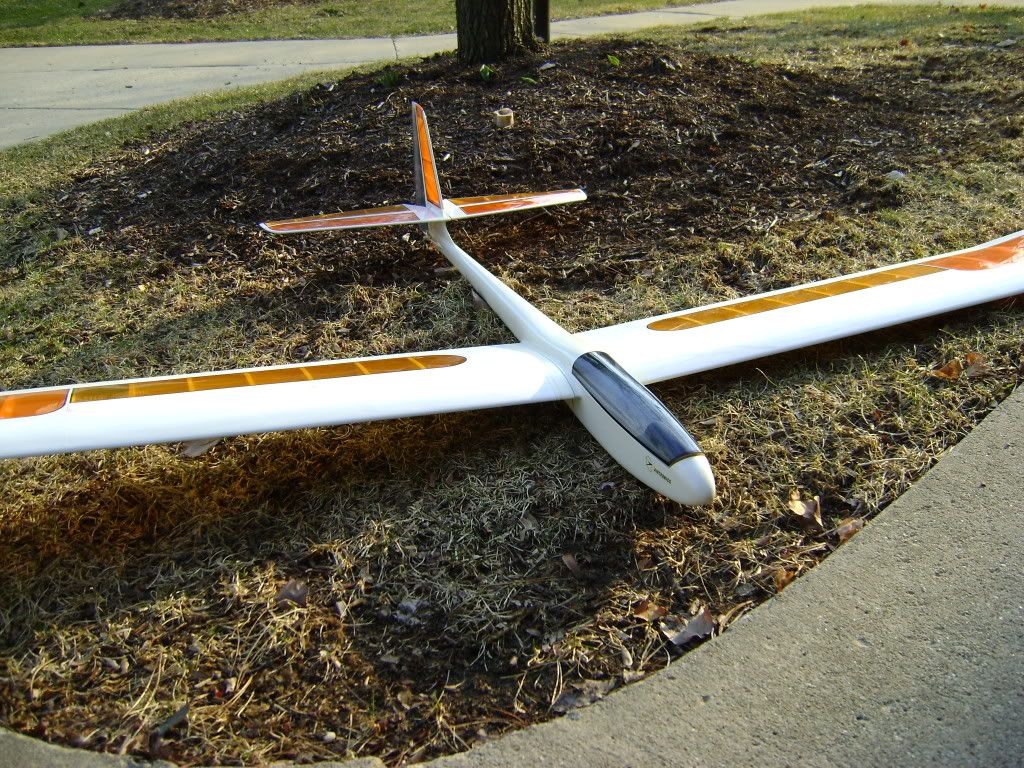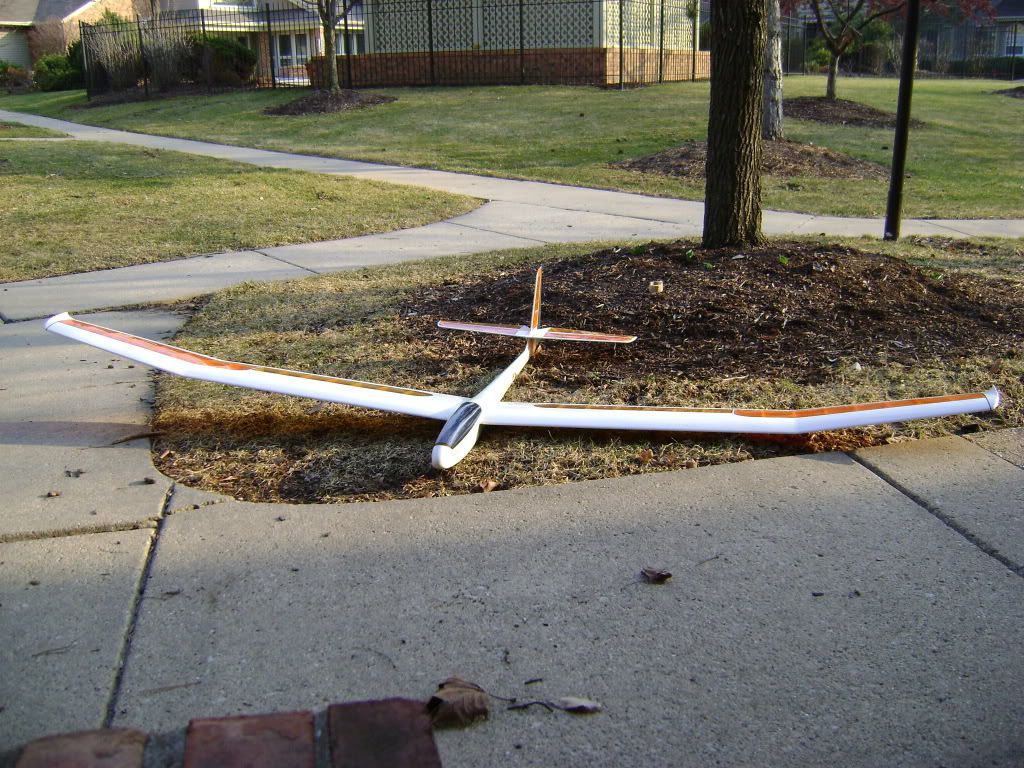 03-22-2009, 05:19 PM

Join Date: Apr 2005
Location: st louis, MO
Posts: 45
Likes: 0
Received 0 Likes on 0 Posts

RE: First Glider (Airtronics) Questions
---
This old Airtronics glider has removable wing tips on short steel pins. I mounted small hooks on tips and main section. Small rubber bands hold perfect. Does not take much,but a few times band failure has caused tip to slip out and rotate slightly. Makes really unusual flat, slow rotating spin down to ground.
Have an old O S 15 pulling it around. Got tired of hi start. Enjoy Lou M

03-22-2009, 07:23 PM
Senior Member
Join Date: Dec 2008
Location: camrose alberta, AB, CANADA
Posts: 514
Likes: 0
Received 0 Likes on 0 Posts

RE: First Glider (Airtronics) Questions
---
WOW! Aquila circa 1976
When I got my first rc set in 1975, a Kraft 3ch brick that was the dream of this 50 year old (then 15)
Over the years I have aquired a set of plans that I looked at in the fall, going through a box in the garage attic marked keeper plans.
Thought that might be a project this past winter. Now to see how pretty they still are, yours is beautiful.
I have had a cumic plus, it does look quite similar
Thank you for the insperation, must go dig out those plans.

03-22-2009, 07:47 PM
Senior Member
Join Date: Jan 2003
Location: La Habra, CA
Posts: 1,143
Likes: 0
Received 0 Likes on 0 Posts

RE: First Glider (Airtronics) Questions
---
Beautiful plane!
You scored!
75 bucks is chump change for that queen!
You are gong to love flying her!
Use the 3/4 screw-eye and rubberband methed to attach the wings.


03-23-2009, 11:10 AM

RE: First Glider (Airtronics) Questions
---
Wow, I havent seen one of those around in that shape for a while.
Nice find, if you get tired of it.....

04-01-2009, 01:53 AM
Junior Member
Join Date: Mar 2005
Location: Casa Grande, AZ
Posts: 21
Likes: 0
Received 0 Likes on 0 Posts

RE: First Glider (Airtronics) Questions
---
Very nice! I'd have gladly paid $75 for the one you found!
I won several contests with my Aquila back in '79. Mine was made with a fiberglass fuse and what for then was a light weight radio system. I still have the Aquila out in the garage but the wings need to be re-covered.
Previous comments are correct for holding the wing on. Just a bit of tape around the root of the wing/fuse and for the tail tweak the rods ever so slightly so the fit snuggly into the tail surfaces. The trailing edges of the wing are built up and it's easy to damage them with careless handling. Use caution.
You will find that the plane is a beauty to fly and thermals easily. I even thermaled mine off a hand launch one day after a contest was over and we were just goofing around. I'd finished in second place and someone said "If you'd have flown like that in the contest you'd have won!"
A picture from long ago:
Doug

04-01-2009, 04:14 PM
Junior Member
Join Date: Mar 2005
Location: Casa Grande, AZ
Posts: 21
Likes: 0
Received 0 Likes on 0 Posts

RE: First Glider (Airtronics) Questions
---
ORIGINAL: snuts

Cool, look at the top end cannon radio, and custom glider pilots chair.
That was one of the first Cannon Super Micro systems c1978. Great radio. The small transmitter meant I could easily fly with one hand while shading my eyes against the sun with the other (why are all thermals found with the sun behind them?) I still have the radio and it worked fine last time I used it. I even had it upgraded to the AMA "Gold" spec back about 1992. I've not flown with the radio many years now but I can't seem to just toss it out.
Doug