Retiring my SFGP *pic heavy*

01-03-2009, 06:34 PM
Senior Member
Join Date: Aug 2005
Location: Bartlett, IL
Posts: 2,948
Likes: 0
Received 0 Likes on 0 Posts

Retiring my SFGP *pic heavy*
---
This is just a thread dedicating some good ol' memories to my Duratrax Street Force GP.
This was my first "real" rc and my first nitro rc which I purchased in the summer of 2003 (14 years old). I started off with quite a few problems that resulted in frustration and a few broken parts here and there. My favorite n00b moment was when I clipped on the glow starter and could not figure out how the hell to take the thing off...did not realize that I had to compress the spring again to take it off the plug! I ruined quite a few glow plugs and actually teared up from frustration! [:@] After numerous trips to the local hobby shop I finally got it running properly. One afternoon I found out how to do those crazy donuts in place and later on wanted to show my family how it looks, so I lined up, gunned it, turned left and OOPS!, off the curb it went, flying about 15 feet and breaking a steering hub and a few other miscellaneous items.
Another incident consisted of me getting into my friends 1/1 scale car and having my SFGP drive in front of us around the neighborhood. I richened the mixture up a little bit, but obviously not enough to withstand 40mph+ for a good mile or two because out of nowhere I saw a slight burst of a flame come out from the rear of the car and once we stopped I tried turning it over, but nothing, and later on I found that the connecting rod had snapped and burrowed itself into the sleeve! [>:] This incident attracted a squad car and a bicycler, which both were very interested in such a quick little machine!
Many other good times, moments, crashes, and others, but I will not clutter this thread up and bore you guys.
Modifications
-HPI 18SS motor
-stock exhaust with a ported header
-Parma foams (have gone through about 7+ sets of wheels/tires)
-Carbon Fiber upper deck, front/rear shock towers
-CB geared for bottom end
-custom weight-reduction on front/rear shock towers and front bumper
-HPI purple titanium turnbuckles (custom fit)
-HPI purple fuel posts
-Carbide differential balls
-SFGP2 shocks (with HPI purple/silver spacers) with HPI RS4 springs and 40 weight oil IIRC
-HPI prime-less fuel tank
-OFNA fail-safe
-Dubro purple fuel filter
-Fatboy titanium screws (8 total)
-Traxxas 2055 high torque steering servo
-Direct plug-in battery; no on/off switch
-Purple aluminum antenna holder
-Big-bore air filter
-Front/rear CVDs
-Boca bearings throughout
-Converted differential bushings to bearings
-HPI purple aluminum pulleys
-Futaba Magnum 2PL radio/receiver
Now for the pictures: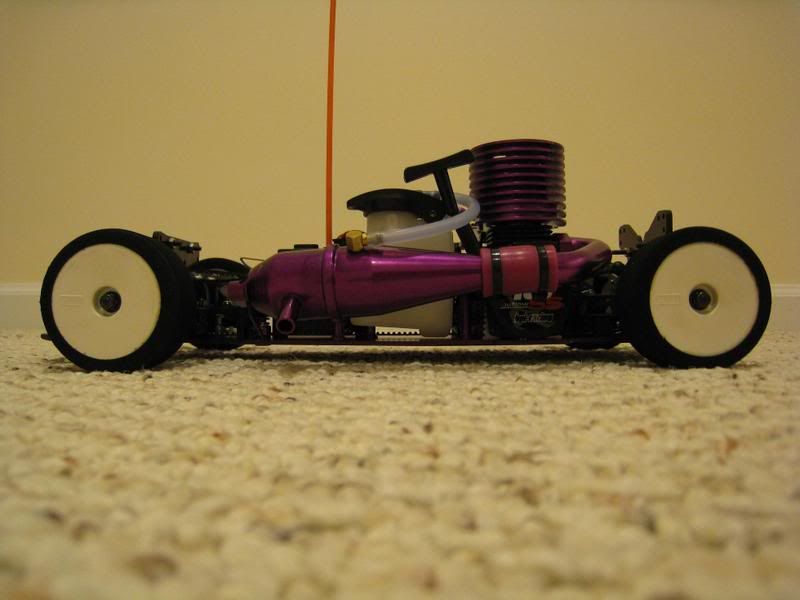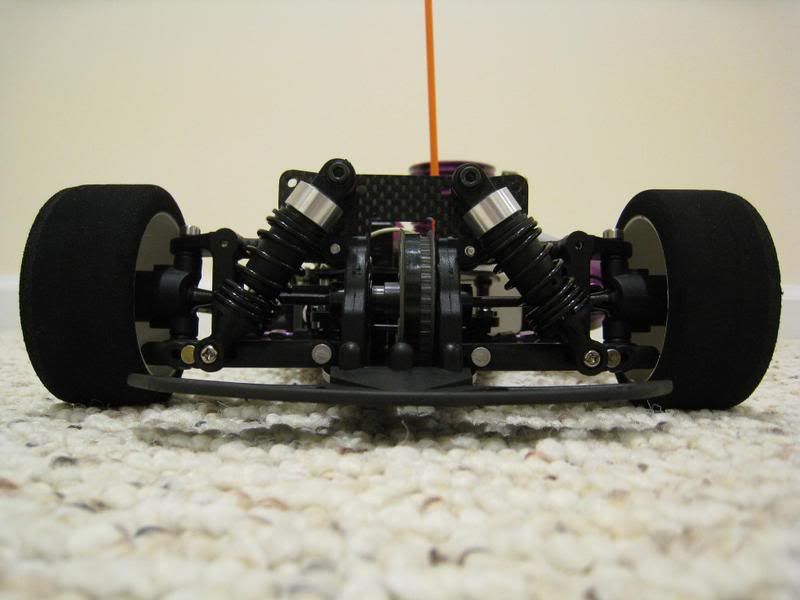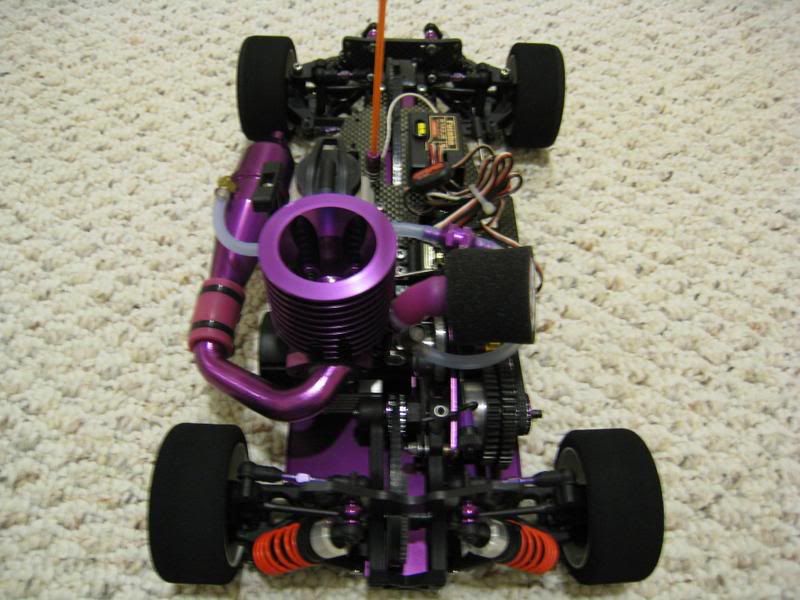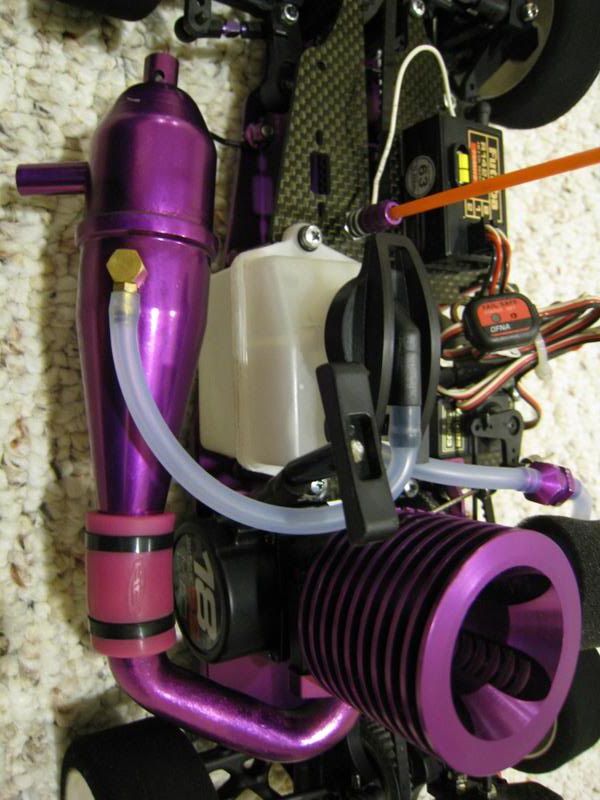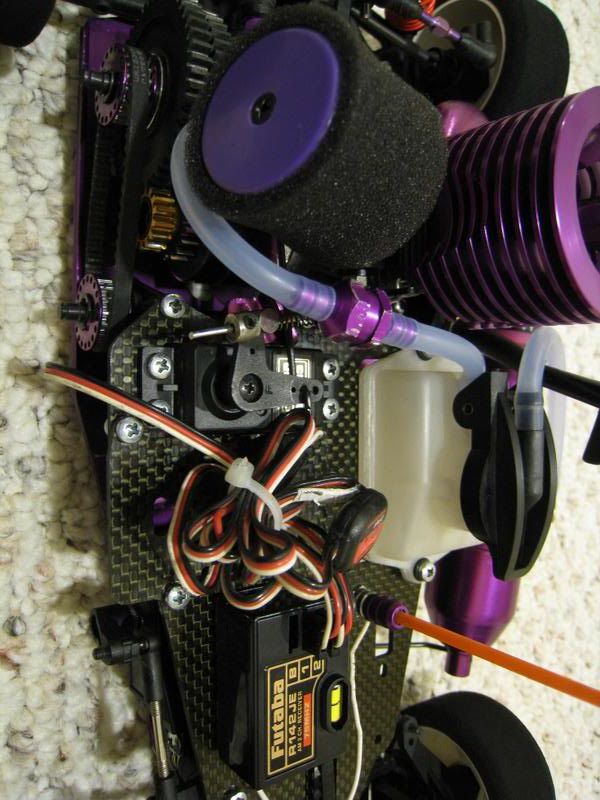 Comments/questions are welcome

In the spring I will hopefully be getting a brand new HPI RS4 EVO+ as a crazy parking lot basher and possibly a weekend racer [8D]

01-03-2009, 09:50 PM
Senior Member
Join Date: Aug 2005
Location: Bartlett, IL
Posts: 2,948
Likes: 0
Received 0 Likes on 0 Posts

RE: Retiring my SFGP *pic heavy*
---
[sm=red_smile.gif] Too much time and money invested in its life time to worry about crashing it on my street. Small pebbles and tar pits=not so friendly to an on-road car. The belt drive isn't too fond of the pebbles either; the middle aluminum pulley has been getting pretty chunked up from things flying in there and getting in between the belt and the pulley.
I just want to have it as a sentimental object that symbolizes the first real thing that I took upon by myself and paved my own road for...a bit cheesy, but you know what I mean
I have a stable of Savages and like I said, I will probably be adding a RS4 this spring for my high speed runs


01-03-2009, 11:48 PM
Senior Member
Join Date: Jan 2007
Location: rhinelander, WI
Posts: 1,104
Likes: 0
Received 0 Likes on 0 Posts

RE: Retiring my SFGP *pic heavy*
---
I know how it is
. But, one of these days in the summer, you'll see it on the shelf. Then the wheels in your head get turning and you think, "ok, one last run in that new lot I found." Then something bad happens, either ya forget to charge batteries and it starts at full throttle shooting off into traffic, or someones kid turns on his new toy car and whammo! lol. Hope not though, but that's how it usually happens with nice things
. Hope you get a new car soon and build it up as well as this one, nicely done!

03-23-2009, 08:47 PM
Senior Member
Join Date: Feb 2008
Location: SAN JUAN PUERTO RICO, PUERTO RICO (USA)
Posts: 205
Likes: 0
Received 0 Likes on 0 Posts

RE: Retiring my SFGP *pic heavy*
---
Hi:
Need to get spur gears for my gp-2 they have being discotinued any place i can get them need DTXC-9410/9411/9412/9413
if you have any place that can deliver to Puerto rico please let me know thanks

03-23-2009, 11:23 PM
Senior Member
Join Date: Aug 2005
Location: Bartlett, IL
Posts: 2,948
Likes: 0
Received 0 Likes on 0 Posts

RE: Retiring my SFGP *pic heavy*
---
Wow, I didn't realize that they were discontinued. Try contacting Duratrax directly or see if the spur gears from the HPI RS4 will fit.