Sub run in Cohutta Georgia!

09-21-2021, 04:26 PM

Sub run in Cohutta Georgia!
---
This weekend, 24th - 26th is a large gathering for running subs. If you happen to be in the area, the Red Clay Resort is the location. Stop by and ask questions - maybe run a sub or two. If you are bringing your own sub, there is a registration fee.
https://www.rc-submarine.com/submarine-regatta
For more info.

09-29-2021, 03:00 PM

---
I'm curious, what are you all using for radios and frequency bands. I know surface boats used to have a hard time with signal reflection off of the surface when the 2.4 systems first came out. Are you all using 27 or 75MHz systems instead or have you found a way to get 2.4s to work?

10-01-2021, 09:39 AM

---
Yes to both......We use 75MHz and some are using 2.4GHz.
All the subs that you see completely underwater are 75MHz, the 2.4GHz signal does not penetrate water, but some are putting the antenna up through one of the scopes and leaving about 2" to 2.5" above the surface. With that they can run at periscope depth and use 2.4GHz with no issues.
Hope this helps.
Peace,
Tom

10-21-2022, 11:53 AM

---
Cohutta GA hosted the 3rd annual SubFest this past September.....yes I am very slow posting these days. The underwater images were from David Merriman's video and I grabbed some screen shots. Next year plan on being there - 3rd weekend in September. Red Clay Resort in Cohutta GA -
https://www.rc-submarine.com/submarine-regatta
for more info.
The Great Sub Race! Three figure eight laps.
Great Sub Race - the Walrus barely won over Ken's Skipjack - it was fun!
Ed Tordahl's Subs tied to a buoy - nice setup - uses magnets to keep the subs secure.
One of the greats - David Merriman!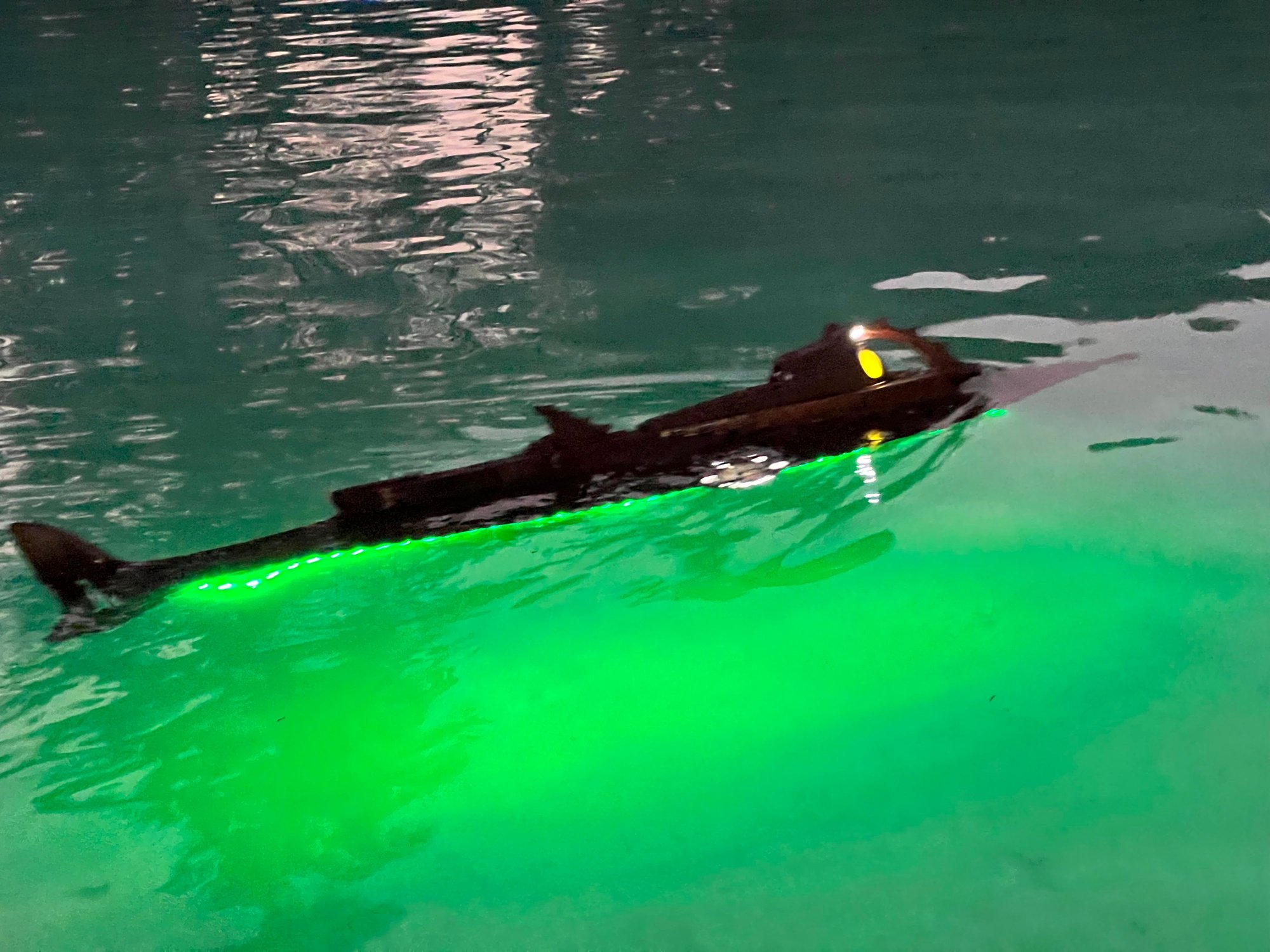 ---
Last edited by Gato.Submarine; 10-21-2022 at

11:57 AM

.

05-30-2023, 11:09 AM

---
The next SubFest is coming in 2023!
SUBFEST 2023 will be taking place from Thursday, September 14th to Sunday, September 17th, 2022.
Check out here for more information:
https://www.rc-submarine.com/subfest-2023