HL vs Taigen speaker comparison

04-14-2014, 02:21 PM

HL vs Taigen speaker comparison
---
Not a big deal but might be of some interest to a few tanker brothers like me. Be interesting to see what the new "round" style HL speaker sounds like in comparison to the other two?
http://www.youtube.com/watch?v=LZFSoqZbnE8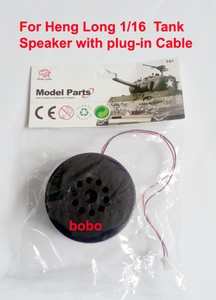 04-15-2014, 06:16 AM

Join Date: Jan 2007
Location: San Paolo Solbrito, ITALY
Posts: 1,482
Likes: 0

---
Some time ago I asked to somebody to open the round box and check the speaker rating and if I remember correctly it was a 1W speaker (the square HL one is 0.5 W).

04-15-2014, 08:41 AM


---
I wonder if anybody has tried to run two HL or Taigen style speakers off the RX-18? I would presume if you did you would need to run them in series as opposed to parallel?



04-15-2014, 04:52 PM

Join Date: Sep 2009
Location: Elliot Lake ON, CANADA
Posts: 520
Likes: 0
Received 0 Likes on 0 Posts

---
Don't know about the new H.L. speaker, but the taigen speaker impedance is 4 OHMS...
If you put 2 of them in " parallel" , the total impedance goes down to 2 OHMS; and you may fry the audio amp. of the RX 18...
You would have to connect them in serial to get 8 OHMS impedance...