Can I Have an official Mammoth ST thread?

06-29-2009, 07:35 PM

RE: Can I Have an official Mammoth ST thread?
---
Perhaps something wrong with your steering servo... You may need to provide more details than you did in order to diagnose your problem.

12-29-2011, 03:54 PM

Join Date: Nov 2005
Location: SAN DIEGO, CA
Posts: 35
Likes: 0
Received 0 Likes on 0 Posts

RE: Can I Have an official Mammoth ST thread?
---
Hey! I don't know how I missed this party. But better late than never. Yes still one of my favorite nitro trucks. Just haven't had the time for awhile to bash. Here's mine with some upgrades from the Mammoth ST Pro kit, Revo tires for street action. New two speed metal gears and .28 from the XTM MMT. Swapped the XTM 457 to the MMT.
It's been sitting for over a year, will try to fired it up this weekend.

07-18-2016, 10:52 PM

Join Date: Nov 2011
Location: Meridian, ID
Posts: 8
Likes: 0
Received 0 Likes on 0 Posts

---
Hiya guys. It's veen awhile since I've logged in here at RCU. I got out of ground vehicles and focused on my fast electric boats for awhile. Unfortunatly boats died off around here and I got bored running by myself so I let my boats go.*
I've been running rc's for 20 some years now, but I'm also a nitro junkie that won't touch anything with a smallblock Because they're just too temperamental. For me, it's all about bigblock 8th scale. The last few I had was a Mammoth ST, Savage X, Savage 5.9, Ofna Jammin, Sportwerks Truggy and a Duratrax Raze Truggy, And that's just a few of the rig's I've had over the last Several years So I'm pretty Adapt With Gas powered RC's.
Well, since I'm back into ground vehicles I decided to start things off right so I piicked up another *really nice XTM Mammoth ST that's super clean And all original rightdown to the factory body. And a new XTM Mega Monster Truck since thats one XTM I haven't had before, needless to say I'm really impressed with it.
The Mammoth is super clean, about the cleanest used Mammoth that I've seen, and I have a sneaky suspicion that it ever seen much use. I ended up bringing her home for $70 & it came with a Mammoth MT chassis for later use. The motor is in great shape and runs like a top and seems to prefer about *210° On a clear sunny day here in the high desert Of Southwest Idaho**.*
The Gentlemen that I purchased itthe MMT from bought it new And took it home and parked it and never got back to it after that because his friends got out of rc's and he didn't feel like going out and Running by himself which I can relate to with my boats, so this rig sat there until I bought it from him recently.
I can honestly say that this thing is a vbeast and i really like it, but I won't be bashing it do to Parts availability or lack there for of, and the same can be said for my Mammoth. This Doesn't mean I won't be putting them through their paces, I'll just try and be careful so I Won't break anything That may be hard to replace. I Already broke a front lower a arm which was rather surprising as easily as it broke,but maybe it was a fluke, idk ?. Either way I already had a couple sets of spares so it's fixed and their both *ready to roll.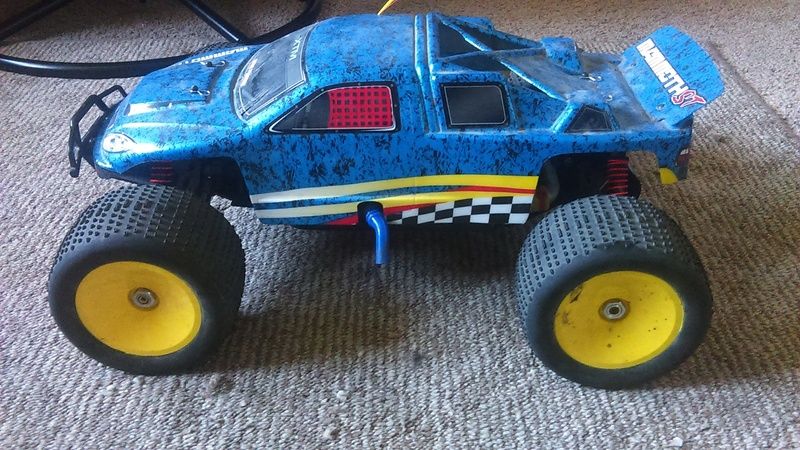 *
*
*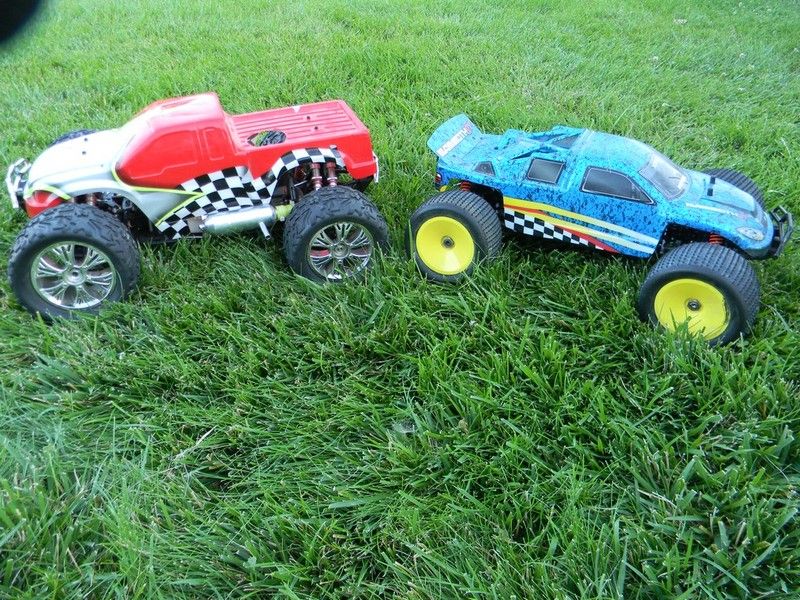 *
*
*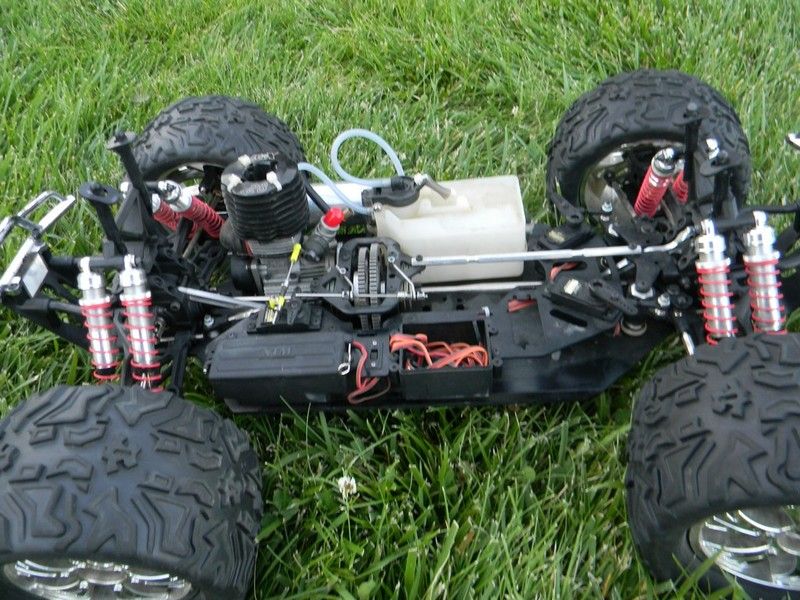 *
*

07-18-2016, 11:14 PM

Join Date: Nov 2011
Location: Meridian, ID
Posts: 8
Likes: 0
Received 0 Likes on 0 Posts

---
Btw, If you're wondering about the radio housing covers, I have them. I pulled the radio systems Because they were all glitchy and Crystal Radio Systems just suck. I ordered a new Flysky GT3X 2.4ghz radio with several additional reciever's that I'll be running them with.

I also pulled the AA x4 battery pack from the MMT and replaced it with a 2s lipo & turnigy sbec to power the reciever. I have another 2s for a reciever , so I also ordered another sbec to power the Mammoth as well.